Loud, messy, and pretty – that about sums up the finale of the most maligned NoitaminA series ever. What, you were expecting anything else?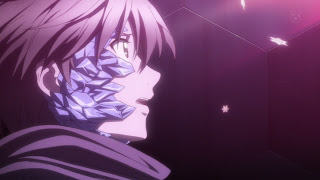 A good deli will always have something called mish-mosh soup. Basically the idea is that you take everything that goes into the other chicken soups on the menu – noodles, matzo balls, rice, kreplach, whatever – throw it all in, and there's your mish-mosh soup. Guilty Crown has been kind of a mish-mosh soup from the very beginning, so it was certainly no surprise that this was the metaphor that kept playing in my mind as I was watching the finale. In short, there was some good stuff in there, but what a mess.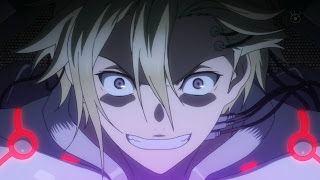 You'll have to forgive me if I don't have a whole lot to say, because as much as any two-cour anime I've watched in a while, this one leaves me feeling almost nothing. I've mentioned it many times, but the character arcs are so forced and artificial that I was never really anything other than curious to see how it was all going to come out. Truth be told, there was no character death or survival that was going to have a significant emotional impact on me, so in that sense the finale never really had a chance. I can tell you that I thought – as usual – the show looked great. There were some indelible visual moments that would have been powerful if in the context of a good story. There was some lovely background art, and some nice use of the original ED as an insert song. But beyond that, not much made an impression.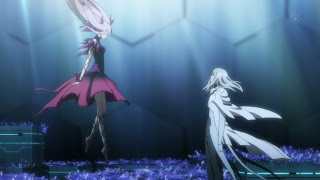 Why? The usual suspects, really. I'd reached this point with no buy-in, so strikes one and two. As usual, the plot of the finale was a mess – a little of everything thrown in, and it only intermittently made sense. I think scenes like Mana ballet dancing to operatic Latin as the fourth apocalypse rains down on the world are supposed to be a sort of poetry, but for all the visual flash they tend to come off as unintentionally funny and sort of absurd. As for the ending itself, maybe it's my lack of deep concern but I'd be hard-pressed to tell you exactly what happened, and why. I can't help but think of Eureka Seven, another sprawling sci-fi epic whose narrative reach often exceeded its grasp, as a comparison. While much of the final arc of that series didn't make sense (though not quite to the degree here) it still had a sort of emotional power to it, because the characters had earned their emotional stripes. Their arcs were cohesive and involving, and I cared what happened to them. That, sadly, was not the case here.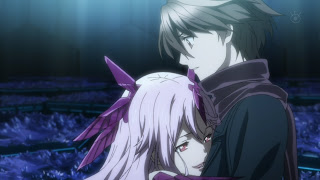 So in the end Shu is alive, blind and hobbled, and Inori is gone. I suppose we can assume that it's thanks to her that he's alive at all, though I couldn't tell you exactly how it happened. Gai apparently did everything to try and save Mana , though whether he was successful or not I can't really say. I also have no idea how Inori managed to stop fourth apocalypse and reclaim her body in the first place, or why Keido infected himself, or why Daryl was allowed to survive after having never redeemed himself as I expected for several episodes. It all just feels like an avalanche of whatever, as if the finale was improvised just like the rest of the series. It's too bad, but really, were you expecting anything else? I know I wasn't so at least I can say I wasn't disappointed.