Happily, Danshi Koukousei ended with a terrific episode that reminded me of all the reasons why I adored the series so much.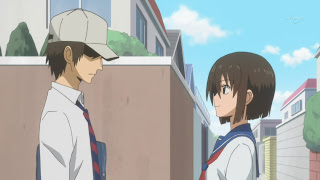 If you had a base as a fan of this series, I'm pretty sure this finale covered it. Just about all the major characters got a spotlight – even poor Tadakuni at long last – and even most of the pairings had their moment in the sun. There was (fake) emotion, random comedy, satire and slapstick. It's funny how the formula for this series could change in small and subtle ways and throw off an entire episode (as seemed to happen for much of the middle third) but these last couple of eps were definite winners.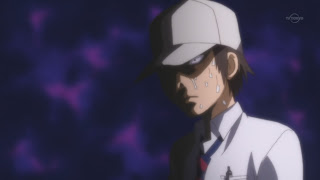 For starters, Sunrise did a reversal by giving us the Funky Girls (with their OP) before the credits, then running the ED as the OP. Poor Habara is still paying the price for her archdemon days, and her chances with Kurasawa seem doomed for it – and boy, is she ever lousy at reading guys. I have to admit I laughed repeatedly and loudly when Yoshitake was telling Motoharu all that BS about Twitter being a rare pasta and KY being an environmental standard (about spewed my lunch with that one) before finally setting on one correct answer as to what a MMORPG was. This show has mastered the art of the "wait for it" punch line payoff, and Motaharu delivered a beauty here.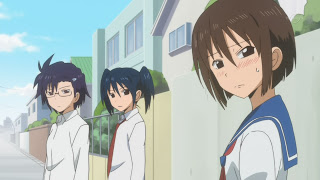 Tadakuni makes his first meaningful appearance in about a month in the next sketch, as the three "main characters" are reunited again for a crane game sketch, which carries over to a solo number with Hidenori and the shop attendant. Not the strongest material of the ep but a nice finish with the attendant's pity help embarrassing the hell out of Hidenori. Then, an always-welcome visit from Yassan, this time in the school setting with her two friends Takahiro and Takahiro-tomodachi. Those two provide their usual running commentary track on anime girl behavior, but the kicker is when they reveal that the entire school knows she chased Hidenori all over town. We also get an always-welcome visit from Ringo-chan, indulging her gluttony while dragging the seitokai all over town and being oblivious to guys hitting on her. If the Prez wants to take his shot, looks like he's going to have competition.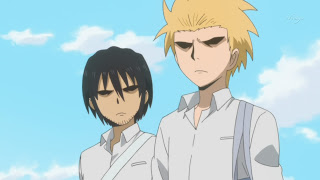 Mitsuo and the hot dog on a stick was another one of those "so stupid it's funny" numbers this series is so good at, and Tadakuni again proves himself useful as a stage prop here, though the best bit was the use of "Six Million Dollar Man" sound effects. Apparently the three-second rule doesn't apply to idiots. But this is all preamble to what's easily the highlight of the episode for me, Tadakuni's dream. Danshi Koukousei is superb at trolling the audience and at false sincerity, and they're both indulged fantastically here. It's graduation day, Tadakuni is in full main character mode and the stirring music is playing. There are declarations of eternal friendship among the main trio, tears from the seitokai and inspirational words from the Prez, Yoshitake digs up a time capsule from his "Rubber Shooter" past, and Hidenori finally connects with Literary Girl. Best of all though, Tadakuni-Imouto finally shows him her dere side, and then he has an encounter with a beautiful girl who's strange yet oddly familiar – yes, it's Convex Mirror Girl, emerged from behind the glass to confess her love. I almost didn't want Tadakuni to wake up – as an ardent Tadakuni-Nago #1 shipper, I've been waiting for that moment for 12 episodes.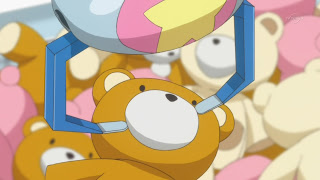 I love the way this series never does anything conventionally, and the wrap is a blast – it's the OP used as ED over a clip montage, followed by a commercial for the upcoming Funky Girls movie, featuring "The Archdemon vs. the Silver Demon" – a trip to London and a legendary battle between Habara and Nago #2. K-On and Dragon Quest spoofed in the same sketch? Genius! Finally there's one last troll end card, as we're promised a second season – only this time a live-action with "good looking young actors". I don't know about that one, but please go buy the Blu-rays and maybe we'll get another round of anime in a couple of years…
ED2:
Epilogue:
Archdemon vs. Silver Demon