Maybe I'll start re-watching this series next Tuesday…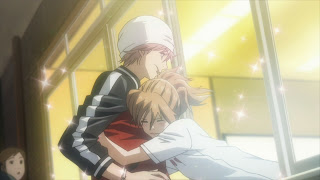 There's not much left to be said about Chihayafuru that I haven't already said in blogging 25 episodes. I love it – I love it to pieces, and I'm gutted that it's over. The series is a mortal lock to make my 2012 Top 10 list, even if we were to have a monster year like 2007 (which I sincerely doubt will happen) and who knows, it might even be #1. Why? Read the posts, it's all there. This is the very best of josei, with deep, complex characters and a rich emotional palette, merged with what's effectively the best sports shounen since Hikaru no Go. That combination is every bit as powerful as it sounds on paper, if you're the sort of anime fan I am.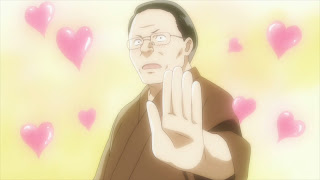 There's the very basic stuff, too. Madhouse have done a wonderful job adapting Suetsugu Yuki's manga (about half of it, anyway). I absolutely adore the backgrounds here – the scenes in the snow, the cherry blossoms, the lovely depictions of Omi Jingu Shrine. The music is a constant pleasure, a perfect complement to the visuals. And the character designs are my favorite of the year – so much depth of feeling in those faces, the beauty of youth and the wisdom of age, all brought to life by Madhouse's animators with some of the most lively facial expressions you'll ever see. If it lacks the fluidity of KyoAni or the stunning detail of P.A. Works, Madhouse's visual effort here is – like the anime itself – a sweeping triumph. The job of any adaptation is to retain the look of a manga and improve on it, make it come alive – and they've done it.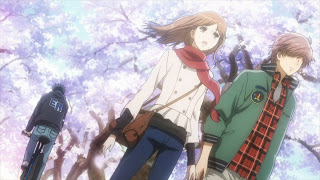 For me, animes are always primarily about the characters, and no matter how splendid a series is it cannot achieve greatness in my eyes unless the characters are exceptional. And happily this is foremost among Chihayafuru's many strengths, and this was apparent from the flawless premiere episode. We begin with a brilliant three-episode flashback featuring Chihaya, Taichi and Arata as 12 year-olds, and then rejoined them four years later as they entered high school. And amazingly, they grew up as much over the next 22 episodes as they did in that long time-skip. While Arata was physically at a remove for most of the series, his spirit was always present – gently influencing everything that happened in Chihaya and Taichi's lives even as he struggled to find his own path, losing his way for a while before finding his way back to the game and the friends he loves.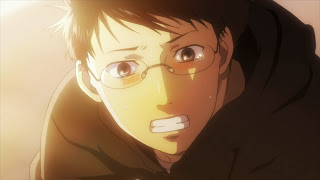 Of Chihaya and Taichi so much has already been said, but they were an incredibly engaging pair (I can't say "couple", alas) at the heart of the series. Chihaya was in many ways tasked with the thankless role of the shounen lead, the driven and freakishly talented but emotionally clueless hero, but there was so much more to her than that. I would argue that Chihaya changed the least of all the major characters in the series, both inside the game of Karuta and out. Her game is still a child's game, athletic and instinctive, but at last through her time with the others she's learning how to grow as a player – through Kanade a love of the poetry, through Tsutomu an understanding of analysis and preparation, from Nishida the importance of strategy, and from Taichi's own growth the importance of toughness, of never giving up. Emotionally she's still a child too, romance never really entering the equation in her mind, unaware of the impact her insensitivity has on those around her. But here, too, being around the others in the club – being embraced by the camaraderie and affection that's built between them – she's coming out of herself, and becoming a whole person at last.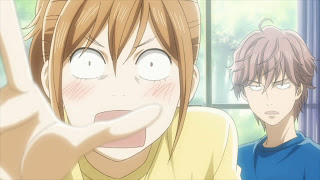 You certainly know my feelings about Taichi. Miyano Mamoru was my seiyuu of the year for his work in Steins;Gate in 2011, and he's the early favorite for a completely different role in 2012. In terms of growth and change, Mashima Taichi has had one of the greatest character arcs in modern anime. While Chihaya was the main character, it was Taichi who did the emotional heavy lifting in this series – where she was wrapped in herself, Taichi was an emotional open book, sharing all his pain and ambition with the audience. Is he flawed? Yes, absolutely – and all the more interesting and sympathetic for it. Taichi changed more than anyone in the cast, and it all played out in the open where we could see it happening and hear what was roiling in his mind. For all the depth of feeling I had about the potential romances in the show, the emotional high-point of the adaptation for me was the scene between Taichi and Harada-sensei on the train platform in episode 20. In that moment was encapsulated everything that had happened to Taichi in the series – all the frustration, all the pain, and how much he'd grown as a person. And in Harada-sensei's face was all the love he feels for his students, and how personally he takes his role as their mentor. It was emotionally a perfect moment, a bull's-eye.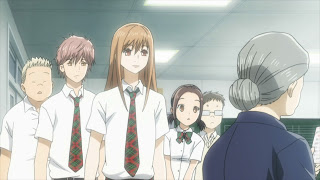 Speaking of Harada-sensei, he was arguably the best among an amazing supporting cast which featured no throwaway characters, even in small roles. Rivals, opponents, it didn't matter – there were no villains, just people. Sudo and Shinobu were scene-stealers from their first appearance, but even a minor character like Retro-kun was a lot more interesting than he needed to be. The anchor of the supporting cast along with Harada-sensei were of course the club members. Lovely, idealistic and artistic Kana-chan, dedicated and deceptively sensitive Tsutomu, and the brash and passionate Nishida. Each of them had their own journey over the course of the series, and each of them taught the others something valuable. The gradual strengthening of the bonds between the five Mizusawa stalwarts was one of the very best things about the series, and perhaps that bond is the thing that I'll miss the most.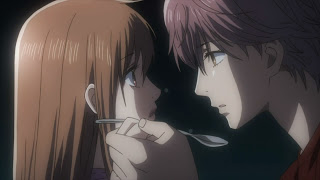 I guess the elephant in the room is the romance side of things, and it must be mentioned – though I was pretty certain it wasn't going to get much play in the anime finale. Perhaps we can all agree, at least, that Tsutomu and Kanade are adorable together – and I think genuine feelings developed between them. Of the main event, I think we'll know nothing until Chihaya grows up, and finally knows herself well enough to start thinking about the boys in her life as more than friends and rivals. They're each very special to her in different ways – Taichi is in many ways her alter ego, and surely her closest friend and the one who knows her best. Arata is the kind, gallant and heroic boy who changed her life with their brief encounter in childhood – and as the anime ends he still exists half in the mythological world, the "God of Karuta" and that heroic boy she remembers. She loves them both in their way, and they her in a romantic way – but of where Chihaya's heart ultimately takes her, I don't think anyone can say. She may decide that neither Taichi or Arata is the man of her dreams, as important as they both are to her. Or she may see it otherwise, especially if one of them takes the initiative and shares his feelings. She would do well with either, it seems to me – they're both exceptional people, and both would treasure her in a way she can't yet understand. Someday, perhaps, we'll know how it all turns out. But not today.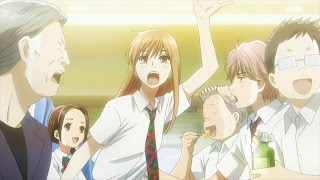 So there we leave it, at the end of this amazing six month journey. The characters are still chasing their dreams in their own way, in Karuta and in life. For us, there's the manga, and I intend to follow it as best I can. And there's also the Blu-rays and DVDs. I rarely talk about campaigns, concerted efforts to influence the industry on behalf of a series. But I feel very strongly about the following – if there's any justice in the world, Chihayafuru will have a second season. It deserves it and it's earned it, and perhaps as fans we can do a little by ordering the discs from Japan, by purchasing the manga (there is a Japanese-English bilingual version) and by asking for a licensing of the series. The latest volume of the manga was the #1 seller during it's first week in Japan, with over 212,000 copies sold – so there's hope. I encourage you to do everything you can do to show Madhouse and Kodansha that you appreciate manga and anime that do everything the right way – intelligent, emotionally honest and original. This series is a beautiful and rare thing, and I appreciate having had the chance to experience it. I'm going to be greedy and ask for more, but I'll still take a moment to be grateful for what we've already been given.