The anime community as a whole seems to take Bakuman almost entirely for granted, but I promise you, I never will. And with episodes as spectacular as the second season finale, hopefully more and more viewers will clue in to what an underappreciated gem this is.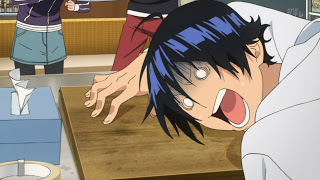 Readers of the blog know that I don't generally do a proper "Series Review" post when a continuation is confirmed, and so it will be here – though of course I will touch on the second season as a whole. It's interesting that this continues to be a powerhouse and popular manga, yet the anime trundles along almost in oblivion. Maybe it's a JC Staff thing – there's no question this isn't the most lavishly animated series you'll see – or maybe it's the fact that the first season (which I liked) was slow-paced enough to put off some viewers. Whatever the cause, I almost never hear anyone talking about Bakuman the anime, and it's quietly been one of the better series airing for the past two cours.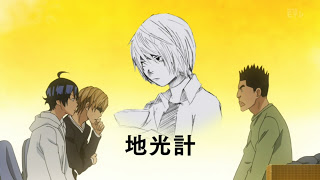 I think this might have been the best pure finale of the season thus far, along with Natsume Yuujinchou Shi. It had everything you could possibly want and exemplified all the best qualities of S2. There was the GAR spirit of trying to conquer the manga world, breathless excitement and suspense, and best of all a return to the theme of Mashiro's quest to do proud by his Uncle Nobuhiro – the one element that's been mostly absent this season. But this final episode showed itself to be something of a love letter to manga, too, with the arrival of the new assistants setting of a philosophical debate that gave Mashiro a chance to speak from the heart about the art form he loves.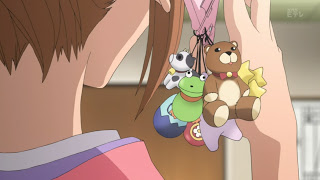 Those two assistants are Shiratori Shun (Iguchi Yuuchi, Makoto from Hourou Musuko) a shy recent high-school grad with a keen sense of the business of manga, and Moriya Shuichi (Sakamaki Mitsuhiro) a design-school student with a strong ambition to draw manga and a purist's view of manga as art. They're joined by the returning Orihara, giving Mashiro three assistants younger than he for the first time. In fact, Takagi and Miyoshi have their coming-of-age during the episode, which makes it a shame they couldn't attend the New Years party – especially given that the Hattoris were forced to dress up as a giraffe and zebra and dance to the "Otters" theme when their authors were too busy to attend (I suspect this is a very real Shounen Jump penalty game). This middle section of the episode is full of meaty, esoteric "manga for manga lovers" dialogue – the debate over commercialism (Mashiro is in the middle, more or less) and talks with Hattori about the importance of names and character design. This is all pretty insider stuff, probably not so interesting if you're not a fan of the manga industry, but if you aren't – why are you watching Bakuman? I found it fascinating, myself.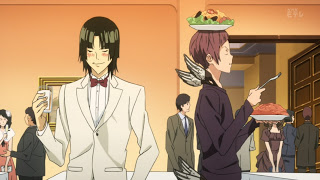 The dynamism of the Ashirogi-Hattori partnership is once again fully in evidence here – they're completely open and honest with each other, something that's easy to pull off because it's obvious they care deeply about each other as people. Hattori knows just what buttons to push to drive the boys forward, focusing in here on the main character design, character names and title as small tweaks that will improve Perfect Crime Club even more than the transition to Mashiro doing the storyboards already has. Mashiro settles in on fixing the MC design, while Takagi focuses in on names – which eventually leads to a redesigned MC (thanks to Miyoshi's phone strap) with a new name, and a manga now called "Perfect Crime Party". I like the change, though I wonder if Obata and Ohba are aware of the unfortunate connotations of that English acronym.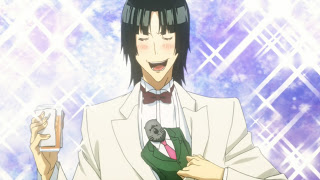 With PCC now PCP, the focus turns to the high drama of where it will place in the new rankings – complicated by the stiff competition from Fukuda's new one-shot, Road Racer Buchigiri (which actually has his editor helping as an assistant). I'll give credit to Miura here for a change, as he still sincerely wishes for PCP to get first place – he could have turned sour grapes easily enough, but give the guy his due. I've mentioned before how remarkable it is that an anime about drawing manga could work so well as a thriller, but damn, Bakuman can get exciting at times like these. And the debut (on the cover!) turns out to be a smashing success, swamping the competition and winning with even more votes than Crow received for its debut. With +Natural slumping to eight and RRB taking second, Iwase is pissed and Eiji and Fukuda are fully stoked for a fight, and the GAR kicks into overdrive. I was especially interested to hear that PCP fared phenomenally with under-10's and over-18's – a very rare combination for a manga, and one with extremely powerful commercial possibilities. Though of course, Sasaki has to be a complete dildo and threaten Hattori that he'll cancel the series if it shows even the slightest signs that it can't beat Crow and +Natural.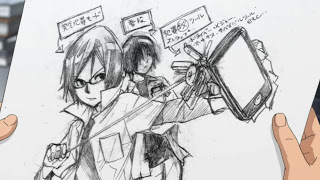 Of course the highlight of the episode is the conclusion, which is hinted at with the choice of eyecatch earlier in the ep. It's a callback to the very roots of Bakuman, the very reason why this dream is so important to Mashiro. He's achieved one of Nobuhiro's unfulfilled dreams by taking first place in WSJ, and he goes to his Uncle's grave to share the news, with Hattori (who can't let Mashiro have the rankings sheet), Takagi and Kaya in tow. Of course this is only the beginning of the journey, but I love that the season closed by acknowledging Nobuhiro and his importance to the story. I shed a couple of tears at that scene, which really shows why I love Mashiro as a character. He's such an idealist, such a dreamer – this isn't just symbolic for him, but a true expression of his love and gratitude for what Nobuhiro did for him.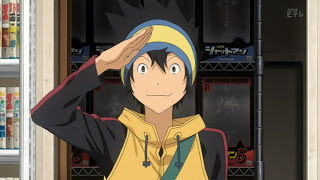 And what a season it was. As much as it was criticized, I liked the first season – the way it focused on the minutiae of trying to succeed as a manga author while still in school. It was slow-paced, but that it allowed it to really concentrate on the details, and I enjoyed the early eps that focused on Mashiro's family a lot. There's no denying, though, that this second season has been better. Everything was stepped up a notch – the pacing, the visuals, the OP and EDs, the excitement levels. It covered a lot more ground than the first season did, but it didn't usually feel rushed, and in the case of the middle section the fact that it moved quickly was probably a good thing.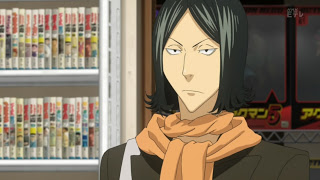 This season didn't shy away from highlighting the ugly side of the business of manga, and it didn't always paint the publisher of the manga in a good light. I'm hard-pressed to think of another anime that made me feel righteous indignation as often as this one did. Starting with the arc where Mashiro was hospitalized, we were treated over and over again to acts of stubbornness and stupidity by Sasaki, and acts of incompetence by Miura. I shouted at the screen on more than one occasion – and raised my fist in triumph on more than one, too. The frustration that Takagi and Mashiro dealt with was palpable, and immensely frustrating for me as a viewer. Even as it was happening, I could see that Obata and Ohba were including it for a purpose – they wanted to show us the pain of struggling to be true to your art while dealing with cold, clueless corporate tools. But it was damn hard to watch, sometimes, and it really felt as if the Tanto era would never end.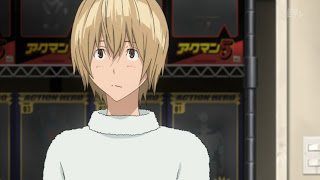 Tanto – what a disaster. In many ways that manga was the star of the season, or about half of it anyway. And at least it can be said that both Ashirogi and we learned something from the experience – something about gag manga, and something about selling out and the perils of not trying to be great. Tanto was the embodiment of Miura's misguided "leadership" as an editor – a manga he forced Ashirogi into writing and then mismanaged into mediocrity. Miura is certainly one of the most irritating anime characters I can remember, all the more so because I've known so many like him in the working world. Ashirogi managed to escape his clutches in the nick of time, but Takahama hasn't been so lucky.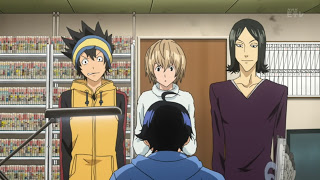 If it wasn't for Tanto and Miura, though, the joy and relief when both of them were removed from Ashirogi's life wouldn't have been so glorious. With Hattori back on the team and a truly interesting manga that both Mashiro and Takagi believe in, all is right with the world – for the moment anyway – and we're set up for a fascinating third season. Trying to stay on top isn't something we've seen Ashirogi do before, and that's the challenge they face – the gauntlet Nobuhiro threw down for Mashiro in the final scene. An awful lot happened this season – two serializations and cancellations, Mashiro nearly dying, Takagi and Kaya's wedding – but it was a hell of a fun ride. I'm really looking forward to Season Three in the fall, and I'll continue to do my best to get more people watching this excellent series.