Arrggh… Another, I love you as a series – but this feeling I have right now isn't what I was hoping it would be when you ended.

I probably don't need to tell you not to read this post until you've watched the episode, but just in case – don't read this post until you've watched the episode!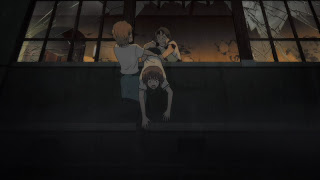 And so begins the longest day of the anime season for me, as probably my four favorite Winter series all come to an end. Not only do I have to say sayonara to my companions and friends of the last three months, but summarize my thoughts about them too. And it starts with Another, a series I adore but which ultimately leaves me feeling a little unsatisfied for a few reasons. That's not to say I didn't like the last two eps a lot, but I think they strayed too far from the formula that made this series so great and were somewhat tarnished by conventionality. Perhaps Mizushima-sensei wasn't "over" the Blood-C debacle quite as much as I'd assumed.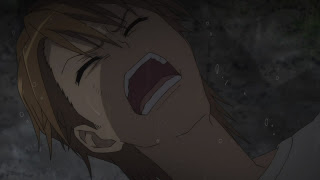 Let's start with the ending itself. In hindsight, there are things in Another that only make sense if Reiko and Mikami-sensei are the same person. But hindsight is, as they say, always 20-20. There was certainly ample evidence that something was "off" with Aunt Reiko – many of them mentioned here. I think of "Why, Rei Why?" and "My poor Reiko too" as very prominent examples – not to mention the headaches, and "Painting is my real job" and now I recall a very odd moment in episode 3 (which in hindsight was a crucial ep) in which Kouichi and his friends are talking to Mikami-sensei and there's a quick – and otherwise seemingly extraneous – cut to Kouichi in pajamas on the couch, talking to Reiko.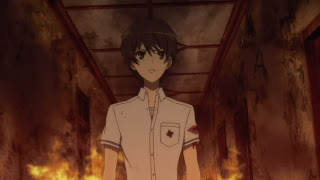 There's other stuff too, and some of it is pretty out there. I mentioned way back near the beginning that Reiko's seiyuu was credited as "Sakakibara Naoko", which I found odd. But it's also percolated out in this last week (I think Kanon on ASF spotted it first) that Mikami's seiyuu is credited as Miyamaki Misayo – which with some very minimal jiggering can be changed to "Yomiyama Misaki". It seems that P.A. Works was trolling us with these seiyuu names, and I suppose it's likely the "two" characters were actually played by the same actress. But I think it's very legitimate to ask – could an unspoiled first-time viewer have taken the facts as presented and figured out that Mikami = Reiko? I'm not so sure, myself – I won't list all the clues that exist, but it's some pretty vague stuff – the kind of thing no reasonable person would connect unless they knew what they were looking for. I won't accuse P.A. Works and Mizushima of cheating, but I'm not sure they were playing 100% fair, either. And I'm not sure the mystery wouldn't have been just as interesting if they'd let us know from the beginning that the two women were the same person, and made the game a lot more fair in the process. There would certainly have been enough clues that the Another wasn't a student, some of them already covered in prior blog posts, to suggest Mikami-sensei as a candidate.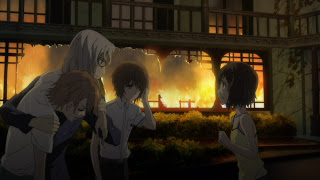 Let's set that aside, though, and talk about the episode itself and why I say it strayed too far from the formula. No, there was no "human blender" moment but I do think the last two eps gave themselves over to a lot of gore and "Final Destination" style coincidences. What I loved most about Another for 10 episodes was the character interaction and the subtle, tense and sinister atmosphere it created. It was the anticipation of terrible things happening that made the show exciting more than the events themselves – and when they did happen (once an episode, or sometimes even less) their impact was all the greater as a result of that. It took us three episodes to build to that terrible moment with Sakuragi and the umbrella, and it hit like a kick to the solar plexus – in the last two episodes, that sort of scene was a dime a dozen (was it really only eight students that died? It seemed like twice that many).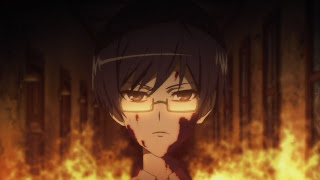 There's also the matter of what I would consider to be gratuitous carnage and gratuitous coincidence. I don't know about the novel, but was it really necessary for the anime to show the four kids crushed by the chandelier – and then when the one boy escapes, to have him crushed by a falling column? That was almost comical, to be honest – a Mizushima "Blood-C moment" – and it felt beneath the dignity of what Another has been as a series. It also defies explanation in a way that doesn't thrill me. The students going a bit crazy when Mochizuki let the cat out of the bag might have been overplayed, but it at least makes sense – they were acting in what they saw as self-preservation. But why did all these students die in such laughably bizarre circumstances in the final two episodes? It's a degree of coincidence that I don't think is explained by anything we've been told about the phenomenon as we know it, and it feels as if Mizushima-sensei threw it all in for effect. Through episode 10, the horror that occurred in the series was what was essential to build the mystery and the impact it created. In the last two eps much of it was superfluous, and it desensitized this viewer in a way I didn't find welcome. I felt oddly emotionally removed from the events of the finale, after having been completely wrapped up in them for most of the series, and I think this is the reason why.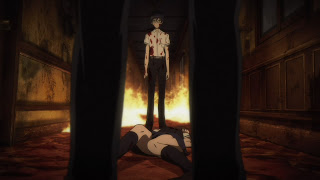 Of course there was much to be admired in this show, and in the ending, too. I thought the moment when Chibiki arrived with the gorgeously understated "This is not normal." was beautifully handled, both for impact and for irony. The moment when lightning struck the lodge and the glass shattered was one of the most heartbreakingly beautiful sequences of art in animation I've seen in many a season – and that was before the impact became clear. Akazawa's death was a bit heavy-handed, but the cinematography and art design made up for that. And while it had already become pretty obvious just by process of elimination whose arm that was reaching out from under the rubble as Mei hefted that pick-axe, it was still a very powerful moment, and Kouichi's pain was intense and difficult to watch. This is the fundamental dilemma of the "solution" – there's no tangible way to differentiate the Another from a person, and they themselves think they're alive. In terms of their own actions, the Another has done nothing wrong, the genius of this premise. Could everyone do what Kouichi did, even knowing what he did?