To say Ano Natsu was an easy series to like is an understatement. For me, it was impossible not to love.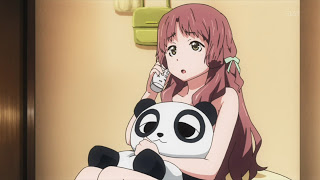 Mondays have been bizarrely good for anime this season, but this Monday is a tough one – I feel a real tug at the heartstrings saying goodbye to so many great series, and this one certainly falls into that category. Ano Natsu is what happens when good writers and great directors with a ton of experience team up to execute a good idea. It's effortless without being slick, dramatic without being overwrought, and relaxed and gripping at the same time. It's not supposed to be as easy as these guys made it look, and if you don't believe me just look at all the failed romantic comedies scattered by the roadside. I got a lot of pure joy from this show, which almost never missed a step.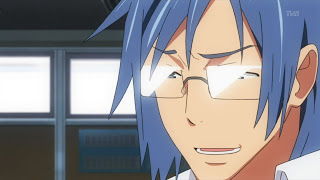 I feel as if my weekly posts pretty well summarize what I like about this series, which I think surpasses either of the Onegai series for which Kuroda-sensei is best known. Pacing (within the individual episodes and for the series as a whole), dialogue, real character development of the kind Nagai-sensei (Toradora, AnoHana) seems peerless at conveying as a director, genuine depth of feeling – for a long-standing anime fan who loves character-driven romance and comedy, this was a perfect storm. I've called Ano Natsu "old-fashioned" and there's no doubt it is, but perhaps that doesn't do the show justice. There's nothing inherently passé or fusty about it – it simply strips itself of the unwelcome trappings that have attached themselves to most series these days like lampreys on a shark. If that makes it old-fashioned, may we have more old-fashioned series in the future.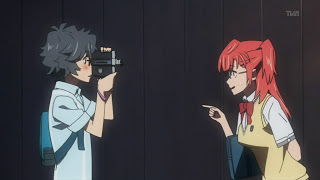 The science-fiction elements are integral to the story and for the most part quite well-done, but they're the vehicle to drive the premise – not the premise itself. This is a show about people – teenagers mostly, as this is anime after, all, but complicated and likeable ones with pretty realistic emotional vulnerabilities and hang-ups. While the romance side of things is obviously crucial, I think Ano Natsu is a show about friendship as much as anything. That's as old-school a theme as you can find in anime, but my goodness, why aren't there more shows built around it? Each of the main group – Kaito, Ichika, Tetsuro, Mio, Kanna – are caught in their own relationship tangles, but they also exist as part of the group – a group each of them values, and no matter how difficult things get on the romance side, they never forget it. They get angry, they deceive, they feel sorry for themselves – but they never come to hate each other. They're just nice kids coming to realize that human relationships don't sort themselves out for our convenience. Most of the time we love the wrong person, and it's nobody's fault – it's just how we're wired.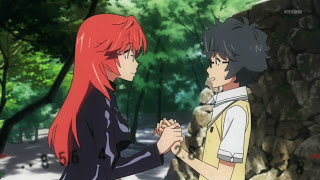 There's not a lot of flash here – the visuals are pretty and often impressively detailed, but this is JC Staff and we don't get KyoAni or P.A. Works levels of brilliance. Likewise the performances are generally understated, but I think universally spot-on. Tomatsu Haruka is her usual brilliant self as Ichika, but I really enjoyed relative unknown Shimazaki Nobunaga as Kaito – he was a breath of fresh air, a new voice who sounded young and unaffected, the perfect foil for Haruka-san. Their relationship is at the heart of the series of course, and like the rest of it not flashy – just as straightforward as a human-alien relationship can be. These two are the lucky ones – they do love the right person, and their romance is direct and simple and refreshingly free of BS and games. They just love each other, and they act like it, and they try and stay together. Nothing extra needed here, really.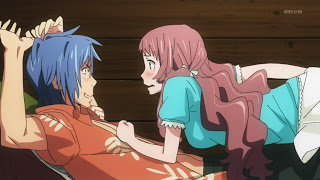 If anything, that lack of pretense and conventional padding is what I love best about Ano Natsu. The cliffhangers aren't drawn out – they're dealt with, and the series actually gets to the interesting part of the relationships – what happens after the misunderstandings are cleared up and the truths revealed. That's the stuff that most romance anime never get to, probably because it's scary and hard to write when compared to endless misunderstandings and relationships that are all build-up and no resolution. Again, it all sounds very easy – but if it were, every relationship series would be this good. The fact that nearly all of them aren't should tell you all you need to know.