Nagai and Kuroda-sensei have been spending most of this series making difficult tasks look easy, so it's no surprise that they should prove more than up to that last great challenge – the ending.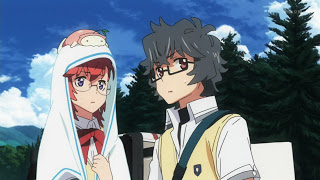 One thing you'll never be able to do is please everyone, and I'm sure there will be plenty of dissatisfied customers with Ano Natsu. For me, I'm wholly satisfied – I thought the final episode was briskly paced, with a near-perfect balance of drama and contemplative reflection, with some very solid comedic moments. In truth, the alien part of the plot was never going to be as compelling as the relationship side, but in that context I thought Nagai and Kuroda managed to have an alien ending that was still very human and focused on the emotions of the main players. And realistically, that was all I was hoping for.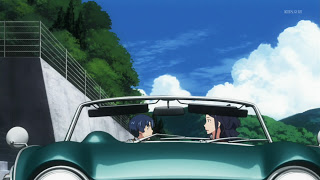 For starters, I thought the crash/chase scene that began the episode was really well-executed, starting with Rinon deploying herself as a giant air bag when the van crashed. That was followed by the arrival of Manami, who mysteriously (at the time) said she was told by her husband to be at the very spot and the very time where Kanna emerged from the woods, trailed her her "huge stalker". This was followed by a plea to her oft-maligned to save her as the rescue pod was going to "rape her". Yes, apparently he's an MIB too, though it doesn't seem as if Manami knew – and there can be no question whatsoever that Remon is one.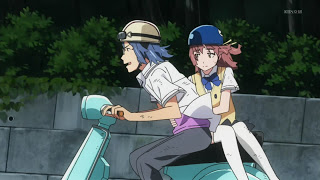 Just whether these MIBs are similar to the ones in the Tommy Lee Jones/Will Smith film of the same name is a seemingly critical plot point, because those MIBs certainly had the proof of alien visitation to satisfy anyone – but MIBs have been in the cultural lexicon all the way back to the Roswell days (that's almost 70 years, mind you) and it's just as plausible that these guys are in the "just in case they exist" business. In any case they prove invaluable in saving the supporting cast's bacon, but as for the main characters, things are not so rosy. Here's where we get our possible Onegai Teacher tie-in, as a voice from the past reaches out to Ichika and Kaito (and Emika in orbit) once they arrive at the lake from Ichika's dreams. The implication that this is Ichika's ancestor is strong here, and she just wanted to share her memories of the planet and the human she'd come to love before being forced to leave Earth herself.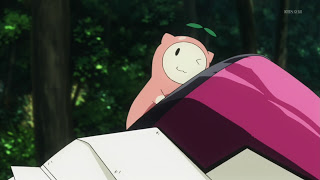 I think the way this is tied in to the main couple is rather elegant. While memories are too fleeting to provide the proof of alien encounters Kaito and Ichika need, they do stand as a nice parallel to the film that Kaito had planned all along to make, to make sure his memories and loves were captured to be shared with others in the event he weren't around to do so himself. And with Ichika snatched back to her home planet, he has no choice but to move on – and I love the way the film was tied in here too, as Remon delivers the completed reels to Kaito before telling the gang that she's transferring away, "right now". Of course Remon's reels aren't just the silly Ultraman parodies and staged alien encounters with Ichika, but all the candid moments too – the things she captured when everyone's guard was down. Again, "elegant" is the word I'd use here – elegant in the way this showed everyone how much they meant to each other, and how painful it was that Ichika was no longer in their lives. Painful for them all, but most especially for Kaito of course.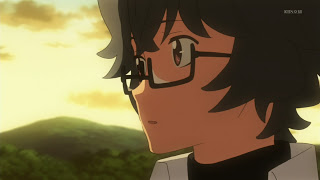 To the end itself, of course many viewers will be dissatisfied that there was no on-screen reunion, that much was inferred and not spelled out. I enjoyed this understated approach, though – the knowing smile on Remon's face at MIB headquarters as she looked at the plans seemingly of a spaceship design, the shawl that Nanami brought back from Bolivia, the reveal through the showing of the film at the school culture festival, after the gang has moved on. I also liked the fact that nothing was spelled out in the love triangle – Tetsuro might have ended up with Mio ("Just take Mio!" was Kanna's command, a proposition to which she seemed only happy to agree) but it's left to the imagination. We didn't get a neat, conventional ending in a series where the relationships weren't neat, but messy and complicated – for me, that's exactly as it should be. And we got an ending that was hopeful, with a strong implication that love conquers all, and one where all of the main characters seemed to fully embrace that they meant the world to each other, as friends.