OK, I really have to know – just what the heck is in the ramen bath?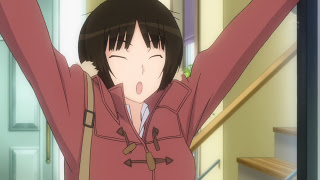 Seriously now, you're combining two of my favorite Japanese things – onsen and ramen – and you aren't going to show it? What a gyp – but I'll admit, I found this last episode a whole lot funnier and more charming than I was expecting. Maybe that's because I'm a sucker for onsens, and anything connected to them. In any case, while I was expecting a pretty mindless and forgettable excuse for a bunch of gratuitous fanservice, this was actually a pretty clever and occasionally hilarious episode. Mind you, there was fanservice in droves, too.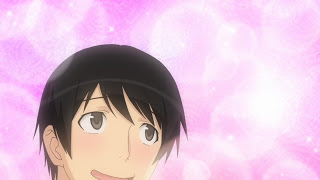 In premise, it was pretty simple – it's the last ep, so let's give Miya a chance to say "Daisuki!" in the ED. There's a new onsen in town, and they decide to have a free day, females only, which naturally attracts all of Junichi's omnibus harem and a few attached hangers-on. Not surprisingly the most fun by far are Haruka's retinue, which includes our blonde bombshell Jessica Sexy Morishima (I could listen to her Engrish all day) and Hibiki, who I've increasingly grown fond of for her sardonic wit and priceless reaction shots. We also get a visit from crazed stalker Risa, though it's mercifully brief and uneventful.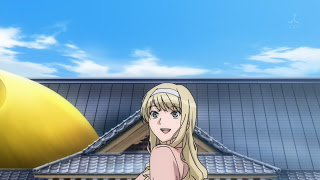 Some highlights for me were Ai and Kaoru and their grudge match to see who could hold out longer in the "female enhancement bath" and Rihoko's misadventures with "Dr. Fish". For those who don't know, Dr. Fish is a very real Japanese thing and not uncommon at larger onsen – it's as depicted, a bunch of little fish that eat the dead fish off your feet (and yes, it really tickles). But when weight-conscious Rihoko disrobed and submerged her torso hoping they'd much away the pounds, I about did a spit-take with my beer. Poor Rihoko (and poor Dr. Fish) – she really isn't overweight, but her self-esteem is zilch. I guess Miya was lying in last week's PV, because Junichi did appear in the ep – though most of it was creepy stuff about his circle jerk with Umehara. Miya-chan's "Abstinence Bath" might not have been a bad idea.
Looking back, I guess I'd say this season was a little better than I'd expected. I had very mixed feelings about the first season, which for me never ascended the same heights as the Haruka Arc which opened it. I'm not that crazy about the omnibus format as a rule, but be that as it may, this is Amagami and that's part of the territory. I called this season "Amagami Lite" and I still think that's basically what it was. It was half the length obviously, but I felt it was also much lighter in tone, and the sexual tension was turned down quite a bit from what it was in the first season. Still, apart from the Sae arc (which I again found completely unwatchable) I think this were fewer outright clunkers this season, and it was a little more consistent.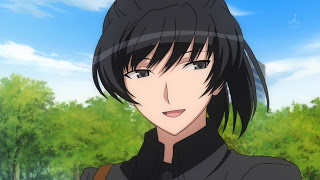 Comparing the character arcs to the first season's, it's no surprise that I preferred Haruka's again – in fact, the gap may have been even wider this year, especially with the spectacularly funny and sexy episode 11 weighing in. Haruka completely transforms the series for me – not only is she the funniest, sexiest and most lovable girl, but the writing is sharper and the chemistry with Junichi better when she's featured. But among the other girls, there were differences. I think both osananajimi arcs worked better this year, because of the "one year later" setting. With Rihoko – whose first arc was pretty mediocre – there was the suspense of not knowing whether she and Junichi would finally become a couple. And the Kaoru arc was my second-favorite this season, with the "friends with benefits" vibe a lot of fun to watch. I liked Ai's arc but less so than her first one, and Tsukasa's arc – one of the better S1 arcs – felt kind of flat to me this season.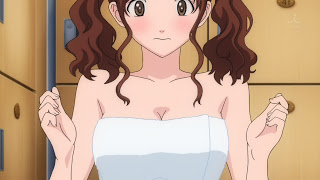 There's definitely nothing profound of groundbreaking about Amagami SS, but it has its moments. Generally speaking it's a pleasant romantic comedy that doesn't take itself too seriously, and there's nothing wrong with that. While the writing is often driven by cliché and very pedestrian, the lighter tone in "plus" may actually have served the material better in some ways. And anytime Haruka steps on screen, my world gets a little brighter. She's a transcendent character – openly sexy and sensual in a completely healthy and honest manner, funny, kind and fearless. More than anything else with this franchise, what I really want is an entire series with her as the female lead. And Jessica Sexy can come along for the ride, too.