Oh Haruka, if I were ever to marry a fictional character…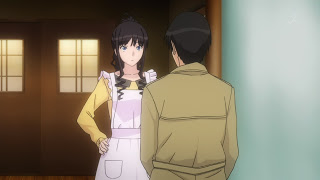 I continue to be somewhat puzzled by the seeming awkwardness between Junichi and his female leads – even Haruka – this season where matters of eros are concerned, and it really makes me feel like we're supposed to have forgotten the endings of most of the S1 arcs. I mean really, that whole scene at Junichi's house just about had me around the bend. You ask that Goddess to change out of the negligée she says she wore just so you could see her in it? Seriously? And then you make her sleep on the floor? I mean, come on – Haruka surely expected some serious intimacy but even if you're going to take the cowards way out, at least be a chivalrous coward and sleep on the damn floor yourself…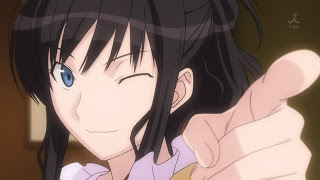 Well, not even the sight of Junichi peeling setsunas while Haruka was giving him the sexiest look in history was enough to ruin this episode, though it didn't have quite the off-the-charts fun quotient of last week's effort. I for one knew beyond a doubt that Haruka was only planning on being in England for a short visit, though I can't blame Jessica Sexy for using it to try and maneuver Junichi into fulfilling Haruka's fantasy. What I'm not sure of is whether or not Haruka was actively trying to do that, too. I really don't think she was – it's not as if he asked her for how long she'd be gone, and she would have told him the truth if he had – but I do think she had it in mind as a good test of just how ready he was to make a real commitment to her.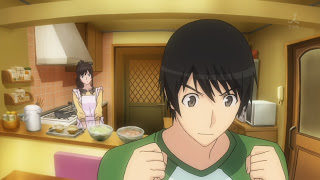 Fortunately, Junichi not being clinically insane and Haruka being Haruka, he was fully prepared to make the strongest commitment possible. And I have to say he did it in a fair bit of style, begging Tsukasa to let him give the speech at graduation and using it to not just declare his love, but propose marriage (let's see him try and talk his way out of sharing a bed now). I can definitely see these two together as the chemistry is easily the best of all the pairings, though I'm not sure about getting married while still in high school. It was also interesting to note that the parents apparently didn't even return to town for the wedding – they must be really busy people…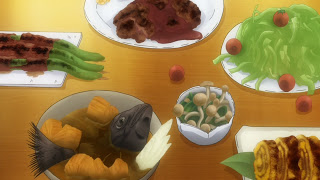 We still have a "girls-only" hot springs ep to technically wrap-up the season, but for all intents and purposes this was the finale. And once again, Haruka proves easily the most winning girl for me, and her arc easily the most interesting and entertaining. I know Amagami is all about the omnibus format, but it really feels as if there's not a lot left to do with that approach here – I certainly don't want to see six arcs of each pairing married and raising kids. If there is to be more, what I'd really love is a season focusing on this pair, maybe in college – though I know full well there's not a ghost of a chance of that.