The first of this arc's two episodes might have been the funniest Natsume Yuujinchou yet, but the tone shifted sharply in the conclusion, delivering one of the series' darkest and most somber efforts.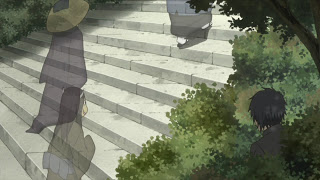 Anyone who reads this blog regularly knows that as a matter of personal preference, I'm not as fond of the conventionally-plotted episodes of "Natsume", nor the ones that tend towards the colder side of the emotional spectrum. But while this one didn't resonate with me the way my favorites have, it was certainly interesting from a larger perspective of Natsume's character. Any time Shuichi Nattori is involved, there's sure to be introspection, as his very presence forces Natsume (and the viewer) to confront the different methods these specially gifted few have at their disposal when interacting with the youkai world. It's no coincidence that the mangaka drew Nattori to look so much like Natsume, as he represents one of Natsume's possible futures.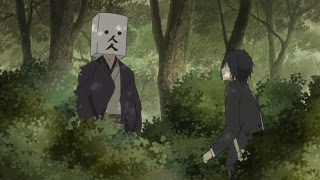 The introduction of Matoba into the series framed Nattori's role in a different light, it seems to me. Nattori now looks as if he treads a sort of middle path between Natsume's compassion-driven worldview and Matoba's cold, ruthless and cutthroat one. There's also the path of Reiko to consider, perhaps the one closest to Natsume's heart – and the one that's still the most mysterious to the audience. Forcing Natsume to contemplate all this is the danger Tanuma finds himself in, having ended up in the world of the youkai. One senses that in spite of his fear Tanuma is a little thrilled to be able to see youkai at long last, but for Natsume the involvement of any of his friends in that world is a nightmare come to life.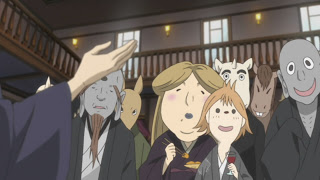 There's a definite villain to this piece, and it's Omibashira. Turns out this banquet is little more than a pretext to gather a bunch of youkai together – ostensibly to curry favor by making offerings, but in fact to be the offerings themselves. Their role is simply to be food for Omibashira, to give him back his strength so that he can rule over the local youkai once again. Nattori is there too, posing as a youkai and hoping to find the chance to seal Omibashira before he grows strong enough to be unstoppable. This is fortunate for Tanuma, who stumbles across him and follows him to the mansion where the "banquet" is being held. While it's Tanuma's plan that manages to get Natsume freed from his bottle, for Natsume that doesn't dampen the stress level – as he sees Tanuma get more and more involved he goes into what can only be described as a panic attack.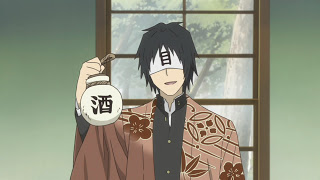 Fundamentally, this episode boils down to musing on the question of whether Natsume can have his cake and eat it too – stand with one feet in the human world and one in the youkai, with friends in both, and not have the two collide in tragic ways. When Nyanko-sensei takes on Reiko's form to sneak into the banquet – explaining that he can only take on Reiko or Natsume's form because they're the only humans he's looked closely enough at – the symbolism is so thick you can cut it with a knife. In the end Nattori and his team combine with Natsume and Sensei to seal Omibashira and stop the bloodbath, and Nattori actually urges Natsume to try and walk the seemingly impossible path he's chosen – the one he gave up on, and the one Reiko presumably tried to walk and failed (foreshadowing in that sentence). Given that next week's episode will apparently focus on Matoba's flunky Nanase – even flashing back to her childhood – it seems safe to assume these themes are going to continue to be front and center for a while.