What do you know – it's an episode of "Bodacious Space Pirates" with some actual piracy. And dare I say, it was almost bodacious.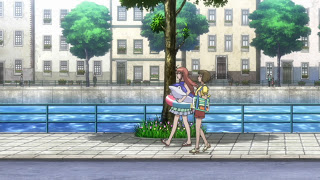 I took my own advice and took in the refined, dignified Mouretsu before spoiling my palate with the intense and visceral Sympogear this week, and I think that's a good general idea. While this was without question the most exciting episode of the series and the best since the premiere, Mouretsu Pirates still has a grace to it that I have to admire. Of course, as Elaine Benes said (and this is the second time I've quoted her this week), "Too much grace and you won't be able to stand" – and that's been a real concern for the show for most of its run so far. But this episode brought a nice balance to things and made for very entertaining viewing.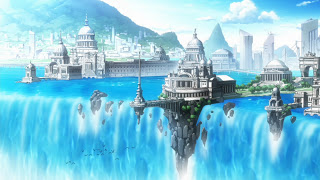 Among the elements I enjoyed especially this week was Misa's lecture to Chiaki and Marika on the history of piracy, complete with hilarious visual aids. This is a series that definitely knows the history that it draws its fiction from, and the thin line between piracy and privateering is an interesting one to explore from that perspective. One area which I'll be interested in observing is the morality of what Marika has chosen to do. You can call it by any name you wish and populate your crew with smiling and charismatic characters, but effectively this is still a criminal activity – ethically if not legally. The business of the Bentenmaru is stealing things that legally belong to other people. Does the fact that the "Princess Apricot's" insurance will reimburse the passengers justify the act? I wonder if that side of the story is going to be pursued – perhaps the Robin Hood angle will be played up. But piracy is still piracy, and it's only funny till somebody gets killed. Is that a worthwhile endeavor for a teenager to pursue?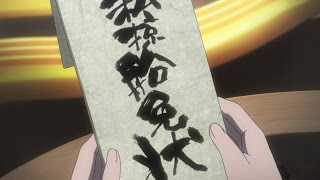 Of course there are strings of pirate films that paint the buccaneers as heroes, so I'm not going to hold Mouretsu Pirates to such a high standard that I'll dismiss the series if it fails to deal with that issue. Still, considering the very cerebral and realistic approach of the series, it's almost begging to be assessed in that way. There's no question that for the passengers on the liner, this was all a lark – being raided by pirates was one big adventure – I suspect these are the class of people for whom boredom is life's biggest problem. With Kane going ahead and sowing the field this really amounts to another controlled training exercise for Marika (right down to her literally reading her lines from a script) – real enough to satisfy the rules of their letter of marque, but symbolically with bokken instead of real swords (the little masquerade between Marika and the irrepressible Kane aside).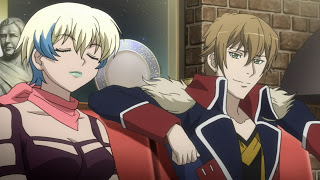 What I'm going to be most looking forward to in the coming weeks is – hopefully – the fleshing out of the pirate crew and the further exploration of the internal debate inside Marika that the series has hinted at without really exploring. As to the former, we'd already met Fujiwara Keiji's Hyakmume, but we were briefly introduced to Schnitzer (Miyake Kenta) who appears to be some sort of cyborg, Coorie (Horie Yui – huzzah!) geek glasses and all, Luca (Mizuhara Kaoru) – representing the token pirate eyepatch – and Sandaime (Matsuoka Yoshitsugu) about whom I can tell you nothing except that his beard is one of the weakest I've seen since I was in high school. In terms of Marika and her motivation, considering how close this show holds its emotional cards to the vest that's likely to be a very slow work in progress. It'll also be interesting to see if the narrative track of alternating between pirate life and mundane school life is going to work.