If in fact this turns out to be the swan song for Higurashi as an anime, all things considered I'd have to say it's a fine way to go out.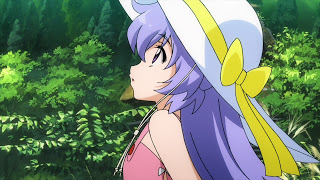 This property has so many different forms and permutations that I never know what to expect, so it's certainly possible we might see something else – either adapted or original – someday. But my expectations were pretty low for this, as the first three eps of "Kira" weren't among the better examples of what the show can be. That said, they had been trending upwards (from a truly hideous start) so there was always room for hope. And the finale of the OVA series was far better than the three releases that preceded it, and far more heartfelt as well.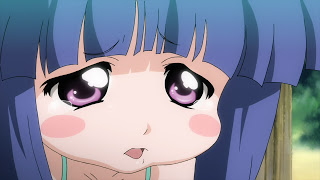 Any episode of Higurashi can only be helped by an overdose of Hanyuu (read, Hochan) and she's certainly in the forefront here. Along with her comes a four year-old version of Rika, who's traveled foreword in time as a result of entering a powerful shrine the Furude Clan has hidden deep in the mountains outside Hinamizawa. The meat of the plot surrounds Hanyuu and the older Rika's efforts to find the shrine and return the toddler home, but mostly it's an excuse for idling in the hills surrounding the town and for Hanyuu to rhapsodize about how much she loves Rika.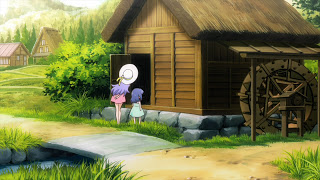 I have to say this is some of the best looking DEEN yet. I've been lucky to spend a bit of time in village Japan, and this timeline's Hinamizawa really captures it. The green of the trees, the canals, the water wheels, the idyllic wild shrines… If anything this peaceful version of the normally nightmarish locale reminds me of Shirakawa-go or Gokayama with its gassho-zukuri farmhouses. Higurashi has been many things but it's rarely been peaceful and heartwarming, and if this is truly the anime finale that's a nice memory to leave us with. Even little Rika's decision to return back to her turbulent timeline was uplifting in its own way. Good job, DEEN – and that's not something I get to say all that often.