I think I've been pretty patient with Guilty Crown, and I thought I was all-in on the silliness of it. But I might finally have reached my limit.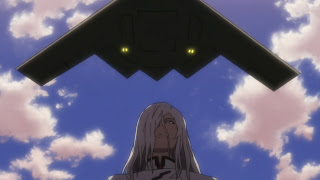 This episode makes me think of a chef working at a restaurant late at night, when he looks around and sees all the stuff he's going to have to throw away when the restaurant closes. So he takes everything that's left over, tosses it into a big pot, simmers it for a while and tells the front-of-house manager to add it to the "Specials" board. "What do you want to call it?" the FOH guy asks. The chef thinks about it for a minute, scratches his chin thoughtfully, and says "Let's call it Guilty Crown."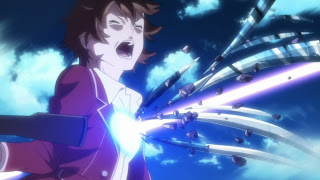 I don't really have a hell of a lot to say about the episode, to be brutally honest. It didn't annoy me as much as last week's did, maybe because I vented most of my rage after that episode but probably because this was more random and preposterous than actually stupid. I mean for starters, how is it that Shu didn't bleed to death? I see no indication that Inori gave him any kind of medical attention – there's no sign of cauterization, or suturing, or even a goddamm band-aid. OK, let's just stipulate to that and move on. The problem for me is that none of what should be the emotional payoffs had any real impact on me, because they weren't earned by the story. The fundamental issue is the same as it's been all along – these characters just do whatever the plot needs them to do. There's no sense of a character journey for me here – I don't hate Shu, but I don't feel much empathy for him either. I never liked Gai so it's easy enough to hate Gai 2.0, but he's obviously undergone some kind of radical identity altering which makes the whole issue of hating Gai effectively irrelevant.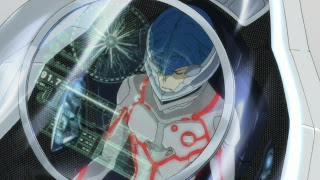 About the closest I came to feeling for anybody in this episode is Inori, which is ironic as she's been mostly a flat character for much of the series. But there was at least a certain poignancy in her situation as portrayed, watching her old leader and friend do terrible things (especially to Shu). Obviously she's wrestling with Mana taking over her body (not that we've gotten a good explanation for that or anything that's happened) and she's agonizing over the killing machine she's turning into, the "bakemono". At least in her pledge to protect Shu there's something understandable on a fundamental level, a precious nugget of straightforwardness in this incredibly jumbled mess of a plot.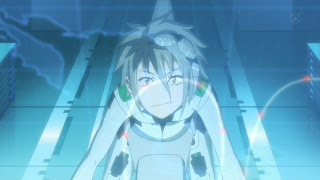 As to that, I don't really see much point in worrying about plot when none of it really makes sense. Lots of peopled died – Arisa's grandfather died in the process of killing her to clear the stain on his family name ('cause he's a samurai, y'know). Daryl may or may not have died standing up for Tsugumi against Gai, 'cause he-… Well, he just did. Gai used a bunch of voids to make a Lance of Longinus to destroy the UN bombs and bombers about to destroy Tokyo (and the void owners). Somehow he's working with Kido Kenji (remember him?) who's controlling a satellite which he uses to blow up the entire Seventh UN Fleet. Just why everyone is taking orders from Gai we're not sure, but it's apparently all the fault of an organization called Ba'at that's older than the Freemasons and Zionists (seriously, Zionists? Seriously?). Oh, and Haruka feels bad Shu's arm got cut off, but it was all for the best. That's some tough-love parenting right there.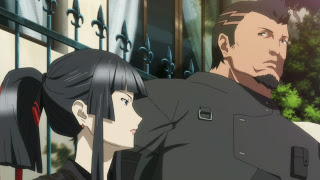 The good news is that soon enough we can turn NoitaminA over to Nakamura-sensei and Watanabe-sensei, and put all this behind us. Probably my best hope at this point is that Guilty Crown finds a way to end with some dignity, because there's no way this monstrosity can be turned into anything meaningful in a month. I don't expect the ending to make sense, but I have enough residual fondness for the show that I hope it can at least be coherent and inspire some small measure of emotional response (exasperation doesn't count). And please, for the love of all that's good and pure in the world, don't let the strong Blu-ray sales convince anyone to make a second season.