It's pretty hard to write seriously about Guilty Crown at this stage, so I guess the thing to do is not even bother trying.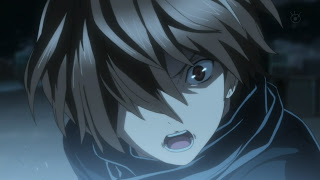 I suppose that ep has to go down as one of the most bizarre, over-the-top FUBARs of the last year in anime, and probably set the bar at a new high (or is it low?) for Guilty Crown. I think the problem comes when I try to view this series through conventional lenses, looking for things like logic and character progression and common sense. None of those things really exist in this series, which I suppose is what happens when you have a writer of very shallow talents who thinks he's deep. There's the germ of something wild and spectacular here, but it sure isn't fully germinating. If someone like Urobuchi Gen had written a series around this basic premise, you could have had something special. On the other hand, imagine if Yoshino Hiroyuki had written Madoka Magica. Well, I guess you don't have to imagine that hard really…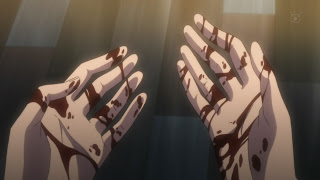 This week's miracle character transformation belongs to Kuhoin, who the plot needs to be a treacherous slut who sells her body for information of dubious worth in order to engineer a coup of dubious merit. It also needs her to inexplicably withhold the information that it was Inori who attacked her until nearly the end of the episode, for no special reason that I can tell. But in GC, what the plot needs the character does, and it was her turn to take one for the team this week. Well, take several I suppose, at least as far as Nanba is concerned.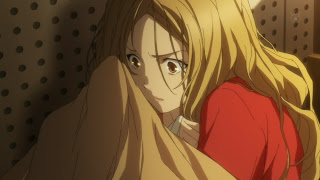 I couldn't help but laugh uproariously when Gai showed up and cut Shu's arm off, à la "The Empire Strikes Back". It was a combination of things, really, starting with the hilariously dramatic BGM that played through every such moment in the episode. Plus, it was so absurd for Gai to be back alive in the first place, and then the situation, and Kaji Yuuki's usual efforts at playing a dramatic moment… I feel badly, but I haven't laughed that much since the last episode of Blood-C. It really is an ignominious end (not really, of course) for Shu – betrayed by pretty much everybody apart from the Undertaker girls. Mom, Gai, Kuhoin, heck – even Souta was the one who pushed him into the pit. If his complete 180 from kind-hearted schnook to Emperor Palpatine hadn't been so sudden and unbelievable, perhaps I would have felt he somehow had it coming, but as it was the Shu of the last episode was like a grotesque parody of himself, and it felt like the Shu of the first 15 eps getting his arm cut off.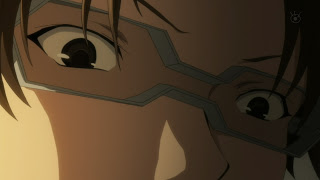 Therein lies the problem, really – Shu's transformation should have taken three or four episodes minimum, but it happened like a light switch. That pretty much describes most of the major character progressions in this series, and it robs the events from having any lasting impact. There was an enjoyable insanity to the episode in that so much was crammed into 22 minutes up to and including the UN planning to nuke Japan, and as always it was animated well. They threw pretty much everything but the kitchen sink in there, all of it wildly overdramatic and preposterous and utterly lacking any permanence. It was just an exercise in eye-popping nonsense, which admittedly not everyone can do this well – but in the end that's not much to hang your hat on. I'm not disinterested in what's going to happen from here – especially in what Tsugumi and Ayase decide to do now that Gai is back in the game – but it's pretty much impossible to take any of this seriously anymore.