I was almost fooled by the last two episodes, but…

Let me remind you of a couple of things I said in the post last week:
I'm quaking in fear that the person Shinbungi says he's supposed to get to see if he beats Segai at chess is Gai. That would represent one of the forehead-slappinngest LOLWUT moments of the year in anime.
The danger for the series is that Shu's transformation is too extreme and too immediate to be believable. It's not much of an arc if a character simply jumps from one place to another without traversing the territory between, even if he's tested by a traumatic experience.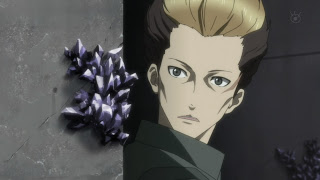 Remember all that stuff last week about how maybe Guilty Crown had figured it out at last? I'm not going to retract all of it, because it's not like this episode was terrible, but it did display some of the same distressing qualities that have plagued the show far too often. I still can't get past the notion that the characters aren't distinct entities who develop and behave organically, but simply plot elements – useful plug-ins to get the story where it needs to go. I've always held strongly (both as a writer and a reader) that the characters should drive the plot, not the other way around – and in Guilty Crown this week, we got a whole lot of the other way around.
Dammit, why can't an anime character stay dead for once? Yes, I called Gai's revival last week but BFD – with the way this series has progressed it's like you needed to be a genius to see this coming. The sad thing is that the best moment in Gai's character arc was when he died – and I don't even mean that in a snarky way. He was a plot device, basically, but his demise was written well enough to give the character a little bit of pathos. Now they had to go ahead and ruin it by bringing him back, to use him as a plot device again. Because that's what Guilty Crown does.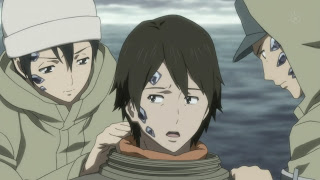 Shu is a perfect example of this. My biggest worry coming off the very solid last two episodes was that Shu's character would be totally transformed as if a light switch had been thrown, because that's what the plot called for – and that's exactly what happened. I understand that Hare's death was traumatic for him, but in a well-written show the focus would have been on how that experience started him on the path that ended where he was in this ep – because that's the interesting part. Instead, we bypassed all that messy character development and got the new Shu – heartless, cold and fond of James Dean rebel poses. Yeah, we get lip service to how he's only doing this because he has to – but that's all it is, lip service.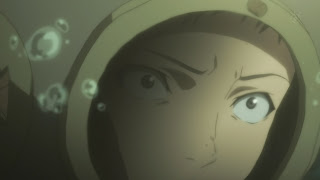 With Undertaker officially back in the story – right up to the top – the strategic pieces have been shuffled again, and that's actually still an interesting thing to watch unfold. At least Argo had the common sense to realize that Shu's transformation was totally unrealistic and that he was acting like a total dickhead. With Kuhouin's grandfather having contracted with Argo and Oogumo to rescue her so he can sell her off to a rich foreign businessman, they've both become Shu's natural enemies – though as was obvious all along Yahiro is really the one pulling Shu's strings. The "Void Prince" is running quite the dystopia now – symptomatic students being used as fodder for deadly assignments, harsh penalties for disloyalty, steep late fees for overdue library books… It's a hell indeed. Frankly it doesn't seem all that different from the world Gai was pushing for, but Argo doesn't quibble with small matters like that.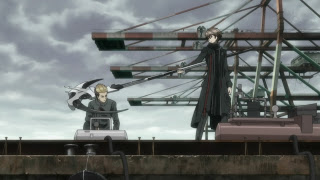 Where things get really interesting is when Shu finds out that when a person's void is destroyed, so are they – and that Hare died in such a way. He being a total douchebag now he decides to follow Yahiro's lead anyway, but meanwhile unbeknownst to him Inori is apparently killing Kuhoin – and apparently slowly being taken over by Mana. Also unbeknownst to him is the fact that it looks as if Gai is being resurrected out of a pool of slime by his mother, though for what purpose Segai plans to use him we don't know yet. Shu is sure to be force fed a big piece of humble pie at some point, though whether that means death of just humiliation I can't say just yet. And if comes down to this Shu facing off against Gai, I can't see myself having much of a rooting interest there. Since no one stays dead on this show, maybe Dan Eagleman will show up next week to spout hilariously insulting Americanisms and set things right by punching Segai in the face again?