We have a cast list and PV below the fold…
Cast List:
Fukai Ao: Yuutaro Motoshiro
Arata Naru: Kanako Miyamoto
Flair Blanc: Ayaka Ohashi
Elena Peoples: Chiaki Omigawa
Truth: Kazuhiko Inoue
OP – "Escape" from Hemenway
ED – "stand by me" from Stereopony



This series is already being massively dismissed and derided by the fan base, but I have high hopes. BONES has gone to the trouble of casting an actual kid as Ao (Yuutaro-kun played Yango in BONES' Xam'd) not to mention one of the very best seiyuu ever in Inoue Kazuhiko, and the PV is full of hand-drawn action sequences without a hint of CGI that I can see. The plot looks iffy – it seems to be tweaked to conform to the flavor of the week a bit more than I'd like – but I'm keeping an open mind. I actually liked the first chapter of the mange, though no one else seemed to.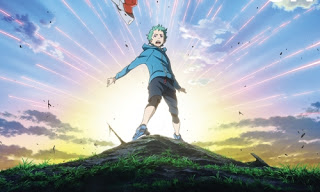 BONES has announced that the new E7 sequel Eureka Seven AO: Astral Ocean will be premièring as a TV in the Spring. The manga starts printing this month. Not a ton of detail yet, but this is certainly interesting. I think BONES needs to get back to their roots – a boy hero, exotic pretty girls and mechas. Judging by the art it looks as if the hero is Renton & Eureka's son. I wasn't thrilled with the E7 movie, but I have high hopes – the TV was certainly flawed, but at its best it was superb. Spring 2012 is beginning to look like it could be a huge season.