I don't think there's any question about it – this series is definitely getting weirder.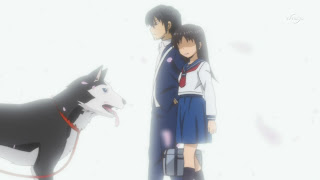 To some extent, I wonder if my reaction to Danshi Koukousei is dependent on my frame of mind when watching it, more so than is the case with other shows. As the show has progressed I feel as if the humor has gotten more conceptual and skewed, with payoffs that require a few instants of thought before I fully gauge my reaction. I sometimes find myself laughing uncontrollably and asking myself, "I wonder why I find that so funny" or, alternately, having almost no reaction and thinking "I wonder if that would have hit me differently if I were in a different mood". So when I have an episode like this one that doesn't strike me as so funny, I don't honestly know if it's the writing or me.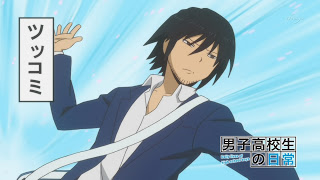 Whatever the reason there were only a few real "hits" for me this week. The scene with Hidenori in the convenience store (he was in almost every scene this week, and most of the eyecatches) clicked – even the name of the place, "Person Mart", struck me funny. Having worked in retail I definitely get that scene – I've seen it play out countless times. I also love how Hidenori continually tortures himself over how to react to situations, brought to life with great hilarity by Sugita-san. And the payoff where the scary "manager" turned out to be the trainee was perfect. I also found the scene with Mei's bag being caught in the tree funny (again, she doesn't come to her brother for help, but Hidenori and Motoharu) – not so much for the scene itself, but for the sight gag at the end. It was one of those "I know it's coming" moments, and the payoff was rewarding. The bit with the bees and the kissing was funny too, in a stupid but clever sight gag sort of way – and leave it to ever-prepared Karasawa to carry wasp killer in his backpack.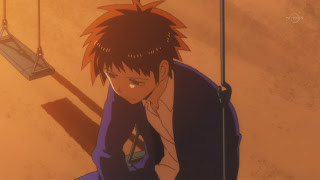 I think my favorite chapter of the episode though, was the bit in Motaharu's (the other "star" of this week's ep) house, with the Chinese red-headed centipedes. It wasn't so much that this scene was hilarious – it wasn't – but it was thoroughly committed to the premise that I was totally swept up in it. The "censoring" of the centipedes added something to the moment, too, and Motoharu with his rock-solid seriousness was the perfect protagonist to pull the material off. I was also interested to see worlds colliding in the first "Funky Girls" segment, as Nago (Convex-Mirror Girl) was revealed to be a classmate of Yanagin (they both attend a co-ed school, the only one we've seen in the series). I adore Nago – the was she pwned Yanagin at every turn and capped it off with "Who are you, again?" was very rewarding. More Nago, please, preferably as Tadakuni's GF.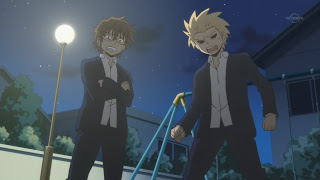 Alas, the rest of the sketches didn't do a whole lot for me. This week was more than usual composed of shorter chapters in a rapid-fire style, which I think is fine in principle for this series, but too many of them just didn't click for me. I'm still not sure what Mitsuo brings to the table, and the manga bit with Hidenori and Yoshitake didn't have a real payoff. It also looks as if the notion of Tadakuni ("We don't even know his last name!") as a deconstruction of the false main character model is for real – he's barely a factor in the series at all right now, and I think that's definitely part of the joke. The only bad part is that I actually like the character a lot, but c'est la vie – it's definitely one of the easiest checks Miyu Irino has ever cashed…
Omake: "Ramen/Skirts"