I don't know about you, but when Miura said "But that would make me totally useless" I threw up in my mouth a little…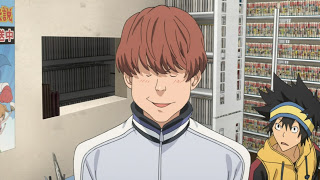 Here's my basic take on what's happening here:
The two smartest people in Bakuman are Hattori and Eiji.
The Two most talented people in Bakuman and Eiji and Mashiro.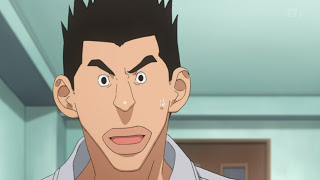 Eiji is unique for the obvious reason that he's on both (short) lists. He's smart enough and impartial enough to be an editor – just look what he did with Natural when the quality had started to dip, and even Hattori hadn't said anything. But he's also ferociously gifted – he's both artist and writer, both superb in quality and extremely fast. He also knows exactly what he wants and never second-guesses himself. For him, this is easy – he really doesn't even need an editor, never mind a good one. For Mashiro, things don't come easy. He's smart, but he doubts himself. His talent is primarily visual so he needs to work as part of a team, which is fine as that suits his temperament better anyway. What he needs to do is trust his instincts implicitly, because when he doesn't give himself a chance to second-guess he's almost invariably right. And if possible, he'd benefit from a really good editor.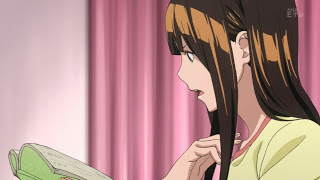 As Eiji (the smartest guy in the room) said, Hattori-san is the best. Alas, Miura is the worst. He has no eye for quality and lacks the people skills and ethics to be a good manager. He was full of losing ideas as usual this week, but at least he finally did find the courage to do something right – admit he's useless (especially to Ashirogi) and beg Hattori to help. This is yet another thing I love about Hattori, and I mentioned it last week – he's not afraid to cheat the system if he's not getting the results he wants. Merely interfering indirectly with Ashirogi was doing so – to actually intervene (even with Miura's blessing) is out-and-out scandalous. But in addition to being willing to bend the rules, he's also willing to take a risk – because by doing things like helping another editor's talent and secretly getting Eiji to draw for Iwase, he could be bringing down a heap of trouble for himself. He got away with the second – we'll see about the first.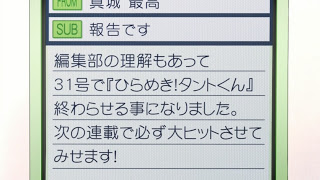 Even I'll admit that "KTM" wasn't a half-bad idea from Miura. The original one-shot was very clever and I like the direction adding physical appearance to the mix takes it. Fundamentally, though, I see two problems – first, revisiting old ideas smacks of desperation. And two, when I hear the details on KTM I don't think of "Jack" – that's a seinen story if ever I heard one. While Hattori dropped the ball for once with his (secret) idea – the mainstream fantasy – I think he's on to something in the idea of a simple and straightforward setting, with the edge and complexity coming from Mashiro's art. I think that suits the partnership well – Takagi is better at conventional storytelling and Mashiro is better at "alternative" art. Mainstream fantasy was the wrong genre choice – anything where both Ashirogi aren't completely bought-in is a bad choice – but the essence makes sense. I like the fact that the roles were reversed here, with Mashiro being gung-ho (perhaps unconsciously sensing Hattori's hand in the plan) and Takagi being the one whose instincts were telling him all along that this was the wrong direction.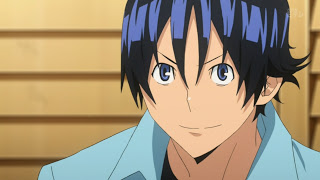 The question now of course is, what next? There's no suspense in that we obviously know Ashirogi aren't going to stop writing for "Jack", but it's interesting to ponder what that next serialization will be. It's certainly refreshing to see Hattori back on the team for real, even if his presence will still need to be kept secret from the magazine – who knows, maybe Miura will even learn something from watching him. Hattori clearly isn't as successful with his personal life, though, as witness the clumsy way he's handling the Iwase situation. He's just trying to be professional and she's the one crossing (more like obliterating) the line, but still – going soft on her as editor, then stringing her along – not well thought-out moves there. Iwase is very, very hard to like – her way of dealing with people is completely disrespectful and she seems totally self-absorbed. Still, Hattori chose to make use of her – not without success – and she's apparently a talented writer, so he's going to have to lie in this bed he made. Let's hope just not literally.