Our long nightmare is finally over…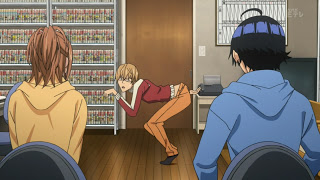 I don't know about you, but the process of watching Mashiro die a slow death every week on Bakuman has been a life-draining, exhausting experience. His face is always the perfect barometer for events in the series, and it's heartbreaking to watch all the idealism and confidence being sucked out of him by this hideous Tanto around his neck. Takagi has it rough too, having to come up with the jokes every week – but he never takes things to heart like his partner does, and his concerns have always been more practical and straightforward (like lack of sleep).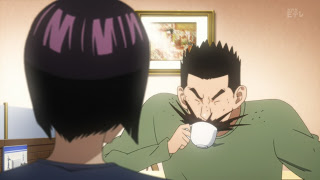 I really think Bakuman is at its best when it rails against the injustice of a cold, stupid corporate bureaucracy that sees art and artists only as natural resources to be exploited. The hospitalization arc earlier this season was my favorite so far, and it had me yelling at the screen more than any anime I can remember. That's why it was so hard to watch Ashirogi Muto meekly going along with the incompetent Miura's ideas, sacrificing their own ideals in order to fit it. It was out of character for them (especially Mashiro) and out of character for the show to be focusing on it. I think I can appreciate the larger point of the whole Tanto exercise, and why the mangakas thought it necessary – but it was just too much for me (and I know it went on even longer in the manga). That's why this week's ep had me yelling at the screen, and why I'm so relieved that events finally came to a head.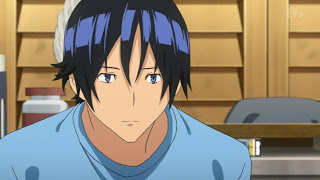 While Takagi is technically the second lead in this show, I've felt almost from his introduction that Hattori was actually the other indispensable figure in Bakuman. Takagi is Mashiro's partner but Hattori is his muse, the one that truly understands his artistic temperament. Mashiro is a complicated kid, and his motivations are complicated too. He needs Takagi to be his practical side, Miho to feed his romantic ideals, and Eiji to fire up his shounen spirit. I think it's really Hattori, though, that ultimately orchestrates all of it. Hattrori is a remarkable man, someone who knows how to play the system but isn't afraid to cheat when it suits his larger purpose. He's fundamentally different from his colleagues (with the possible exception of Aida) in that he sees his artists as people first, and not just resources. His refusal to exploit Iwase's crush as a motivational tool for her writing surprised his fellow Hattori, and we've all seen what Yoshida does to Hiramaru. But Hattori is fundamentally different from them, and that's why he's never stopped caring about Ashirogi despite no longer being their editor.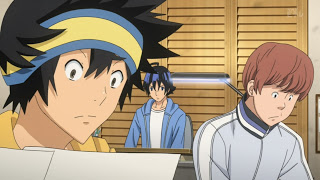 I know some would no doubt criticize Mashiro for disrupting Takagi and Kaya's wedding by seeking out Hattori, and I can definitely sympathize – it was rough timing. But I think that's just a fundamental part of who Mashiro is. He's odd, difficult, idealistic and opinionated – and above all, he's got balls of steel. He seized upon that moment because he simply couldn't take it anymore, and Hattori was the only one he could truly go to – and this was likely to be his only chance. I confess it was pure orgiastic bliss seeing the pants-pissing look on Miura's face when Hattori and Mashiro left the banquet hall, and it was long overdue. Mashiro did what he did – he pushed and pushed for a straight answer, and Hattori respects his talent and integrity too much not to give it to him, no matter how "inappropriate" it was according to corporate politics. He didn't pull his punches – he told Mashiro that Ashirogi was already considered a "troublemaker" (I'd wear that as a badge of honor if I worked for those people) and that mangaka with two early cancellations can be blacklisted. But then he told Mashiro the truth, because he knew he could take it.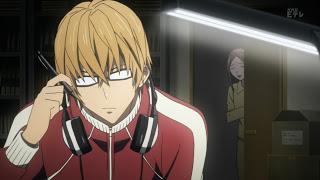 Of course it's been Hattori's aim all along to push Ashirogi (effectively, Mashiro) to take back control of their career path, though even he probably didn't know it would play out like this. Ashirogi is lucky to have friends like Hattori and Eiji who care so much about motivating them and respect their talent. And it was Eiji's pronouncement during his TV interview that Ashirogi was his "enemy" that finally pushed Mashiro over the edge. He literally ran home to his room and pounded his pillow in frustration, and then did a surprising and healthy thing – he called Miho. And she came through with flying colors, telling him to do what he believed him and that she'd support him through it – and so would Takagi and Kaya. It's a real step forward in their relationship that he thought of her for solace in his darkest moment – not to mention the significant fact that she told him she loved him. Mashiro may be idealistic but he's not stupid – he fully understood the position his desire to quit would put Takagi – newly married – in. Most people probably would have swallowed their bile and dealt with it as a concession to practicality, and logically that's the right thing. But not being practical and logical is what makes Mashiro what he is, and I was thrilled to see him make his stand.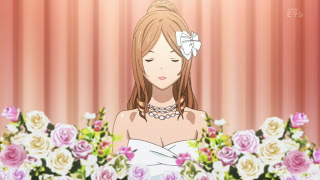 So as you can imagine, I was yelling at the screen pretty good when Miura led Ashirogi into the office to present their demand to quit in person. Heishi was his usual toadie self, giving them the company line about the kids vote and taking pride in their work. Of course that's what this is all about, doing work you can take pride in – and Ashirogi was doing Miura's work with Tanto, not their own. So it was on Mashiro to be impractical one last time and go over Heishi's head straight to Sasaki, who made them the offer I expected – you can quit, but say goodbye to "Jack" if you do. I would have loved to have seen that happen, though of course it was never a possibility. But after Hattori jumped in again to attempt to defuse the situation, Sasaki surprisingly stated what was true – this was "a problem with the editing department" – and Heishi (sensing the change in mood, no doubt) jumped in to say that Ashirogi had the talent to challenge Eiji, but hadn't had the chance to show it (the reflection about Miura's ability is clear). Things end up with a deal – a serialization candidate that can beat Eiji by year's end, or Ashirogi is terminated. Either way, they – and we – win, because Tanto is no more.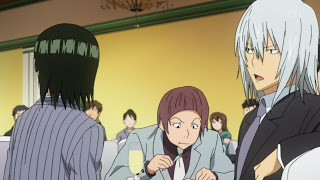 If the aim was to show us how difficult the artist's path in the corporate world is, Bakuman has done a hell of a job here – I just wish it could have been done a whole lot quicker. Whatever happens next is almost sure to be an improvement, because watching Ashirogi struggle – even if they fail – is better than watching them churn out something they don't even like themselves. Ultimately this is Mashiro's story, and Mashiro is neither conventional or cautious. He's a dangerously single-minded kid who figures to live his artistic life on the edge, and that's what makes his struggle so interesting to watch. And I suspect it's going to be a whole lot more fun to watch that struggle from here on out than the last couple of months have been.