Ano Natsu is exactly the same thing every week – just really good. I'm not sure I can remember a show that could make that look as effortless as this one does.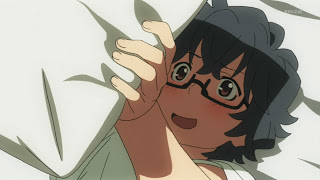 There were some hints that it was going to happen, and indeed – this was the week shit got real. I knew it was coming but I confess I was a little worried – I've loved the straight-up romantic comedy elements of this series so much that any change to the recipe was cause for concern. But remarkably the series didn't skip a beat – not only did Ano Natsu manage to tie in the sci-fi and action elements with the romance, but they did managed to come up with an amazingly exciting and involving ep in the process.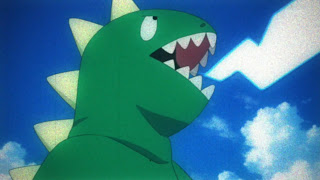 It's probably a good idea to take stock of where things stood, relationship-wise, before all hell broke loose. Kanna is still resolutely in love with Kaito, and appears to have neither a romantic thought for Tetsuro nor a clue that he's interested in her. Mio is wearing panties, has cut her hair (very cute) and while still totally committed to Tetsuro, is trying to be the good soldier and help him win Kanna. In short, she's doing exactly what he's doing – subverting his own feelings. In his case, feelings for Kanna – by trying to push her into Kaito's arms. The difference is, it looks as if Tetsuro is starting to see Mio in a new light – Onee-san playing tricks in the dark or not, they didn't land in this position by accident. Mio's new hair is symbolic that Tetsuro – armed with what he learned in Okinawa – is seeing her differently. As for Kaito, he seems quite unmoved by the knowledge Tetsuro gave him about Kanna's interest – he's still locked and loaded for Ichika with blinders on, and now Tetsuro knows. Finally, Ichika is right where we left her – emotionally longing to be with Kaito, but intellectually trying to tell herself it's a bad idea.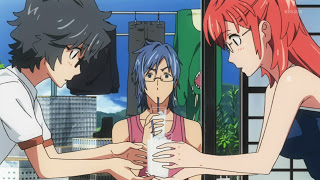 And then there's Remon. She tied Ichika for first in the LiA character poll, and there's no doubt she's highly entertaining if you're sitting in the audience. But if you're unfortunate enough to be a character in Ano Natsu, that's another matter. I'm still not sure what she is and what her goals are – she could be anywhere on a scale from merely mischievous to outright evil (when she picked up the camera and began filming at the end of the ep, it was downright reptilian). She could be an alien herself. What we know for sure – if not why – is that she knows a lot about Ichika and she loves toying with the feelings of the others by meddling in their romantic pentagon (she even has it mapped out). I don't get the sense she's doing this a matchmaker, out of the goodness of her heart – I think she enjoys pulling the strings and watching them dance. It was interesting that she knows Manami Onee-san, and that Manami was surprised to learn Remon was still in high school – interesting, but like everything about Remon hard to interpret. Why is she so wrapped up in this messy romance kerfuffle that she'd actually seek out Manami's advice about it?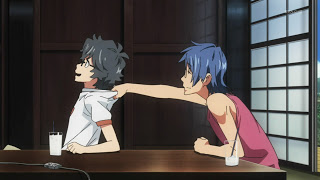 Of course the difference this week was that all of that emotional entanglement was the setup, and not the conclusion. The setup in place, the setting was at the festival, on what looked to be the grounds of Zenkou-ji – and which featured some of the most beautiful art I've ever seen from the team at JC Staff. To what end we can't be sure, but this is where Remon set the plan she'd devised with Manami in place – to split the others into pairs for a test of courage, and to strand Ichika on her own. Why Tetsuro and Mio, Kanna and Kaito – was this how she wanted everyone to end up, or was there an ulterior motive? Using Manami as a prop, she managed to use fear to force the action, and perhaps what she wanted was for the group to be forced to react on instinct. If so, what happened would be hard to misinterpret – when terror hit Tetsuro jumped on top of Mio and kissed her, and Kaito left Kanna on her own and went tearing after Ichika when the chips were down.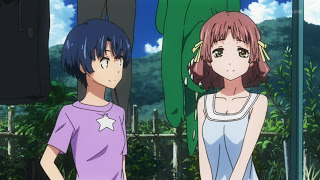 Again, Kaito – the most underrated MC of the season – comes through big time. He's so refreshingly straightforward – not only has he never pretended his feelings were different from what they truly are, but he's actually acted on them. I feel for Kanna, but Kaito doesn't owe her false hope – she's not the one he loves. Not only that, but when Ichika was in trouble he unreservedly threw himself into the fray (and off a cliff) to help her. And that trouble was serious– the rescue drone from her home world which was summoned when Arisawa butt-crushed Rinon and activated her ship's emergency beacon. Rinon was apparently so embarrassed that he (she?) tried to fix it without Ichika knowing, so she didn't find out until it was too late. And that drone seems very determined to take Ichika back home. Enter Kaito in full superhero mode, throwing himself in between the drone and Ichika, getting tossed off a cliff and rescued by Rinna – another of Ichika's helpers, apparently – and then body-checking the drone while riding Rinna at full speed.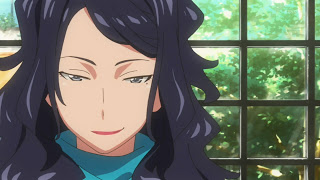 Things look pretty grim by the end of the episode, though, as the end result of all this heroism is that Kaito may very well have died – and it may be the second time. Ichika is able to heal him, apparently, but can only sob "I'm sorry!" over and over, leading to the suspicion that Kaito's "cure" isn't quite so simple. What the implications are isn't clear – is Kaito dead if Ichika's ship is out of range? Is the healing only temporary? She seemed very, very heartbroken indeed. At the very least, Kaito now knows unequivocally that she's an alien, and while it's less clear whether the others saw enough to know, it seemed to me that even Remon was surprised by the turn of events that began with the rescue drone's arrival. There's an awful lot of guesswork in trying to figure out just what's happening here but it seems to be pretty serious stuff, and I don't think the series can fully go back to the lighter mood of earlier episodes. I don't think Kaito will care that Ichika is alien, but she seems to be considering some sort of memory wipe, based on the preview. I really hope all this doesn't end in tears, but a downer ending was always a possibility and this week's ep did nothing to rule it out. I'm still betting against it (apart from a possible "forever alone" for Kanna) but I'm definitely on edge.