I'm not sure I've laughed harder this year than I did when Mio reached back to pull down her skirt…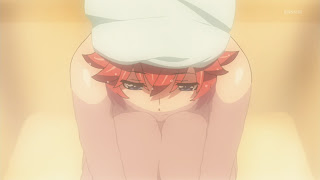 Seriously, does that girl have no shame? We've pretty much confirmed that she's always nude at home, and she wasn't shy about sleeping that way in the same room as Kanna. But that last scene where she rescued Tetsuro from Arisawa pretty confirms that she was indeed going commando at school, too. She's deliciously naughty, this one – how can a sharp dude like Tetsuro not notice someone like that is warm for his form? I guess we're never more clueless than about what should be most obvious.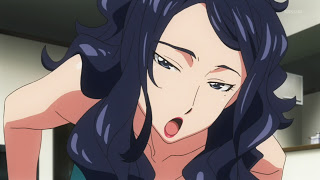 One of the things I've really come to love about Ano Natsu is that is almost never beats around the bush (sorry, Mio). There's just no BS here – where most romcoms are dithering and dallying, it just whips out all the dirty laundry and airs it for the world to see. I'd certainly seen enough already to figure that when this show did a beach episode, it was going to go somewhere with the trope, and boy did it ever. A trip to Okinawa courtesy of Manami Onee-san provides the vehicle for some excellent fanservice, slapstick comedy and actual plot progression – a whole lot of that last one, actually. The best part is the fanservice is actually sexy, and the comedy often uproariously funny. Why can't every beach episode be like this one?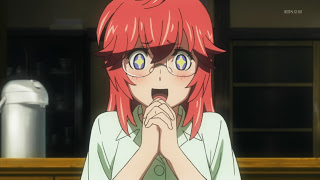 We left things last time with Tetsuro having confessed on Kanna's behalf, with Ichika overhearing. I saw nothing this week to shake my opinion that it was fundamentally a strategic move on Tetsuro's part, but in case you were worried things would stagnate and obsess over that cliffhanger, you needn't have been. Affairs get a big fat push in the form of two Okinawa beach babes, the aforementioned Arisawa Chiharu (Iguchi Yuka) and her friend Kinoshita Kaori (Kayano Ai), who happens to be an elementary school friend of Kaito's from up north. Not only that, but they were "engaged" – play-engaged in that grade-school way, that is. Or so Kaito thinks, but Kaori was serious then and upon seeing her "Seaboy", she's serious now. A convenient device to drive the plot? Sure – but Kaori and Arisawa were so bloody entertaining that I didn't mind a bit.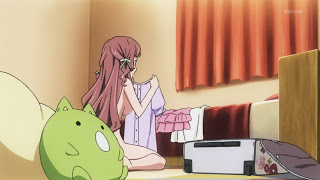 When the ever-troublemaking Remon invites the girls to join the filming, things really hit the fan. Mio, Ichika and Kanna stew in their own juices as Kaori and Arisawa put the moves on Kaito and Tetsuro, respectively. Kaori's motives seem clear enough, and quite genuine – Kaito was a huge childhood crush and she's still into him. Arisawa OTOH pretty much just seems like a teenager with her hormones (and vocal chords) out of control, and it's when she stalks Tetsuro back to the house where our heroes are staying that the soon-to-be legendary skirt scene with Mio takes place. Both Rinon and Arisawa took the brunt of the damage from her attack, although Rinon's came on the business end of Arisawa's bikini-clad behind ("Streat"? I'm not sure I want to know). Mio certainly is an odd girl – public nudity, private nudity, photo-realistic Mont Saint-Michel sand castles… And when she finally decides to confess, she does it with a bottomless flying tackle onto her man's bed.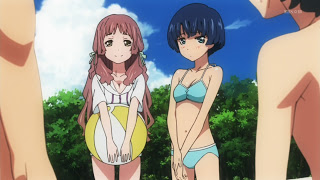 As for the male lead and his growing harem, again I found the whole encounter to be refreshingly free of BS. Kaito was very blunt when Kaori confronted him with her feelings in the jungle – he told her straight out that he had someone he loves, and that he was serious about it. Kaito doesn't get much fan love but he's a pleasingly straightforward main character – he was quick to confess his feelings to Ichika and quick to dissuade Kaori of any false hope. Of course Ichika arrives only at the tail-end of all this to find Kaito and Kaori staring at each other, tears rolling down her face – but while Ano Natsu loves its cliffhangers it also loves resolving them quickly, and I don't think that misunderstanding is going to be a drawn-out distraction next week.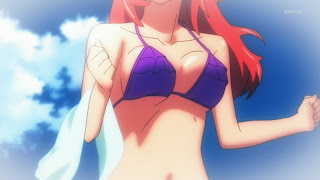 So, status update – Ichika knows Kaito loves her, Kaito doesn't know Ihcika loves him too but does know Kanna loves him, thanks to Tetsuro. Kanna loves Kaito but he doesn't love her, and she doesn't know he knows she loves him. Tetsuro loves Kanna but she doesn't know, but now he does know that Mio loves him – or he's more clueless than anyone on Earth. But no one, apparently, loves poor Mio (apart from me and countless viewers and future doujin artists). Kaori loves Kaito and he knows, but he doesn't love her. Carnivorous Arisawa loves beefcake, and I suspect any cut will do. Remon, meanwhile, seemingly knows everything about everyone and loves using it to her advantage. And Rinon is unconscious with a truly lovely teenaged posterior on top of him, with possibly disastrous consequences for Planet Earth and/or Kaito. That should be plenty to keep us busy – and wildly entertained – for quite a while.