What a shame it is that among the most interesting Winter 2012 series, one is three episodes and the other is three minutes.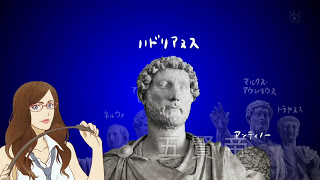 The latter, of course, is Recorder to Randoseru – a fairly interesting premise (in a silly way) that's terribly unsuited to a three-minute format. The three episode series is Thermae Romae, though if you wanted to you could call it six, as it's somewhat confusingly split in half every week. It's too bad this show is so transparently little more than a 3-week commercial for the upcoming live-action (even to the point of inserting a movie poster for it into the first episode). The flash animation is bare-bones, the classical soundtrack – though pleasant and quite appropriate – is public domain, and there are no high-priced seiyuu in the cast. But none of that can hide the quality of the writing.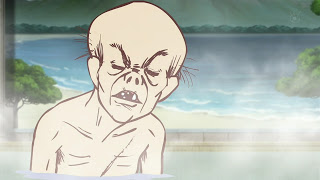 This show is, in short, very funny. It's pretty smart, too, in the way it pokes fun at modern Japanese culture, ancient Roman culture and cultural xenophobia generally. The third mini-episode takes place two years after last week's pair ended, with Lucius' friend Marcus (Touichi Hiroki) contracted to build twenty statues of the Emperor Hardian's dead lover, Antinous (the homosexual affair is discussed rather matter-of-factly), and bored with escorting his aged mentor to the bathhouse. Another of his mysterious trips to modern Japan reveals news wonders to him – the home bath, the washcloth (no more olive oil and sand) and best of all, the ice cold beer. Just wait till Hadrianus (Ootsuka Akio) gets wind of this – and that happens soon enough, when his man visits Marcus and sees the bath Lucius has constructed for his master, complete with cow-intestine shower.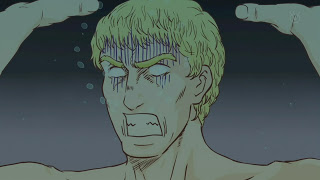 As cheap-looking as it is, those distressed faces in the flash animation can actually add to the comedic impact at time – and we see that in the fourth mini-episode, perhaps the funniest one so far. Another year has passed, and Lucius – fighting irritable bowels – is awaiting an audience with Hadrian. The Emperor has fired his old architect and wants Lucius to build a bath for him in his villa, and fortunately for Lucius he has another trip forward in time – this time to a bathwares shop somewhere in Shinjuku where he's waited on by a hilariously on-edge young sales assistant (Ueda Kana) with even more hilarious ideas about Italians. This skit works on many levels, but the best part for me is when Lucius discovers the wonders of the washlet. Let me tell you, as a foreigner who went to Japan and was overwhelmed by the virtues of this convenience modern Japanese take for granted, I can well understand Lucius' reaction.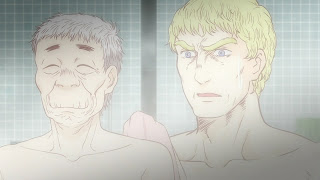 Sadly, with only one ep left our opportunities to enjoy this very sly humor are going to be short-lived, but it's certainly been a fun little detour in the NoitaminA schedule. I love little touches like the cameo by Lucius Vorenus from HBO's fabulous "Rome", and the bizarre things happening in the background of almost every shot. With Lucius now (unwillingly) Hadrianus' lover, I think we can look forward to some more edgy social commentary next week. I'd have loved to have Thermae Romae as a "real" series, but this little gem is certainly better than nothing.