I don't deny that Senshogear is a bit of a mess, but despite that and the fact that I'm not crazy about the genre, there's something about it I find slightly irresistible.

OP: "Synchrogazer" by Nana Mizuki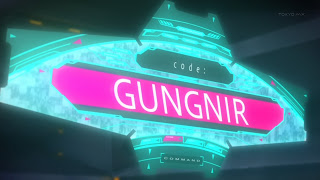 I'll be the first to admit that Aoi Yuuki's performance as Hibiki is a big part of the reason I'm enjoying this show. She's terrific, as she so often is, combining genki and cluelessness in an immensely funny and lovable package. But there's more to it than that. There are some smart little touches that make it just a little better than it needs to be. "PM: I swear she said she was 18" coming off the TV screen. Kazanari's (Ishikawa Hideo) tie being stuffed into his shirt pocket. The material is an intriguing combination of light and dark that totally works, at least for me. At least so far.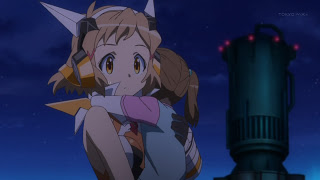 In terms of exposition, we got an awful lot this week. Senshogear is really a series on speed – everything happens at a frenetic pace, as if they're trying to cram as much content into an episode as they can. For starters, the source of the power Tsubasa and Kanada – and now Hibiki – possess is something called a relic, a talisman whose great power that mad scientist Sakurai Ryoko (Sawashiro Miyuki) has invented a device to extract. The songs are the method of controlling the power, and as many suspected, Hibiki has inherited Kanade's "Gungnir" power – but the method the writers have chosen is an interesting one. When Kanade was killed during the concert two years in the "past", shrapnel from her talisman was lodged in Hibiki's chest – too close to the heart to be removed.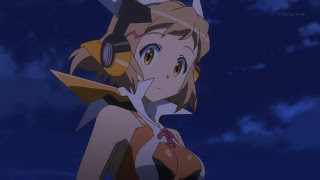 That's a rather poetic imagery, I think. Of course it's easily predictable that Tsubasa would struggle with the notion of her friend (or more? The yuri vibes are strong here, and with Hibiki and Miku) living on in Hibiki. Hibiki seems to know only one-speed, full power straight ahead, and she's quickly ready to accept her new powers and become Tsubasa's partner. It's not that simple for Tsubasa, though, and she seemingly challenges Hibiki to a fight as the episode ends. Hibiki represents the perfect sort of heroine for this show, forming a kind of sympathetic vibration as both she and the plot race ahead at bewildering speed.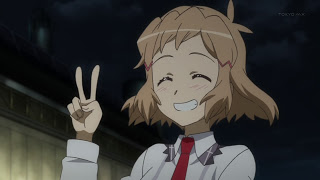 Yes, it's a mess – too much happening too quickly, much in need of some varied pacing to heighten the impact. But this show really has style, even with it's medium-rent animation, and there's an openness to the emotional tone that I find appealing. I still feel some Madoka vibes here, and this week I'm thinking this might be this season's Kamisama Dolls – a straight-ahead action anime that feels like a throwback and manages to juggle multiple styles and modes effectively. It's not as good as that show yet and may never be, and so far it isn't winning any awards for subtlety, but on the whole I think Senshogear presents a very appealing viewing experience.
ED: "Meteor Light" by Ayahi Takagaki