The little ecchi that could is back for one last hurrah, something for 97% of the anime-viewing world to ignore and the rest of us to savor.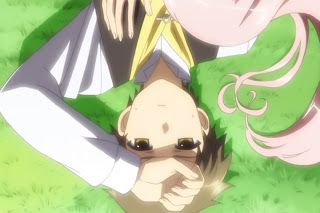 I've always been a little hesitant to call R-15 an "ecchi series", because I really think that doesn't come close to doing it justice. But the fact is, of course, that in BD/DVD form it delivers some of the best service of 2011 and AIC really cuts loose with this OVA treat for the new year. This was also one of the best romance series of 2011 – in fact, one of the very few really good ones where romance was at least the co-headliner – and that aspect certainly isn't ignored here either. If you're a fan of the unique blend of sex, brains and heart that R-15 has to offer, there's no reason you won't find this among the best episodes of the series.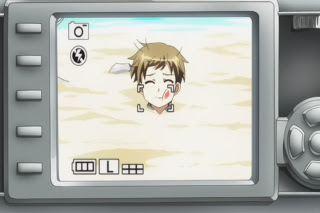 Things pick up pretty much where the finale ended, with Taketo's class jetting off to Vienna as their reward for winning the spirit contest and Utae headed off to the same city for a concert. Or rather, they pick up after a strange incident has occurred on the way back from Vienna – a mysterious UFO appears next to the plane and the next thing anyone knows, Taketo, Fukune, Raika and Utae awake on a deserted island surrounded by airplane wreckage, a very "Lost" scenario. Well, put R-15 on a tropical island and you can pretty much imagine where things are going to go from there – and indeed, go there they do. The episode is chock-full of fanservice and quite frankly, some of it is damn hot. But there's more too, in that odd way this series has of being dirty and innocent at the same time (much like its hero) and much of the best of that involves Utae's heartbreaking quest to win Taketo away from Fukune without playing dirty (something she's far too ethical and kind-hearted to do).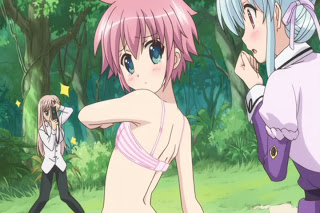 Among the highlights of the episode is the tentacle monster that looks almost exactly like Audrey II from "Little Shop of Horrors" right down to the Cheshire grin. Taketo is torn (that's not news) between the big head and the little when the gang stumble upon the beast about to violate Ran (who probably deserves it) and then it scoops up his three companions and strips them naked too. A real-live tentacle monster, transported from his fantasies into close-up reality? That's almost too delicious for a genius porn writer to bear and he's busy scribbling his inspiration on the sand, but his reason gets the better of him and he swoops in for the rescue – only to find that Audrey "swings both ways" and comes awfully close to being eaten in a way no straight boy wants to be. Tsukuru (whose presence should have set off alarm bells) arrives on the scene with a rocket launcher to save the four of them along with Ritsu, who's also gotten himself into the same dilemma (though perhaps he might not have been quite so alarmed as Taketo).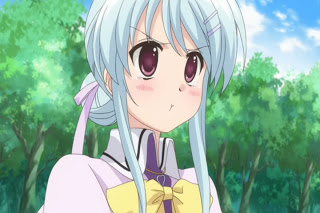 Of course there's more to this "abduction" than meets the eye, and no aliens are involved (which doesn't stop Fukune and Utae from hilariously pleading with Taketo to check their bodies for signs of alien surgery). It's the Club President behind it, with the help of Raika, Tsukuru and Katsuyo, in an elaborately staged ploy to get Taketo to write a new breed of porno based on perceived life-and-death situations. And indeed, when he has to come up with ideas to subdue the beast that's kidnapped Fukune with the only weapon at his disposal – porn – Taketo comes up with some of his best stuff. There are chapters involving Ritsu (with the Prez) and Tsukuru, certainly firsts, and the chapter where Katsuyo tries to use her manager skills to help Fukune play the clarinet is oddly invigorating, to say the least – some of the best ecchi in the series. R-15 once again proves itself pure genius at contriving preposterous grand finales that somehow work.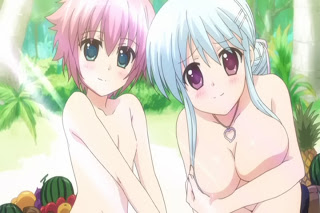 If this show isn't your bag, you certainly aren't going to feel any different about the OAD – it's R-15 on steroids. If you're a fan, I can't imagine you won't be thrilled. Not just to see those idiotic censor bars gone (you can see the regular episodes that way now) but because this special is about as shameless, bombastic, hilarious and lovable as the series has been. It's likely the last we'll see of this humble little show with its newbie cast and low-rent animation, but if so it – along with the superb series finale – makes a great way to go out.