I know about the three-episode rule and all, but on this series I'm still very much undecided.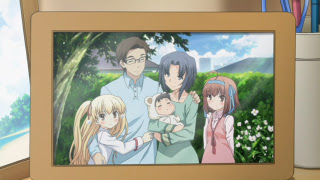 I thought this episode would be a decisive one for PapaKiki, but it was mostly a placeholder – exhibiting some of the elements that are strengths and potential weaknesses for the show. Ultimately it's going to come down to whether or not the show is well-written enough to be entertaining for a full cour, and I think the signals are mixed there. There's a certain amount of emotional empathy generated by the situation, though unlike Usagi Drop I certainly see the tendency to overplay the hand here. I preached non-stop about how that show needed to low-key the drama because the scenario was so emotionally charged, and it mostly did. So far, I can say the same here.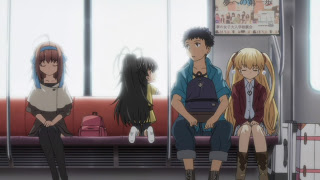 To be fair, PapaKiki isn't trying to be a realistic show like Usagi Drop – at least I don't think it is – so it's not a totally fair comparison. The scenario as depicted in the latter show was fairly realistic – Daikichi was a responsible adult with a good job, and lived in a house, however humble. The situation here is absurd on the face of it, something that would never be allowed to happen in real life. Still, the show is playing it seriously enough that it can't have it both ways – some degree of scrutiny has to be paid to the feasibility of events. On that score I thought it did pretty well here at depicting the first day the girls spent with Yuuta, dealing with the awkwardness without overplaying the drama. It did seem for a bit as if the girls were recovering emotionally a bit too quickly, but that was mostly a front, as demonstrated later.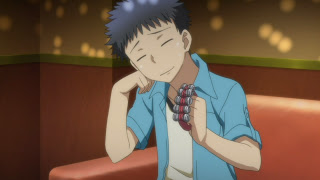 There are still some serious danger signs. I really don't need to see a bath scene every episode – that's going to start feeling gratuitous pretty quickly. And while Hina is cute enough, if they ram her cuteness down own throats week after week as they did here that's going to be a real problem. Mining cuteness from four year-old girls is easy, requiring no skill at all to speak of – but it's also pretty one-note. The real potential for the series lies not in Hina, but in Sora and Miu and their relationship with Yuuta. But I still think the show is fundamentally still unclear on just what it intends to me – serious family drama, moe-fest, ecchi, comedy? Maybe it can successfully combine all of those elements, but I haven't seen anywhere near enough from the writing yet to convince me that's the case.