I wouldn't say Bodacious Space Pirates was one of my most anticipated series of the Winter, but it was certainly one I was looking forward to. And given the studio, staff and premise, it delivered just about what I expected.

OP: "Mōretsu Uchū Kōkyōkyoku – Dai-Shichi Gakushō 'Mugen no Ai'" ("Extreme Space Symphony's Movement VII 'Infinite Love'") by Momoiro Clover Z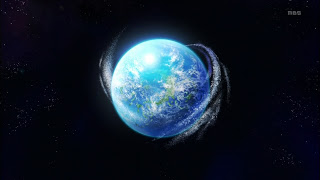 It seems pretty obvious from the pacing and content of this premiere that "Pirates" is a two-cour series. Things are generally pretty relaxed, with a focus on stage-setting and light comedy and a minimal amount of exposition. What stood out going in was the presence of Sato Tatsuo as writer and director. As the man behind classic sci-fi series such as Stellvia and Martian Successor Nadescio, it figured this would be a show with a very retro feel, and it doesn't disappoint. The comedy is broad and tends towards the slapstick end of the scale, and the visuals are bright and eye-popping. I don't sense a lot of subtlety in the first ep, though Sato-san is certainly capable of it.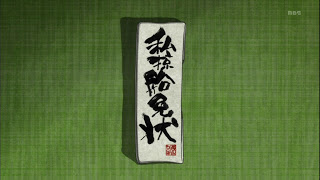 The premiere delivered on the premise in a very straightforward way, without too many surprises. Our heroine is Kato Marika (Komatsu Mikako, whose biggest role to date is androgynous Joey from Heroman), by all appearances an ordinary schoolgirl (with un-ordinary piloting skills)living an ordinary life in the ambiguously distant future. But as we already know, that's not the whole story – a story Mom Ririka (Kaida Yuko) has been keeping from her. Marika is the daughter of the legendary pirate Gonzaemon, captain of the Bentenmaru, who's just died (ironically enough from food poisoning). Crew members Misa Grandwood (Itou Shizuka) and Cain McDougall (Matsukaze Masaya) have arrived to inform Ririka of the news, and Marika of the fact that she's the sole heir and thus the only possible future captain of the Bentenmaru.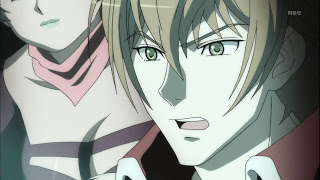 There are quite a few wrinkles here still to be ironed out, of course. There are obviously some complex politics behind the issue of the pirates, who apparently came into existence a hundred years earlier in support of a (successful) rebellion. The Bentenmaru is a "legal" pirate ship operating under a letter of marque, effectively making them privateers rather than pirates if I'm going to quibble. But the episode seems primarily interested in setting a mood rather than explaining a lot of what's going to happen. We get scenes of Marika working at a "anachronistic" maid cafe (good inside joke there) with her pal Mami (Omigawa Chiaki). We get scenes at school, where Marika's class is introduced to a new teacher – who happens to be Cain, obviously there to keep an eye on Marika – and a new transfer student Kurihara Chiaki (Kana Hanazawa, seeming in tsuntsun mode)a megane-girl who seems to know all Marika's secrets, and some serious combat skills besides. Those come in handy, as it's clear Marika has her share of enemies.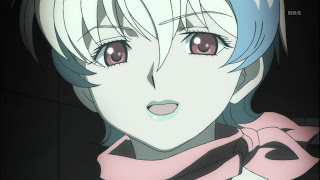 I wouldn't say all this worked flawlessly, as there was some element missing that prevented the episode from really grabbing me. I'm not terribly worried as this is, as I said, a two-cour series and clearly this was a very relaxed intro to what I expect will be a generally more frenetic story. I do expect Mouretsu Pirates to be a more upbeat and less dark series than Senski Zesshou Symphogear, say, though based on Sato's history I expect some violence and complex social commentary. Satelight has been on a roll of late, and the premiere does have their signature visual flair (something of which was present in SenZeSym, too) with a very European look to the set design and backgrounds. It's very competent, snappy and I like Marika just fine as a lead – I'm just now wowed. Which, really, is just about what I expected.
ED: "Lost Child" by Momoiro Clover Z