I LOL'd…

OP: "Shiny Table" by Mix Speaker's, Inc.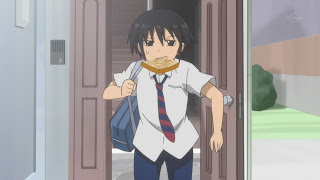 That the premiere of Daily Lives of High School Boys was exactly what I expected isn't really surprising, given that I'd seen three of the five mini-episodes already in the PV releases from Sunrise. Still, it's awfully nice to know that even the new chapters were every bit as funny as the others, and that the series works when they're combined into a full-length episode. From the very beginning fantasy sequence where Tabata (Sugita Tomokazu) makes sport of the studio animating this series with a preposterous mecha fantasy sequence ("It's 'cause I heard Sunrise and Square were doing a collab") it's obvious that DKnN is going to offer a different slant than anything we've seen in anime for quite a while. And not a minute too soon.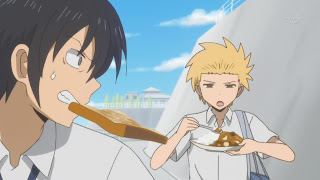 Make no mistake, these are not the sensitive metrosexual boys of fujoshi-safe Kimi to Boku (which turned out to be a pretty decent show in it's own way). Tabata, Tadakuni (Irino Miyu) and Yoshitake (Suzumura Kenichi) are over-the-top archetypes of adolescent male goofiness – they're fixated on the bizarre and the perverse, they're crude, they're hopeless around girls and generally prefer to lie around obsessively fantasizing rather than actually do much of anything. Despite or perhaps because of that I find them likeable, because while they aren't exactly what I'd call photo-realistic – this is an absurdist comedy after all – they're grounded in the essence of typical guys in high school. As such, that makes them almost a unicorn as central characters in a series.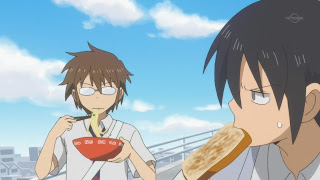 Each of the three main boys has a little niche carved out in their circle, and my favorite is Tadakuni. He's generally the victim when silliness gets out of hand, the most gullible and earnest and in many ways both the most and least mature of the trio in that he thinks about serious questions more than the others but generally seems to approach life in the most childish way. Tabata and Yoshitake haven't distinguished themselves quite as much yet, as they seem quite similar. When one gets going down a stupid and potentially risky path (usually Tabata so far), the other goads him on (anyone who knows – or has been – a teenaged male knows this scenario well). Absurd scenarios like the girlfriend role-play and the skirt-wearing generally start with one of them, and end up with Tadakuni getting the worst of the fallout.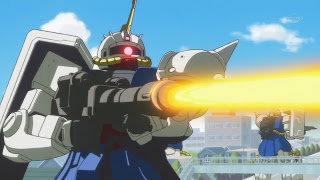 There are girls here too, though the trio does attend an all-boys high school (itself a pointed response to the spate of Girls at School shows we've been swimming in lately) and they're refreshingly silly and able to meet the baka heroes on their own terms. My favorite skit of the first episode invovles Literary Girl (Hikasa Youko) who sits down next to Tabata on the riverbank on a windy day. The dialogue in this scene – all tied into the fantasy playing out in Tabata's head – is matched in hilarity only by the facial expressions on Literary Girl. When it turns out that she's actually trying to play out the schoolgirl romance novel she's written in real-life, Tadakuni spoils the mood by showing up and shouting about the half-priced potato chips at the convenience store. My other favorite skit involves Tadakuni's younger sister (Takagaki Ayahi), as Tadaka decides the boys need to try on her skirts to see what it's like. Naturally, Tadakuni – who had to be dragged kicking and screaming into the exercise – is the only one who actually takes his pants off to do so. It's his sister's reaction that really sells the scene, though.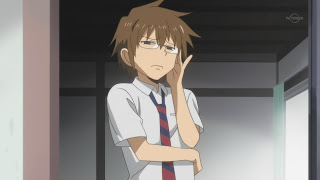 The formula here is pretty simple. We get some hilariously ridiculous scenarios such as Yoshitake shaving his nipples or people barfing up centipedes, a sort of stream-of-consciousness riff on that, lots of satirizing anime clichés and (crucially) every chapter has a payoff that delivers on the premise. Director Tamakatsu Shinji has been in charge of shows like Gintama and School Rumble, so it should be clear that he knows comedy and has the ability to present teenaged boys in a pretty authentic way. He's the right choice for the material, and the result is the show that delivers the biggest laughs of the season so far, and it isn't close. The cast is uniformly excellent and very funny. I still think it a bit odd that Sunrise is doing this, as it's a long way outside their normal comfort zone, and it looks and feels quite unlike any other Sunrise show – but that's more a curiosity than a problem.
One note on the ED – I think we can assume this will be changing after this week, as there was a controversy regarding the lead singer of the band Jinkaku Radio got into trouble for saying some rude things about Horie Yui. Why anyone would do that is beyond me, but that's a topic for another day. In the meantime we got a pretty funny number derived from the Literary Girl Sketch.
ED1: "Bungaku Shoujo" by ENA