Pretty much everything in Bakuman is going to hell in a handbasket at the moment. I'm pissed off at pretty much everyone and everything in it – but in the end, I guess that's much better than not caring at all.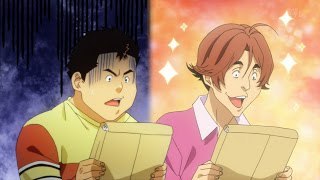 At the moment, maybe the one I feel most sorry for is Takahama. He's seeing his life's dream collapsing around him, his editor it both useless and a complete tool who tossed him aside when his manga got into trouble, and his assistants continue to have annoying conversations at work about a non-existent relationship that one is pursuing, and the other would like to avoid at any costs. It's not surprising that he finally lost his cool and popped up at Nakai and Katou, or that he finally went directly to Saski to express his frustration.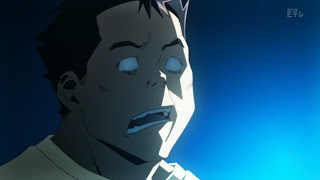 Not that turned out well for Takahama, of course. If you recall from my post on episode 10, I predicted that Sasaki would back the incompetent Miura to the hilt, and never support a writer in a conflict with an editor. It would have been nice to be proved wrong, but I've worked for too many corporate hacks to believe there was any possibility of that. What Takahama tried to do – go over hos boss' head – almost never works, because politics is more important that right and wrong in almost all corporate environments. And Takahama went about it badly, obviously not having prepared himself to fight back when Sasaki challenged him. Sadly, I feel as if he was backed into a corner though – by an editor who didn't have his best interests at heart and wouldn't know how to promote them if he did. The fact that Sasaki was able to have Ashirogi witness his humiliation of Takahama – just in can't they were getting any ideas – was just gravy for him.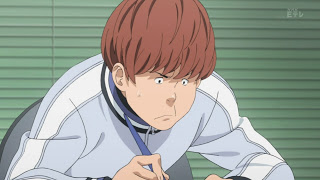 I hate the see Miura portrayed as a comical character, because what he's doing is anything but funny. He's destroying people's dreams with his incompetence, and there's seemingly no end in sight. Given the "choice" Sasaki presented Takama, I think he – and Ashirogi – would be better off letting their contracts be ripped up and walking to another magazine like Shounen Sunday. I certainly don't expect that to happen, especially with Ashirogi, but I hope Takagi and Mashiro put their foot down and demand to write the manga they feel they should. It was good, at least, that Sasaki and his committee rejected "Tanto" for serialization, both because it's a crap manga and because it puts off the ill-advised premature nuptials of Takagi and Miyoshi. For God's sake, I'm sick of "Tanto" – can we please be done with this monstrosity already? It's a giant black-hole in the middle of the story sucking all the joy out of it, and I'm monstrously sick of it. Enough!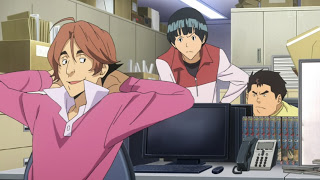 What makes Miura's feeble ineptitude all the more galling is seeing Hattori display the complete opposite traits as an editor. He's smart, he's fearless, and he's willing to think outside the box – as witness his outlandish but ingenious scheme to get Niizuma to do the art for Iwase's manga. Eiji is a freak of course, as witness his ability to do a storyboard in about three minutes – and Hattori knew full well he'd buy into the idea as soon as he saw Iwase's script. It's a win-win, even if an artist has never had two "Jack" titles in serialization at the same time – it gets Eiji fired up again, and it potentially makes Hattori and Hattori look like geniuses – and Hattori also correctly guessed that Hattori would relent and allow Eiji to do the art when he saw the potential upside. The fact that he's doing it in secret just makes Hattori look that much more GAR. I'm no Iwase fan, but the potential good in this plotline – it gets Eiji involved, and it might piss Ashirogi off enough to make them stand up for themselves – outweighs any concerns about Iwase.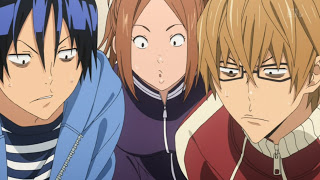 Finally, we have Nakai – who seems to have finally realized he's been acting like a complete douchebag, which is good. Alas, his response to that is to pack up his things and flee back to the apple orchards of his hometown. It's amazing that after getting their mangas rejected and cancelled Mashiro and Takahama found space in their hearts to worry about Nakai and try to help him, and that Aoki was willing to accompany Fukuda to his apartment after the way Nakai treated her. I can understand it especially from Mashiro, as Nakai was a mentor to him as an artist – but in this case Takagi was probably right, Nakai did have it coming. I suspect we'll see him again, though, once he realizes that he's not cut out for apple-picking.
A quick note: as you're probably aware comments in Blogger can't be spoiler-tagged. Please be courteous and avoid posting manga spoilers in the episode comments. I'll delete them when I see them, but that can be too late for some readers. Thanks for your cooperation.
ED2: "Parallel=" (パラレル=)" by Fumiya Sashida (指田郁也)