I know the name of this series is Amagami SS+ plus, but I think it probably ought to be Amagami SS- minus – or at least, Amagami Lite.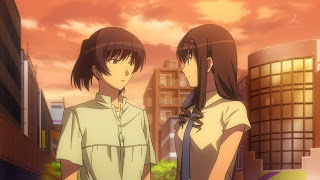 My overall impression of the breezily enjoyable sequel is that it's like the first one, but less. Less episodes per girl. Less sex. Less drama. Less service. Less slapstick. I've felt that all along but it really hit me hard this episode. Rihoko was much less clumsy and brazenly lacking in confidence in this incarnation – just amiably clueless. Junichi was both less horny and a lot less cruel in the way he teased her. And there was a lot less tension in the unrequited crush she had on him. The suspense was in wondering whether anything would come of it this time around, but I wouldn't exactly call it spine-tingling.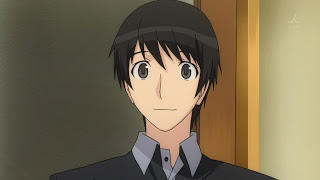 Turns out that whole weird business with Makabe was pretty much a non-drama, too. He wasn't a rapist or anything, and as soon as she told him she was interested in Junichi, he backed off without any trouble. Of course having her words drowned out by the train so we weren't sure if Junichi heard her was totally cliché, but it's a non-starter to fault Amagami SS for cliché, since the whole series is really a celebration of anime clichés. Turns out Junichi did hear her, and the rest of the episode was a very low-key dance of awkwardness between the two of them over dinner and a bath at his house, with the old standby of a rainstorm forcing Rihoko to stay over doing the honors for setting up the conclusion.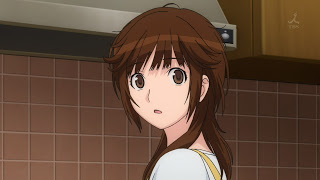 I was happy to see Rihoko win this time, though it felt pretty much telegraphed from the beginning of the episode that it was going to happen. I still don't see much chemistry between the two of them but she's a nice girl, so I don't begrudge her a little success – though it would have felt a lot more rewarding last season. Not only would she have ended up having sex with Junichi rather than just a kiss, but the payoff would have felt as if it had been earned a lot more – things were so much more complicated, whereas this mini-arc was really no-drama and not much tension. It's funny that fireworks were a theme, because there weren't a whole lot of them in the arc itself. The first arc was the same, with Tsukasa's temper and dangerous side turned way, way down. I know some of it is a function of the half-length arcs, but there seems to be a conscious effort to make this a kinder, gentler (and less sexy) Amagami SS. Next week is swimmer girl Nanasaki Ai, who was my second-favorite of the first season after Haruka. I really hope those two arcs retain some of the snap of the original series.