I'll say this for Tamayura – it was well and truly itself, right up to the end. I might even say it was monotonous, but it seems so heartless to say bad things about this big fluffy kitten of a series that I'll settle on "consistent".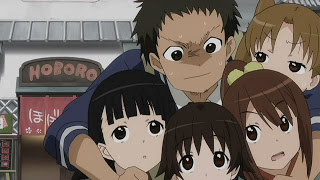 It seems almost pointless to give impressions on specific episodes, in fact, because all of them are so much of a kind that there really isn't anything separating them except the details of the plot and the dialogue. This is probably as pure a slice-of-life experience as you're going to find, even more so than something like Sketch Book. it's also the consummate mood piece – watching Tamayura isn't so much a viewing experience but a feeling experience. There are some issues that make the experience quite a bit less powerful than it could have been and I'll discuss those in a minute, but it's certainly easy to appreciate how relaxing an experience watching this show was. I might even say it was unchallenging, but it seems so heartless to say bad things about this adorable baby lamb of a series that I'll settle on "relaxing".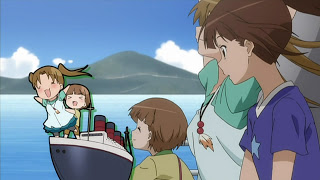 In terms of the last episode, it was just fine for what it was, though I wish TYO had saved a little more of the budget for it – it was easy to see the decline in overall visual quality in the loss of background detail and facial expression. The New Year is a most fitting way to end a series, as it seems to have a special emotional pull for the Japanese. The girls' (and Ko's) exhibition was of course a rousing success, though given the show's track record that can hardly have been a surprise. The show's themes of self-discovery and individuality were very much at the forefront, and all the characters behaved very much as they always have. You can count on Tamayura – it will never disappoint (or surprise) in the delivery of exactly what you expect. It's a shame Satou didn't follow the words he put in Mao-chan's mouth regarding "Noko-chan" being eaten at then end – "It would have been too ordinary if I didn't do that".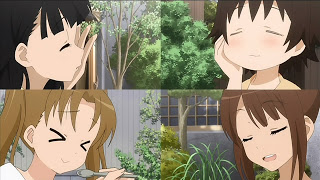 For a show that's so fond of cooking both as art and metaphor, it's somewhat surprising that Tamayura has such a simplistic flavor palate. As much as I love the positivity of the series, the fact that it's relentlessly positive without a break tends to dull the impact of those positive emotions after a while. I like sweets, but I wouldn't like them to be all I eat – and I prefer the taste of dark chocolate to oversweet milk chocolate. Perhaps this is the fallibility of the supremely humanistic and positive Satou Junichi – the evidence points to the fact that he's better served as a combination with another writer or director rather than running the entire enterprise himself. As an adaptor he proved himself supremely gifted with the sublime Ikoku Meiro no Croisee (you'll be hearing more about that series on the site before the real New Year's bells ring at the temple), which was a series that was full of warmth but tempered with regret and the complexities of human relationships.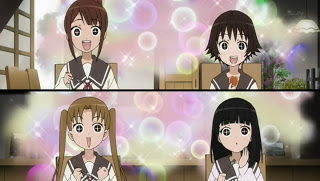 In the end, it's that lack of complexity that for me makes Tamayura a pleasant change of pace rather than a series of real consequence. I admire Satou-sensei's message that there's beauty in everyone, and if we all just follow our bliss everything will be wonderful – it's a splendidly hopeful and idealistic way to look at life. I just didn't find it especially compelling as an unbroken sermon for twelve episodes. I don't want artificial drama or danger – nothing grand like that – but in the absence of those things, the added absence of irony, satire or any negative emotion is just too one-note for my jaded tastes. I've said it before, but there was the germ of something beautifully bittersweet in the way the camera represented a link between Fu-chan and her father – it's just too bad that Satou never focused on the bitter side of that potentially complicated imagery, only the sweet. But at least he was consistent, from the first frame to the last.