It's tempting to draw a Freudian interpretation of this week's "Shana", but perhaps that's just my snarky side causing trouble…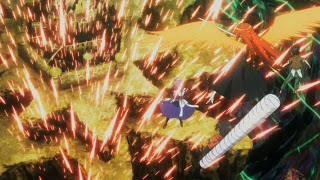 As we progress deeper into the third season – which I'm enjoying, generally speaking – I'm getting the sense that "Shana" is more and more a delight for its hard-core fans rather than the casual viewer. There's a lot of long-awaited moments and payoffs that will mean a lot more to novel readers, and JC Staff is rewarding their patience with some serious pandering. But that's fine, because those folks have been waiting a long time and things are still mostly comprehensible to anime-only viewers, though there's no question that some of the impact is lost on us.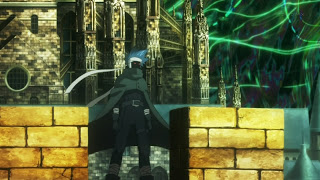 I can certainly say that Sabrac vs. Khamsin is one of the highlight battles of this mythos, and it mostly lived up to the hype – though to be fair, Khamsin had some very powerful allies by his side. I love it whenever the old shota wades into battle – you can practically see the GAR radiating out of him, and he never loses his cool as everyone dives for cover. But Sabrac is a worthy opponent – Khamsin and his sidekicks are barely seeing the tip of the iceberg in terms of what Sabrac can do, and he's more than holding his own. With Wilhelmina and now Rebecca nursing cursed wounds, only the old man remains at full power. The Flame Haze have been winning a boring amount of battles lately, so I hope Sabrac doesn't lose this one quickly.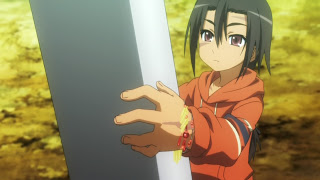 Shana and Yuji, the nominal main characters, have been curiously absent from the action for much of this third season. It makes sense for the story but it's an interesting choice to turn the camera away from them for the better part of a cour. That's all changing now, though, as Shana has made her way to where SotF/Yuji has finally awakened his true form, the kind of creature I imagine Superfrog trying to prevent from destroying Tokyo in an earthquake. One of those big fan payoffs came when Shana chose the moment of confrontation to declare not just her love for Yuji, but her intent to tame him – and to dispose of SotF and anyone else who gets in her way. I've never been a Shana/Yuji true believer, but I'll certainly be interested in seeing how this one turns out. This was a good episode to break with, as it has the feel of conclusion about it.