Well, that pretty much explains it…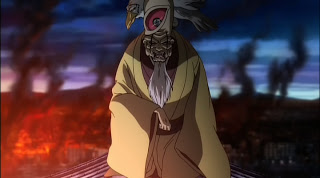 Answers, you say you want answers? You got 'em – pretty much all of them, in fact, though we do have a few new questions asked along the way. And some of them, like the true identity of Minagoroshi-Jizo, aren't fully explicable to an anime-only viewer without a check of the manga wiki. I'm not sure how I feel about that, but c'est la vie – at least we now know that Minago-J is in fact Sanmoto Gorozaemon. His left eye, anyway, as Gorozaemon's body is apparently split up into 100 pieces to signify his "Hundred Tales Clan". All that's where the wiki comes in, because I sure don't remember being told about any of this before.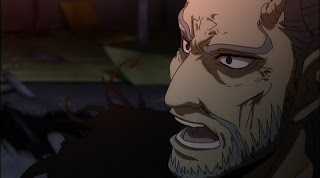 So now we know the nature of the double-cross – Abeno Seimi and Gorozaemon discovering over a bitch session in Hell that they have mutually compatible interests and talents. Seimi simply wants to return and rule Kyoto, where Sanmo-G primarily seems to want to extract revenge on the Nura Clan for displacing his troupe as rulers of Edo. And he's done a good job of it, using Seimei's reincarnation jutsu to bring back the soul of Rihan's first wife, an ayakashi who left him in shame after having not being able to conceive an heir due to the fox's curse. Implanted with false memories and forced to believe she was Rihan's daughter, Yamabuki Otome murders Rihan while believing she's his daughter, then remembers that she's actually his wife – before being taken over and used as a vessel by Hagomoro-Gitsune. What an unbelievable amount of suffering for the poor woman to have to endure.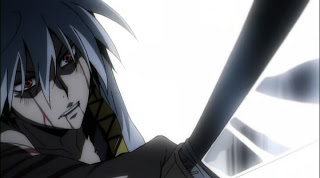 You almost have to admire Gorozaemon's plan for how thorough and evil it is, and the sense of poetic justice to it. In effect Rikuo's father was killed his Rikuo's stepmother, who believed she was his stepsister. Did Rihan love the human he eventually married to produce an heir – being that mating with a human was the only way to avoid Nine-tails' curse? Who knows, but that question isn't center stage now, as Seimei is running roughshod over modern Kyoto (I hope the tea shop by the cat shelter on the Philosopher's Path is OK) and seems nearly invincible. Rikuo does manage to dispatch Minagoroshi-Jizo, apparently, but Seimei destroys his sword with a touch of his fingertip. Even with Nurarihyon himself on-hand with his own Night Parade – plus the Great Tengu – Seimei seems to have everyone overmatched.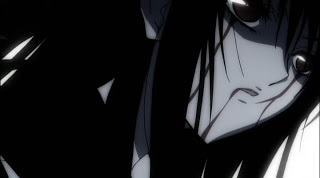 I'm also curious about a couple of other issues. First, I sincerely hope that wasn't the end of Tsuchigumo because that would be a sadly anti-climactic way for such a GAR-bomb of a character to go out – sent to Hell by a little flick of Nue's finger? I also can't help but wonder what role Hagoromo-Gitsune's clan will play in all this, as they've overheard Seimei call Minago-J by his real name, and the scales seem to have been lifted from their eyes. It's obvious their mistress has been betrayed, and there's no reason for them to feel any loyalty to Seimei after seeing what he did to her and overhearing the truth about Minago-J. Will they actively join the fight against him, or simply melt away to wallow in self-pity?