Given how brief our time with this wonderful show was, it's always nice to have a visit from Kuragehime.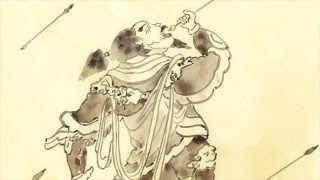 In some ways this series is a sad reminder of a NoitaminA that was, and may never be again – a decidedly quirky and non-commercial series that nevertheless managed to be one of the best series of 2010. Director Omori Takahiro and Brains Base made the same wise choice AIC did with Hourou Musuko – to adapt only a small part of the manga, but capture the heart and soul of it in the process. As a result, while we were left wanting more time with these characters at least we enjoyed them to their fullest. It was a show about the strange and the lonely, about misfits who can't fit in and the sacrifices made by those that can.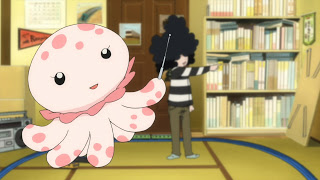 While these four short episodes adapted from the spinoff Kuragehime Heroes manga won't change the way you view the series, they're a fun reminder of how weird and wonderful this series could be. They're mostly centered around the "Amars", the four oddballs living in Tsukimi'a apartment building, and the obsessions of each. All of the Amars are otakus for something, and these shorts are a celebration of those obsessions. For me, though, the most successful mini-episode was the final one, featuring Kuranosuke's older brother Shu and the always hilarious chauffeur Hanamori. Hanamori's losing battle with a cat was the highlight of the episode for me. Another plus – all four episodes are introduced by the adorable animated version of Clara.