Whatever else you might think about this episode, there's no denying it was eventful. And I think it's one that's going to polarize the fans quite a bit. As anyone in P.R. will tell you, that's better than having them not care one way or the other.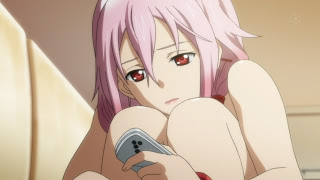 I've mentioned in the past that one of the problems I have with this series is that it tends to manipulate the characters so that they behave in a way that's necessary to drive the plot, rather than have the plot evolve as a result of the characters behaving naturally. That's a sign of weak writing – certainly, Guilty Crown is not the only Fall series that's an example of this – and the result is that the characters never soar beyond the one-dimensional cages the writers trap them in. We've seen it with most of the main cast and this week was certainly an example with Shu, who's been the biggest victim. To be honest Yoshino-san has been laying on the Shinji vibes pretty thick, and the parallels this week were pretty obvious.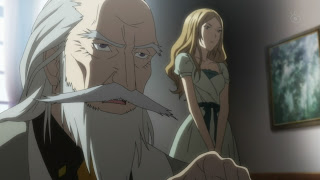 Most egregious, for me, is the scene where Shu puts the moves on Hare. It felt out of place and out of character, and Shu has shown us nothing whatever in nine episodes to indicate that this sort of behavior is in his nature. The indecision and self-pity, yes – while not especially attractive qualities they've at least been a consistent part of him. I feel for Hare, who now knows more than she should and is clearly no more than a crutch for Shu – a convenient source of comfort when the rest of his world has gone crazy. Nevertheless I don't see him trying to force himself on her that way. I also don't totally blame Shu for feeling a little wigged-out after what happened with Jun last week.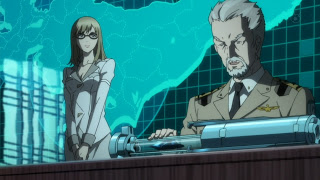 Rather than Shu, who's mostly a victim in all this, the character I've really come to dislike is Gai. I don't think he works as a dramatic device, and I certainly don't like him as a character either. If he's trying to win Shu over to his cause he's doing a piss-poor job of it. He clearly sees Shu as a disposable convenience, a tool, and he makes sure Shu knows it. It certainly doesn't help Shu's cause that neither Gai nor anyone in Undertaker seems remotely interested in why he's so freaked out by what happened in the last episode, and when this leads to his inability to extract Inori's void and thus scuttles a major operation, the endgame of this thread is already clear – he's going to quit Undertaker (again). Gai's response is classic Gai – point a gun at this head and threaten to kill him, then dismiss his existence in disgust. It's hard to feel too much sympathy for Shu's freak-outs and hallucinations, but Gai makes it almost possible.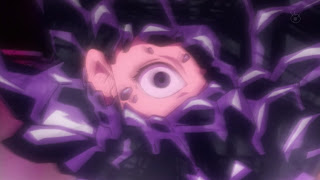 On the plus side, the revelations this week certainly have added some spice to the overall plot. I'm more curious than ever about Shu's childhood now that he's had another (and clearer) flashback to his youth and the mysterious girl who calls herself his "Onee-chan" – though it's unclear if the meaning is literal or not – and it does seem as if she was a victim of "Lost Christmas". We now know Gai and Shu have a childhood connection to both this girl and each other, though not yet what the exact connection is. We also don't know the nature of the blonde child who appears as the close of the episode. Another specter from the past is Keido, who we met briefly in episode eight where he stole "the rock that started it all". Keido has mysteriously waltzed into GHQ and allowed himself to be confined, and the rock is about to leave for America with Major General Yan (Hashi Takaya) who despite the name appears to be an American, judging by the reference to the rock bringing him "one step closer to the White House". The reasons for Keido's move become clear soon enough, though, when Segai reveals that he's been planning a double-cross and uses the rock to unleash another wave of Apocalypse virus on the population of Tokyo (bar his own troops, who vaccinate themselves).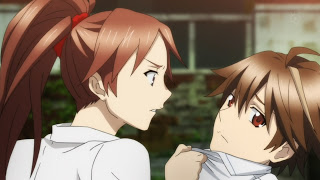 So we have Segai and Keido doing a double-cross against GHQ, with Keido vowing to "finish what was started on Lost Christmas", and the pieces have certainly been shifted on the board. It's seemed likely for a while that Gai had the virus, and as he and Undertaker have fallen into Segai's trap they might be in serious trouble. Gai is bemoaning the fact that Inori has "chosen" Shu, and Keido pretty much confirms that he has connections to Shu's parents, judging by the chat between he and Haruka. With the split in GHQ it's no longer a simple "Undertaker vs. the World" scenario, so I wonder if they might be forced to form an alliance with the international wing of GHQ, though Gai was also trying to ally himself with Kuhoin (who calls Gai "that man's son"), who seems more ideologically aligned with the nationalism of Keido and Segai. As for Shu's role in all this, well, it's obvious that simply refusing to play is not going to be an option. Keido confirms to Haruka that Shu has "The King's Power" – the Void Genome – which seemingly makes him the key to the entire conflict. I sense Shu has to free himself of connections to Undertaker and become a free agent in all this, because no one else is on his side and worse, no one else seems to be trying to do the right thing for its own sake.