And so, not even Fate/Zero is immune to the creeping scourge that is moe…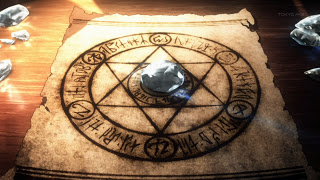 I figured Urobuchi Gen would have found a way to indulge his lolicon fetish at some point during the writing of this story, so It's just as well we get it out of the way now so we can move on with the story. Thankfully it was a solidly entertaining episode that, while far from the series' best, was by no means a derailer. It plays very much like a side chapter of a manga, contributing a little to the main storyline while mostly acting as a change of pace. While the star of the episode is Tohsaka Rin (Kana Ueda, sounding way too old) perhaps its lasting contribution is to provide some rare exposition on two Grail War players who've been enigmatic and/or largely absent for the most part.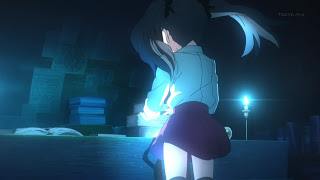 The first, of course, is Tohsaka Tokiomi himself. While his importance to the story has always been obvious, we've been given very little insight as to who the man is and what his goals are (apart from winning, of course). He's been the shadowy figure pulling Kirei's puppet strings and hatching one devious plot after the other. Well, he's also Dad to Rin, who's a budding magus in her own right but still raw and inexperienced. In his interactions with Rin, Tohsaka is quite different than we've seen him – patient, gentle, almost warm. His tutelage of his daughter is respectful and tolerant and his concern for her seems quite genuine. In fact, he even sends her and his wife away from Fuyuki under the premise that the city would be generally unsafe once the Grail War started. Whether he knew what Caster and Uryuu would be up to at the time he sent her away I don't know, but it certainly looks like a good decision.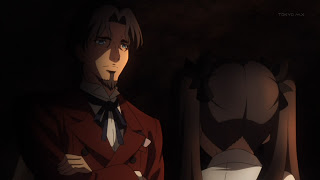 Unfortunately for Tokiomi – but happily for a group of children from Fuyuki – Rin is a stereotypical plucky little girl anime heroine, and when she hears word on the news about the child kidnappings and murder she takes in upon herself to go back and save her timid friend Kotone (Seto Asami, pretty big name seiyuu for a small role). The scenes that play out feel like a totally different series, but they're quite good nonetheless – full of suspense and implied horror as Rin stumbles upon Uryuu in the act of harvesting little boys (whom Urobuchi seems to hate almost as much as he loves little girls) from the area near Fuyuki station. Director Aoki-san does a very nice job of creating the scary atmosphere a city at night presents to a child unaccustomed to facing them alone, and it's quite compelling to see her track Uryuu through the alleys and back streets towards the new lair Caster and he have apparently chosen in an abandoned bowling alley. I especially enjoyed the device of using the prana compass Tokiomi had given Rin as a kind of bellwether to depict the state of the prana battle between she and Uryuu, as Rin tried to break the bracelet he was using to control the kids' minds.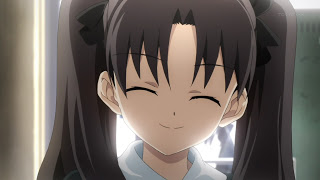 In most series you'd have been pretty sure the kids would be saved, but F/Z has thoroughly destroyed that illusion already, so there was genuine suspense about whether Rin would best Uryuu and escape with more than just Kotone in tow. Uryuu still strikes me as a pathetic weakling, to be honest, but the fear was always that his "servant" (yeah, right) Caster would show up. And indeed, he did, just as the police were dealing with the missing kids, but fortunately for Rin he wasn't the only one to show up. The other Grail warrior who's been an enigma so far, Kariya, also shows up just in the nick of time to save Rin from Caster's tentacle monsters (sorry, doujin writers). As we know from the premiere Kariya has a vested interest in Rin's welfare and a strong connection to Rin's mother Aoi (Itou Hasumi), whose other daughter Sakura Kariya entered the war to try and save from his father. He's a tragic figure, and it's plain that he and Aoi are in love. She sees quite plainly that his intention is to die in the act of winning this war, and is horrified to see what accepting the Matou magic into himself has done to him. If he's driven mainly by compassion for Sakura, Kariya seems almost as driven by hatred of Tokiomi for not protecting her himself (and probably for stealing the woman he loves). In postscript, we're treated to a brief conversation between Kirei and Assassin which seems to imply that Kirei is already starting to move against his Master – or perhaps, that he's distraught at knowing that Kariya has become involved.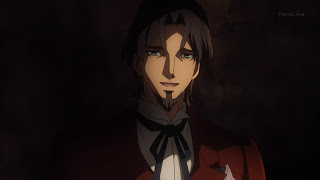 From the standpoint of execution and production values, Fate/Zero continues to be the best series of the season. No episode has been a whiff, and each has worked well both as a self-contained narrative and as part of the larger one. I could see where some feel this adaptation is too much talk, not enough action – but for me, all this exposition and character development is essential. I certainly think next year's cour will be far more action-driven, in any case. While this ep felt the most "superfluous" of any so far, like all the others it did a nice job of building on the story in subtle ways. I especially enjoy the way each elite magical family is slowly being contrasted, each with their own approach to what it means to be a mage – as witness Tokiomi's proud speech to his daughter on the subject.