Satou may have lost his place in the OP sequence to Orthros, but at least the newest credited cast member is someone we can all agree on – Pocari Sweat.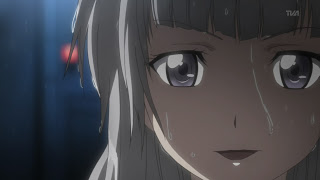 Seriously, that unfortunately named but delicious beverage is my life's blood when I'm traveling in Japan. It really does seem to have some magically replenishing qualities that give you the strength to "Fight-O!" on a hot day when your body is ready to pack it in. Alas, it doesn't seem to have the same magical properties for curing colds, as Yarizui only got worse after Satou brought her a bottle in his first visit to her apartment. He was pretty flustered to see her in pajamas, all sweaty with her hair down, and I can't blame her as she was pretty adorable. For all his ecchi flashes it's pretty clear that Satou only has serious eyes for Yarizui.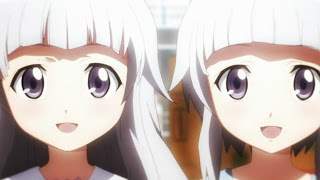 The issue is getting The Ice Witch ready for the next big battle with Orthros, this time for the unagi specials on "Day Day" at Super Tokiwa. I confess I wasn't aware that the Japanese are so ritualized about eating eel in the summer that they even have special days set aside for it, but there you go – I can't stand them myself. I'm still not a huge fan of the Sawagi twins (well, I sort of like Kyo a bit) but at least they're relevant to what the series is supposed to be about. Ben-To is just a better show when it focuses on the wolfish aspects, with a comforting dose of ecchi, rather than getting bogged down in Ume's twisted mind games or too-serious plotlines.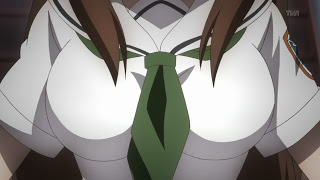 It looks like the finale may give us a little role reversal, at least if the legwork Nikaoidou is doing is to be believed. After tracking them back to their old hometown, he discovers that they were vanquished by someone named Heracles (Ishida Akira) and in pretty tough fashion, too. So much so that an old rival of theirs asks Nikaidou to "save them" from Heracles, who's gotten wind of their reappearance in West Tokyo. I guess that makes Heracles the final boss, which is well and good except that it feels a bit off to have a final boss not be properly introduced until the last episode. And frankly, I'm really not feeling too sympathetic towards the twins and I'm not exactly jonesing to see The Ice Witch and The Freak battling side by side with them against a common foe.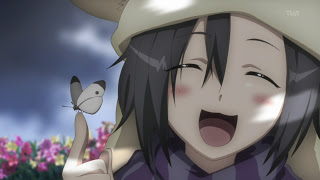 All things considered, the last couple of eps have been a nice recovery from what was a short but deep trough. You saw a lot of the visual cleverness that Shin-sensei is so good at, such as the aforementioned Pocari Sweat gag and Kyo's "time out" during the meeting with Satou and Nikaidou. The entire scene in Yarizui's apartment was done in a very original way, in fact, with interesting camera angles and lighting tricks. I also appreciated the preview sequence with the pharmacist, another example of how relentlessly creative Ben-To can be at its best. It's a maddening series – sometimes hilarious and clever, sometimes incredibly irritating. I look forward to the last episode with a good deal of trepidation, because if the last 11 episodes tell us anything it's that it could be a revelation, a complete disaster, or anything in between.