After three blessed weeks of almost none, we endure an episode dedicated almost entirely to Ume. And it seems to have achieved the impossible – it made me hate her more.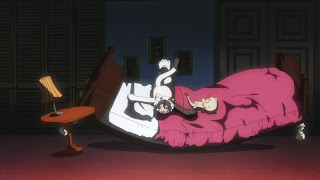 You don't want to hear me go on and on about how awful a character Ume is, so this is going to be a short post. If you like her, great. For me, I say let's cut to the chase. In anime we often have characters who are annoying or obnoxious. In my view, Ume easily crosses the line into actually being evil. To be blunt, she's doing stuff that would, if she were a guy, put her in jail. What she does to Satou is vile – repeatedly physically attacking him with no provocation (and having delusions is not a legitimate provocation), forcing him to undress in public… But what she did to Oshiroi in this episode came pretty damn close to sexual assault. I have nothing against yuri, but this wasn't yuri – it was disgusting, comedy or not. It wasn't sexy, it was sick. And if I'm supposed to feel sorry for Ume for being lonely or some such BS, sorry – she deserves everything she brings on herself. If she escapes this series without someone (I have no delusions that it will be Satou) putting her in her place, it will piss me off mightily.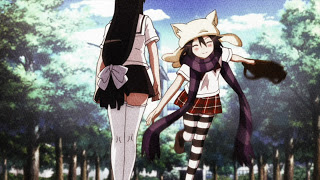 The sad thing is, the entire tone of the series changes whenever Ume is involved. Ben-To always sort of walks a fine line with it's very edgy and dark humor, but usually manages to stay on the right side of it. Ume fouls the bath water with every appearance, and when she's all over an episode like this one – ouch. It's not a good thing, and hopefully now that it's done we've seen the last of her as a feature character. Hopefully we've seen the last of her, period (though I know we haven't). The next and only time I want to see her again is on the wrong side of Yarizui's fists (or feet).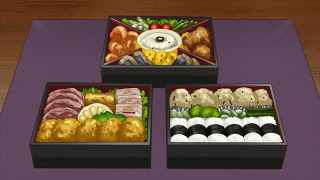 Sadly, Ume vomited all over what could have been a pretty good episode, because it also featured the largest role for the utterly delightful Asebi. Even if she did cause Satou misery, it was done with the best of intentions – and seriously, how the hell did she manage to make everything in her multi-story bento taste completely alien to its nature? I also enjoyed the portions of the episode where Oshiroi was strongly featured, as long as Ume wasn't. She's broken in a good way, and truly a case where a seiyuu performance goes a long way towards making a character memorable. Sure, she crossed a line by pasting Satou's face in the muscle cop doiujin, but to thine own self be true seems to work for her. We're certainly seen Oshiroi's trope plenty in anime recently, but rarely have we seen one that was so fully committed. If you filtered Oshiroi's twisted perversity, she wouldn't be Oshiroi.
So next week, here's hoping we get the focus back on Yarizui and back on the bento hunt, too, which seems to have been largely ignored for the last few episodes. And please hold the plum in mine – it's definitely rotten.