This week's Bakuman is officially the first anime episode of the season that had me yelling at the screen…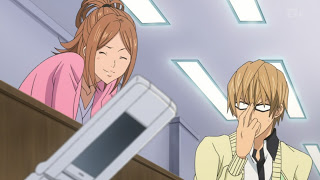 I hate to keep harping on this, but Miura is a bad editor. He's not only a man of poor taste, but he's immature and completely unprofessional. And I'm now supposed to feel sorry for him because Hattori ordered him to apologize? No, I'm sorry – no amount of groveling and banging his head on the floor is going to make up for the fact that he's bungled Ashirogi's career at pretty much every opportunity. No amount of old data is going to convince me that writing a gag manga is the right thing for the boys to do, either professionally or personally. And I don't feel any sympathy for him just because he worked very hard and wasted a lot of time to back up his dumb idea.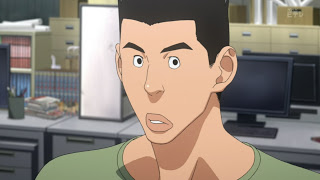 So at this point, to retain my sanity when it comes to Bakuman, I'm going to refuse to believe that what we saw at the end of the episode means what it seems to mean – that all is well, Miura's proved himself and it's gag manga all the way. Instead, I'm going to have faith in Ohba Tsugumi as a writer, because this season has been tremendous – surprising and subtle and far too smart for that episode ending to be taken at face value. I think Mashiro has by far the best instincts – and the most knowledge of manga – of any of the involved parties here, and it was while he was defending his opposition to doing Hitman Ten in the coffee shop that I shouted "Stand your ground!" at the screen. He's 100% right – gag manga doesn't suit his art and it doesn't suit Takagi's writing. What Miura is describing is taking the path with the least risk and trying to scrape by without getting cancelled quickly. If you can't aim high and be true to your ideals when you're 18, when the hell can you? Ashirogi has a lifetime of compromise ahead of them – now is the time to be true to their ideals.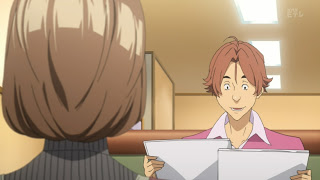 Some readers/viewers dislike Mashiro because he's such a stubborn idealist, I know, but while he can drive you crazy I admire that side of him. And the fact is, it sounds as if Miura is more interested in doing a manga for himself than for the magazine. He'd already lost me long before he tried to split the boys up, but in a funny way I was glad he did, because no matter how much he apologizes it'll always be out there, and Ashirogi will always know exactly who they're dealing with. I suspect this is going to be a rough few months, as they continue to struggle with Miura and find a way to get serialized with a work that's more true to themselves. Frankly, doing nothing for six months until their contracts run out doesn't sound like such a bad idea, but that's where Mashiro's idealism bites back – his dream is to write for "Jump" and I don't expect him to give it up. I get the feeling that neither "Hitman" or Future Watch is going to survive – but it occurs to me that we haven't heard much about Two of Me for while, and I wonder if that might pop up again…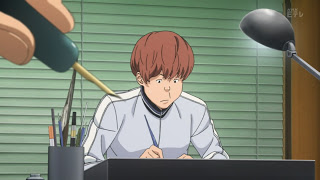 There was also a thread following Aoki this week, but to be honest the drama and suspense surrounding the main pair is so compelling that I don't have a lot of patience for side stories at the moment. It certainly appears as if her new editor Yamahisa (Sakamaki Manabu) is a sleazebag, but it does make sense that a "Jump" manga can't really be a romance told entirely from the POV of the girl. It was interesting to see that she's a graduate student and acclaimed in the literature department, but I'm not quite sure what the point of the encounter with Iwase was, apart from giving Aoki a chance to declare her love for manga. The interesting question for me is, who is she going to turn to for the "man's perspective" on love?