Towan no Quon continues to traverse some pretty dark territory, and still feels very much at home smack dab in the middle of the BONES tradition.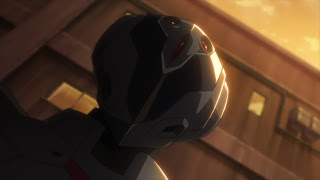 While we still aren't getting much in the way of background, bits and pieces are continuing to trickle out. We also saw a continuation of a theme started in the last episode, where the cyborgs are being developed as individual characters and not stock villains. Last time it was Proust, and this time it's a look inside the memories of Epsilon (Toriumi Kousuke). After a run-in with the strongly telepathic esper Tei, both of them end up pulled into the memories of the young boy (Kobayashi Yumiko) she was trying to save. While Tei and Epsilon lie comatose in their respective home bases, Kestos tries to trace the location of Insania's base through Tei's brainwaves, even though it means wiping the personality of the helpless Epsilon.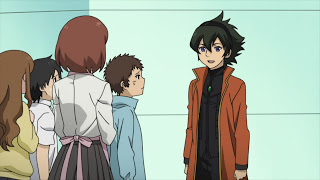 It's a little frustrating not to get any real feel for exactly why Keston runs around trying to exterminate espers, though the basics of it are plain enough. What was it that caused Epsilon and the others to decide to become cyborg hunters? Was it even a choice, or where they forced? Especially as we get to know more about them as individuals those questions take on more meaning. Epsilon's past is obviously pretty painful, as we see through the dream sequence – it looks as if he may have accidentally killed his little sister, perhaps with esper powers – at the very least, he was to watch as she died a terrible death.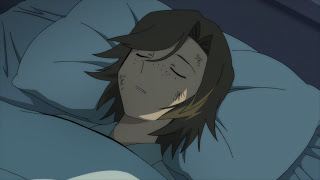 The way the dreams of Epsilon, Tei and eventually Quon are merged with the consciousness of the boy is very clever and well-staged, and it's through this process that we get out best look yet at Quon's past. Towa – the name he uses when he talks to the giant tree in Fantasium Garden – was also the name of his little brother. I don't know if it's a homage or somehow Towa's consciousness ended up as the tree, but at least we know the source of the name. Judging by the memories Quon conjures up it looks as if they lived quite a long time in the past, with his world split between the "Clan", espers, and the "Village" – muggles. Towa was apparently the compassionate and powerful in those days and Quon a slacker, and it looks as if things eventually turned deadly for The Clan. But at this point it's really just guesswork.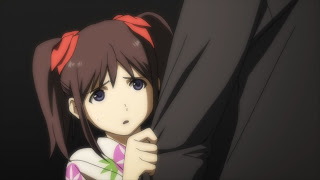 In the end, the majority of the episode – as has been the case with all three – is focused on action, as Insania desperately tries to use every trick in the book to keep their location secret without breaking the psychic link between Tei and Epsilon (which would kill them both). While there are other useful players with Insania, it really appears as if Quon is the only one who can consistently go out in the field and kick Kestos' ass. But each time he takes grievous wounds surely takes something out of Quon, and I wonder if he's quite as infallible as he appears to be. While we're still not privy to the full story behind Quon's motivation to do what he does, it seems clear that he's a tragic figure living with a tremendous amount of guilt. That's usually a pretty big death flag – we'll see.