If it keeps its head up and really works at it, I'm confident that Guilty Crown will be able to check off every cliché in the book before it's done. And despite my reservations, I'll be watching every one.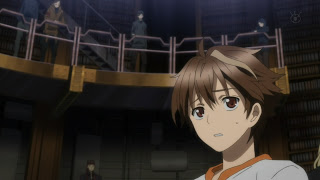 It can sometimes be hard to think of new things to say about this series, because my general impressions of it tend to be a bit of a broken record. It looked fantastic, it re-used a bunch of hackneyed plot devices, and it generally did a good job of entertaining me. I still haven't quite figured out what GC is doing on NoitaminA, and – while it took a little longer than I expected to prove itself – I think my prediction that UN-GO would end up being the better show in the block has turned out to be true. But for all that, this is certainly a show that delivers in terms of pure "feast for the senses" entertainment and there's nothing wrong with that.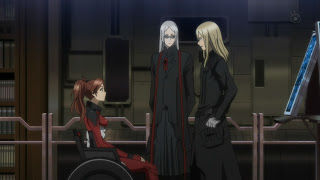 As regards the fifth episode, I was pretty worried there for a while but thankfully the second half was much better than the first. There were more than the unusual share of groan-worthy retreads, starting with Shu waking up naked, having his blanket fall of and getting slapped by Ayase. The entire training sequence was pretty lame and tired, too, and the humor just felt out of place in this context. Part of the problem is that humor itself just isn't among the things that Guilty Crown does well, and that's an understatement. Earnest seriousness is the best face the show has, but it needs to leave the hijinks to Ika Musume.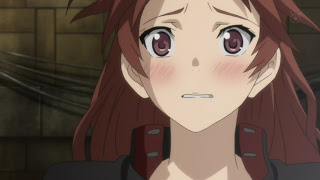 Things picked up when it came time for Gai to go off on his big mission, and for Shu to take his mock battle test. Fortunately when Shu knocked Ayase out of wheelchair it seemed to magically transform her from a total psycho into a caring mentor, so that wasn't as bad as it might've been for him. And borrowing the void from Arugo (Katsu Anri) was a clever touch, too. So Shu wins the battle and wins his pen back, though now that he's "one of us" it seems unlikely that he'll use it, even if his heart was broken by the news that Inori only told him she'd be his forever because Gai put her up to it, and that the two of them "sleep together two or three times a month". There's something odd about both those pieces of information – Inori's behavior so far doesn't match up with that, and there's clearly something else going on in Gai's bedroom that we don't know about yet.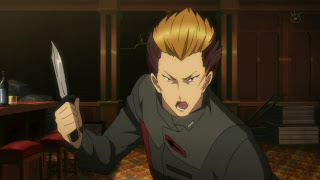 There's also the little matter of that mission, something along the lines of stealing the "Leukocyte". A leukocyte is a type of white blood cell so it seems obvious that the GHQ boys see it as a way to wipe out what they see as a disease. As Gai is doing a little reconnaissance with genki girl Kyou – apparently a Star Trek fan – (Fujito Chika) in preparation for the big mission, GHQ uses the Leukocyte – which turns the area where Gai was located into a smoking hole in the ground. Gai, dead? Don't count on it – the cliché thing is that he's just pretend dead, and this series generally takes the path of least originality. Besides, Gai being dead would deprive us of more of Shu's endless whining about how everyone likes Gai better than him.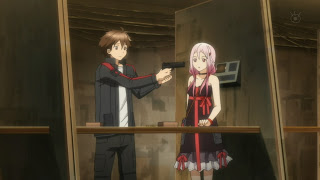 Ah, Shu… That whining about Gai seemed kind of disproportionate to what we might have expected based on his character development so far, but it doesn't do anything to endear him to me. I'm just not feeling Shu – the jealousy, the condescension towards Ayase, the general mooniness – Shu, I know Shinki Ikari, and you're no Shinji Ikari. It doesn't help that Kaji Yuki is recycling the same voice for about the 20th performance in a row, and it's not an especially winning persona to begin with. Since no one else is really getting a ton of development this is a real problem. Things would perk up quite a bit if Gai were actually dead, of course, as that would really shake things up around Undertaker HQ and force Shu into a totally new dynamic. And maybe there's hope in the newly awakened Kido Kenji (Okamoto Nobuhiko), who seems like a lively and snarky sort. The fact that he has a big name (and very good) seiyuu is hopefully a sign that Kenji is going to play a major role going forward, because Guilty Crown could really use a charisma injection in the character department.