Must not think too much about what's happening. Must not think too much about what's happening. Must not…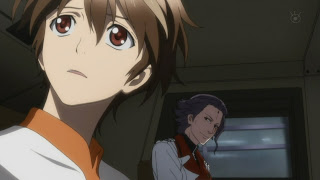 Really, this series should have been called "Guilty Pleasure" because that's what it's become for me. Normally I despise that term – if you like something you like it, and there's no good reason to feel guilty. But I find myself having a hard time justifying why I enjoy Guilty Crown, and indeed feeling sort of guilty for doing so. It represents a triumph of style over substance (sort of) and doesn't have an original thought in its head. In short, it's eye candy and not especially creative eye candy at that. But I just can't bring myself to join in the pounding that it's receiving from a lot of viewers, and I've spent a lot of time trying to figure out why.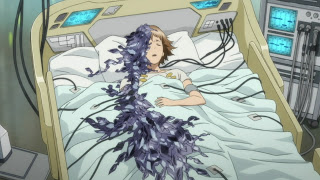 For one, I think some of that comes from the show having unrealistically high expectations, which really isn't its fault. More importantly, there's an appealing quality to it – a sort of puppy-dog simplicity that endears it to me. Not a lot of it makes sense, it's all stuff I've seen before and none of the characters have blown me away. But at the same time, GC reminds me of a painting that's done in all primary colors. It's not going to be subtle or groundbreaking, but there's no reason it can't be aesthetically pleasing. This is a pretty basic good vs. evil, boy meets girl kind of story that's been retold thousands of times. And at the end of the last couple of episodes, I've really found that I enjoyed watching it. And it doesn't hurt that even the eyecatches are stunning to look at.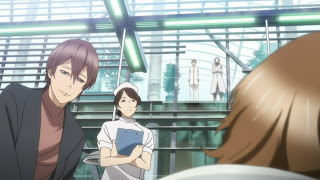 As we pick this up, Major Sagai (Canna Nobutoshi) is twirling his figurative mustache and having a bit of sport with Shu as he tries to get him to turn on Undertaker. I sense the series trying to paint a balanced picture here by showing the "good" side of what GHQ is doing – such as treating Yahiro's little brother and others with Stage 4 Apocalypse disease – and the terrorist side of Undertaker. But really, shades of gray is not what this series excels at and all this comes off as rather a tepid attempt, the show's innate xenophobia shining brightly through. There's also the realization that it was Gai's order that Shu not be rescued (though not, apparently, that got him captured in the first place). Gai has interests inside the correctional facility, though, namely in springing Undertaker and convicted murderer Kido Kenji, who has a very special anti-gravity void inside him. When Inori disobeys Gai's order and breaks into the facility (way, way too easily) to free Shu herself, all hell breaks loose.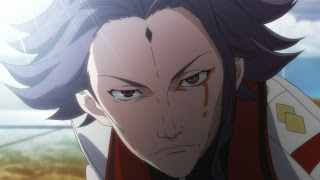 The following action sequences are pure gold, utterly preposterous but a blast to watch. It's a mistake to pick holes in the logic of those sequences, because you could drive a mecha through them. No, just enjoy Inori leaping thirty feet in the air and Shu climbing anti-grav bubbles and iconic imagery that will quicken the pulse of mecha fans everywhere (and with good reason). It's delightfully, innocently silly and completely spectacular. And dammit, I'm even sort of getting caught up in Shu and Inori now, very rough representations of that Shinji and Rei archetypes they are. Shu is so utterly guileless and mopey that I've sort of come to like him, and Inori is irresistibly beautiful and sweet in an alien way.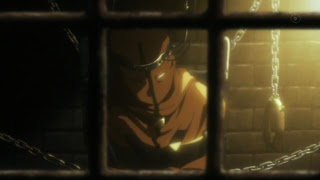 As things stand, looks like the improvised kerfuffle at the correctional facility has closed all of Shu's doors except the one that leads to joining forces with Gai and Undertaker. Of course, being the bet-hedger he is, he takes the listening device disguised as a pen that Sagai gives him just in case – and Sagai seems only too happy to let him go, having seen just what he's capable of. Information is Sagai's weapon of choice after all, and he has Shu's mother as a hostage if he needs to use her. All this beauty and stark moral certainty is beginning to form a nice NoitaminA sandwich the ugliness and relativism of UN-GO, making this a better and more interesting block than I would have guessed a couple of weeks ago.