I continue to marvel at the ability of Fate/Zero to make 22 minutes seem like 10.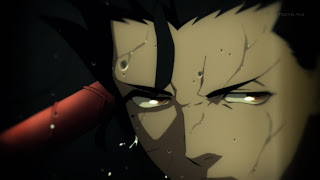 Betrayal was certainly the theme of the first chapter this week, fittingly as it recalled the mortal life of Diarmuid Ua Duibhne. Lancer has been my favorite servant (along with Rider) from the beginning, and while it was nice to see an episode featuring him it was distressingly full of death flags. Frankly, there isn't a much more obvious death flag than recalling a character's actual death, but there you go. Diarmuid had, of course, betrayed his Lord by stealing his new wife Grainne on the day of their wedding. While he was under a geis at the time, it was still an act of betrayal the chivalrous Knight could never forgive himself for. Like Saber, for Lancer honor is everything, and to have died feeling dishonorable (though his master Fionn nominally forgave him, he never forgot – as witness Diarmuid's death) was a fate worth then death itself.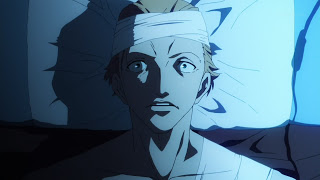 This time, betrayal comes in the form of Kayneth's wife Sola. As we saw briefly earlier she's been smitten by Lancer's magic mole, and she harbors a lust for the Grail almost as great as her lust for Lancer. With Kayneth's body having been decimated and left bereft of magical power by the juju from Kuritsugu's bullet, she sees this as the perfect opportunity to take his command seals and step in as Lancer's master. Of course these can only be given "voluntarily" but that's nothing a little torture can't take care of. It's sad to see an honorable soul such as Lancer manipulated into betrayal once again by a despicable woman, but the sad cycle of Diarmuid's existence is repeating himself. For him, an oath sworn is holy and irrevocable – and thus, he can't see how to Sola it's merely a strategic ploy. Poor Lancer, who wanted nothing more than to use this second chance at existence to redeem himself, only to have to go through the same again.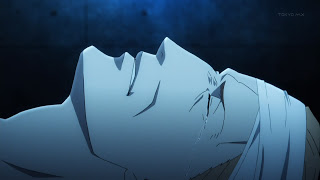 This was the most heartbreaking episode of F/Z so far in many ways. Of course, it's sad to see chivalrous and honorable souls such as Lancer and Saber used and abused by unscrupulous masters for their own ends, but for them honor is not an option it's a fundamental requirement of existence. Seeing those two in this nest of vipers reminds me of Ned Stark in "Game of Thrones". For Saber, all that matters now is to try and stop Caster before more children are harmed, and she even sends Iris to beg Kiritsugu's leave to go and fight him. But Kiritsugu turns a dear ear, as for him "a few dozen dead children" are nothing next to his larger goal of saving the world – whatever exactly that means to him. His only thought is to finish off Kayneth before he has a chance to recover, and Caster's hobbies be damned.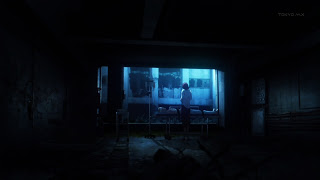 Fortunately Rider and Waver are not idle, though their part of the story is rather moving as well. In the first place it's nice to see Waver finally doing something useful (as Rider so tactlessly points out). It's been easy to forget that he was clever enough to finagle his way into this game in the first place despite not being either a powerful magus or born from an elite family, and he finally puts that cleverness to use here. After Waver uses his alchemic skills – and intelligence – to pinpoint the location of Caster's hideout, he and Rider set off on a harrowing mission. Despite its odd nature there's a certain warmth to the preposterous relationship between this master and servant, and it was plain that Rider expressing real pride in Waver really meant something to the lad. As well, Rider was both genuinely protective of Waver and understanding of his reaction to what they found at the hideout (alas, neither Caster nor Uryuu). Both master and servant proved themselves to be honorable here, with a genuine sense of moral outrage at what they saw. Merely destroying Caster's workspace isn't going to stop him, of course, but it might slow him down as Rider suggests, or even better draw him into the open like a rat forced out of its nest.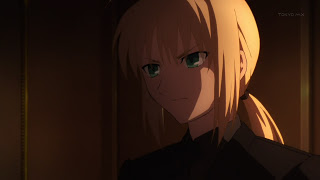 It's hard for me to imagine Rider stopping before Caster is eliminated, based on what we saw this week – once he's set his mind and heart that this is something he must do, I don't see him being distracted before the deed is done. He and Waver were rewarded with useful information that none of the other masters yet knows, the truth of Assassin's nature. Of course as a trade-off Kirei and Tohsaka now know that Rider's master isn't a powerful magus but a green boy, and that's might dangerous for said boy. But something tells me that Tohsaka is soon going to have bigger and more immediate concerns, as I get the feeling that Kirei is about to go rogue as a result of Archer's manipulation.