One, two, three black kittens sitting in the park, eavesdropping…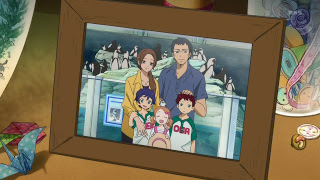 Ikuhara is a real bastard. It's not enough that he has to weave enough mysteries and obscure references into MPD to make my head explode, but now he's actually using a character to taunt the audience directly with non-spoilers. Seriously, Man? It's funny, I admit, an acknowledgement that he's fully aware of what he's doing and it seems like a blatant breaking of the third wall, too. But it's interesting that Sanetoshi made reference to speaking to "the two of you" during that speech. Just who are the two of you, anyway?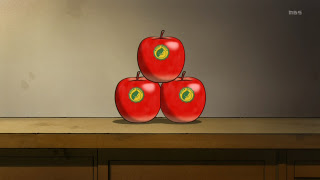 We seem to know a bite more than we did before, anyway. Confirmed: the Takakura parents were the suspected terrorists who were behind "the incident" of 1995. The police moved in three years ago when the boys were 13, and it seems to me that the parents fled and are at large, rather than having been arrested. Uncle was helping the police with their investigation. The two boys who were with Sanetoshi last week are the two black bunnies, and indeed represent temptation. Natsume Masako wasn't the figure on the bike who stole half the diary from Ringo, because she only has half – and Sanetoshi tells her (but not us) who has the other half.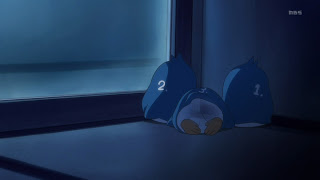 What seems obvious but isn't confirmed is that Momoka is Sanetoshi's "fated one". He describes himself as being the only one who can see the things he sees, until his fated one came along 16 years earlier. He also says his fated one "rejected him", and we see scenes of a giggling girl about Momoka's age at the time playing hide and seek with Sanetoshi in the library. Somehow, Momoka's soul – or some essence of her – appears to be in the penguin hat that initially revived Himari. Does that mean it's Sanetoshi himself who embodies the other hat, the one that initially revived Mario? For sure, Sanetoshi is in league with Masako and is using the same "serum" – derived from the apples of fate – to keep Mario alive. And what's with the now you see them, now you don't scars on Tabuki's hand?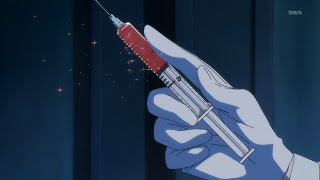 What may be the critical question is, just what is Sanetoshi's ultimate motivation? He describes it as an experiment of sorts, to see if he can manipulate fate, but I don't think he's a being that can be taken at his word. In reviving Himari again (that's two fake deaths for MPD already, three if you count Himari twice – Ikuhara's repeating patterns again) Sanetoshi obviously makes a Faustian bargain of sorts with Kanba. The most literal interpretation would be that Kanba is trading his life force for Himari's, but I think that's too easy. Shouma implies that the Goddess in his "Mary" fable has simply decided that the Takakuras haven't been punished enough yet, and it stands to reason that what Kanba is doing is only compounding their crime.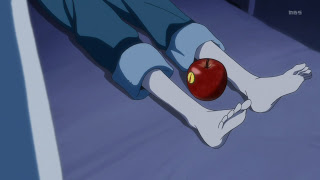 I still find this series more engaging intellectually than emotionally, though there's nothing wrong with that I suppose. It's interesting to see how the Takakura brothers and Ringo are evolving in terms of their worldview. Kanba is angry, defiant and a schemer – he wants to find a way to beat the system and refuses to accept the (seemingly) obvious truth about his parents. Ringo embraces fate, or pretends to – first as regards becoming Momoka, then in terms of meeting Shouma. Of course she's kidding herself, but she clearly needs to believe things happen for a reason or else her head just can't process reality. And Shouma seems to be something of a fatalist, with a hint of self-loathing. He sees the dark side of things, embraces not just his parents' guilt but his own complicity in it just by nature of his birth, and assumes that the terrible events in his life are a result of divine punishment and things will only get worse.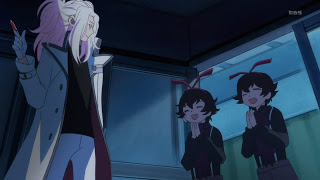 Fascinating stuff. I'm enjoying Ringo a lot more now that it's become clear that Ikuhara did indeed – thank goodness – have a plan to bring her back into balance with the rest of the cast. Her POV is needed as a point in the triangle with the brothers, which is interesting because in theory, Himari should be the third point. But she's still more a plot device than a character, someone who acts as a catalyst for events in the lives of Ringo and the boys but doesn't actively participate or display a distinct perspective very often. Given all the speculation that the sibling relationships in this series may not be all they seem, I wonder if there might be something even deeper here that we're not privy to yet.
ED3: "Ash-Gray Wednesday" (灰色の水曜日; Haiiro no Suiyoubi) by Triple H