After yet another utterly pointless recap episode, Nurarihyon is back in style with one of the best eps of the season, as well as a new OP and ED.

OP2: The LOVE SONG" by LM.C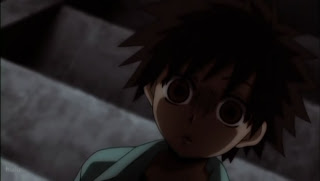 Things are starting to come together nicely, with Yura and Tsurara finally reunited with Rikuo and his gang. There are other meetings as well, and a very cool and creepy battle for Awashima. For me, the best part is that all of this takes place at Fushimi Inari Shrine, just South of downtown Kyoto. If any of you are lucky enough to have visited you know it's one of the most amazing places on Earth. It's beautiful and a highly spiritual place, but it's incredibly spooky too – especially if you visit in the evening, as dusk is falling. The anime did a wonderful job depicting the atmosphere of the place, and wandering through that labyrinth of torii gates it's easy to imagine things like the demon that sucked Awashima into its world.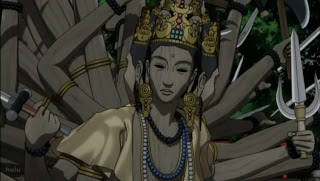 As fate would have it I've tested my luck with the Okokaruishi – the "heavy-light stone" – as well, both at Fushimi Inari and at the Okunoin graveyard on Mt. Koya. It always feels heavy to me, but I never had the experience that Awashima did – being pulled into the world of the youkai that nests on Fushimi Inari and thrives on the fear of a young boy who's apparently fallen under its sway. I didn't quite grasp the full nature of that relationship – was the boy real? Was he already dead, or was he a facet of the youkai's existence? In any case, her experience there was very frightening and beautifully unsettling. It was also interesting learning more about the fascinating duality of her nature (very symbolic) and I was quite relieved when she was able to escape, with Kurotabo's help.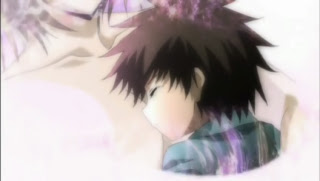 In addition to that fight, the episode centered on a reunion (already mentioned) and a meeting of great importance. Hidemoto and Rikuo are the two most important figures in the upcoming battle, in some ways, and it was interesting to see Hidemoto's reaction to seeing the Grandson of his old ally. Rikuo's stated ambition of freeing his family from Hagoromo-Gitsune's curse was a new element, but there was never any question he'd ally himself with the 13th Keikain head. Hidemoto is growing on me as a character – he reminds me of snarkier version of Sai from Hikaru no Go. His game plan is simple – restore the eight seals he placed on Kyoto 400 years earlier and stop Nine-tails from giving birth in Nijo Castle. With him being dead and all, Rikuo and his gang will have to do the heavy lifting – with the help of Yura and her brother.
No sign of Kana yet, but it's pretty obvious that Yura has officially punched her ticket in the Rikuo lottery. Tsurara's reunion with Rikuo was adorable, especially her letters, and it's the most face-time the two of them have had together this season. But Yura didn't like that one bit and she's not giving up without a fight. Before the two girls could kill each other, thankfully Tsuchigumo arrived, giving everyone something to focus on besides a cat fight.
ED2: "Departure" by Katate☆Size