Lest anyone forget for a nanosecond that this as Ikuhara we were dealing with, this was the week he seriously turns up the dark – and the weird.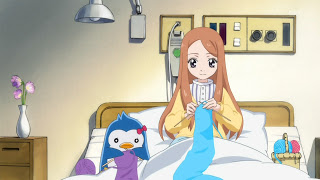 While Mawaru Penguin Drum is undeniably suffused with brilliance, I still can't shake my initial impression that the show is something of a mess. It's as if the sands are constantly shifting under our feet. Every time you think you know something, Ikuhara shifts the focus elsewhere and distracts you with yet more infuriating hints and trolls. There's always a new character to confuse you, a new wrinkle to puzzle you. It's exhilarating, but as I've said many times before, this can be an exhausting show to watch – and to blog.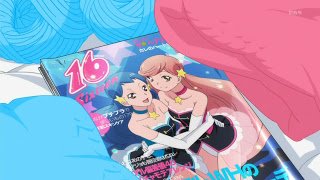 Much of the focus this week was on Yuri, a character often at the fringes of events in the series so far but rarely at the center. For starters, we see she's cheating on Tabuki – but oh, this is one of the most convoluted extramarital affairs you'll see. Frankly, I'm not sure after this episode just whose connectors go where between Yuri and Yuuki Tsubasa (Romi Paku, a delight we hear too rarely these days). It's strongly implied that Yuuki may in fact be a reverse trap, but after Yuri spurns him after a night of sex "he" threatens to exposé a "secret about Yuri's body". There are several trains of thought leaving that station, but only one of them is an express – and it's that track that will gain credibility (though of course no confirmation) later in the episode.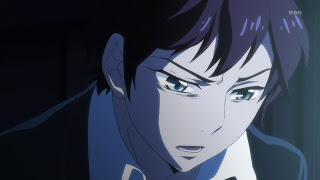 At this point my feelings for Ringo have pretty much segued into full-on pity. Her transformation seems almost too total to be real, frankly, but it's more fun to feel sorry for her than to hate her so I guess I shouldn't complain. Really, the poor girl is just a complete mess. She's desperately looking for affection and validation from some quarter, and she's just not getting it. Ringo bounces like a pinball from one fantasy and one object of fantasy to another, but none of it really takes. I don't honestly know if she really has feelings for Shouma, or he's simply the next port in the storm. In turn, we certainly get the confirmation of where Shouma's darkness – and everyone in this show has darkness – lies. His self-loathing is alarmingly total, and he seems to take all the blame for everything his family has done onto himself and see every misfortune as divine and deserved punishment. In his own way, Shouma is as badly messed up as Kanba is – just not as obnoxious about it.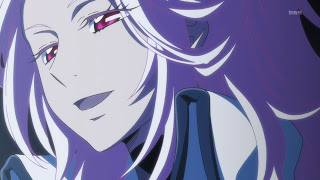 We're still at that point where I'm struggling to find a POV character with this series – someone to root for, or at least identify with. None of us is perfect but everyone in this cast is swimming in dysfunction and hidden motives. Santeoshi's may be the hardest motives to figure out of all. He seems to take great pleasure in forcing Kanba into increasingly desperate measures to save Himari, a result which clearly benefits him anyway. What's his angle? Masako appears driven by the twin obsessions of saving Mario and possessing Kanba, who's driven by his lust for Himari. Tabuki and Himari haven't shown us their dark sides fully yet, but that's because both are still ciphers. We did see an odd burst of self-pity from Himari, who threw away the scarves she'd knitted for Hikari and Hibari, but Sanetoshi promptly claimed them for his fabulous (I know, right?) self.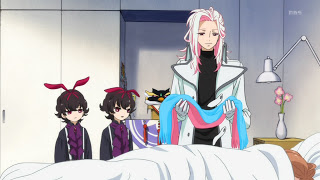 As things circled back to Yuri and Ringo, they got profoundly disturbing. Having spirited the lonely Ringo away to hot spring ryokan, Yuri promptly turns the yandere tables on the girl by drugging her and, seemingly, preparing to rape her. The dialogue here seems to dispel the theory that Yuri is herself Momoka, but opens up the question as to whether she's actually a man, or possibly a hermaphrodite. At the very least, regardless of her bodily secret, Yuri is seriously messed up and apparently plans to rape poor Ringo. She was in love with Momoka, and her speech to the drugged Ringo is some of the creepiest I've heard all year. How does she plan to "mess Ringo up" and "give her a body totally dependent on me"? With Masako apparently aware (thanks to Sanetoshi) that Yuri has the other half of the diary, perhaps she'll be the one to save Ringo.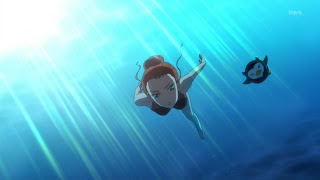 This anime is full of interesting questions, but I for one would sure like to start getting some damn answers. The closest thing to a common thread that I can see is Momoka – she's tied directly to Ringo, Yuri, abuki, Sanetoshi and probably Masako, and indirectly to the Takakura Brothers and Mario. And she's a huge part of what happened in 1995 on the subways. If there's a grand unified theorem – or at least a nexus point – to this show, it's Oginome Momoka. But how do all the pieces fit together?