Once again I'll confess I rather enjoyed that episode, which was quite a bit different from the three that preceded it.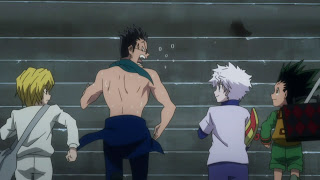 A few hints of the darker side of this series are starting to assert themselves, with some backstory on Kurapica and Leorio and some rather gruesome footage of carrion birds feeding on the still-warm flesh of a character who'd been talking only seconds earlier. The first phase of the exam was pretty out there – a run of what, 100KM? More than 80, anyway. There aren't a lot of professional athletes, never mind 12 year-olds who could accomplish that without training rigorously and specifically, but I get the idea that we're going for realism here so I'm not sweating that. This is Shounen Jump, after all.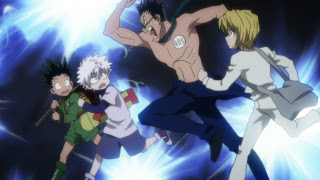 The other characters who started to break out this week were Killua and Hisoka, both of whom I know are destined to be important players in this series' future. Killua clearly makes a snarkier contrast to Gon, though I understand some of the fans are of the opinion that he's too nice in this series as opposed to the old one. Obviously I can't comment on that but we haven't had any of his backstory yet, and I'm sure it will be something meatier that simply taking the exam because it "Seemed like it would be fun". He and Gon are setting up the classic BFF/rival shounen bromance, and I like Gon as a character so that should prove entertaining enough. I especially liked the scene where Leorio was about ready to give up. Rather than give him any rah-rah speeches or encouraging smiles, Gon just stood there are stared at him. Which, of course, was the insult to his pride that was exactly what Leorio needed. Gon obviously has an innate sense that allows him to understand animals, and humans are animals too.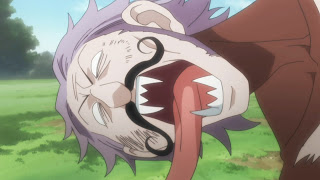 I'm enjoying Fujiwara Keiji a lot as Leorio. Sure he's overexposed lately, but he's very well-suited for this sort of role – comic but earnest with a healthy dose of cynicism, and irritation at the rugrats running circles around him. But why did he say he was "a teenager just like you guys!" when Gon and Killua are 12? Not that Leorio looks like a teenager anyway, but I'll stipulate to that… And then there's Hisoka, who's already killed two people in two episodes. I'm probably fortunate in not being attached to the original series, because I'm fine with Namikawa Daisuke's performance so far.