It's very rare that I can point to an anime that floored me strictly with visuals – in fact, I could count them on one hand. I'm a character guy, and always prefer a strong story with weak animation to the opposite. But damn, Guilty Crown is just exquisite eye candy.

OP: "My Dearest" by supercell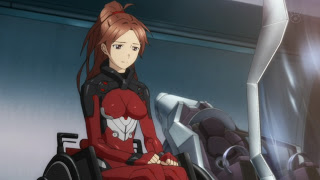 It's not as though the second episode was bad. In fact, it was quite a bit more entertaining than the first. But this is the first show in years where I find myself almost not paying attention to the story because I'm floored by what I'm seeing. There's only so much you can talk about that – you really have to watch it, and you'll understand. But it's just the whole package – animation, backgrounds, CGI, character designs… Even the use of colors and shadows is stupendous. Production I.G. proves once again that they can churn out production values that put anyone else in TV anime to shame.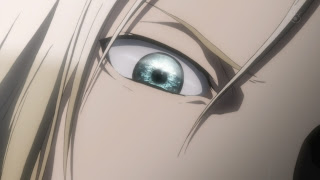 Of course there is a story and there are characters, and with a 22-episode show those elements are going to have to carry their weight before it's said and done for Guilty Crown to be something more than a gorgeous two-dimensional painting. In general terms this is a continuation of the trend we've seen in anime this year, an increased focus on dystopian society and a sense of helplessness at the hand of internationalism gaining too much power. It's played differently here than in UN-GO, as fits the fact that the two series could hardly be more stylistically different. GC is straight-ahead, big-budget blockbuster – it's a Memorial Day Weekend opening tentpole motion picture. As such, subtlety doesn't seem to be one of the goals.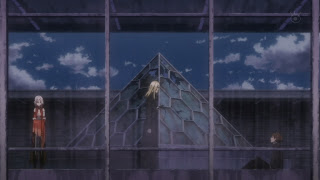 My biggest concern so far is with lead character Ouma Shu. Kaji Yuuki's performance doesn't help, but as written he's a flat character. We've never really gotten inside his head, and we have no idea who he is or how he got that way. He's just a boring kid who got mixed up with strange and dangerous people and lucked into a mysterious power that saved his own life and that of Rei Inori. My hope is that this is at least in part an intentional device, and (I really hope I'm not giving Yoshino Hiroyuki too much credit here) some credence was given to that idea by the ending of this episode. By refusing to take Gai's hand and join Undertaker, he proved himself to be ordinary (or at least want to). Maybe the story now will focus on how he becomes exceptional.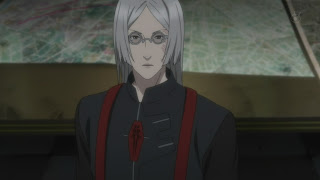 It's certainly no secret that the themes and construction of this series have been done many times before. I'm not a huge Code Geass fan so I'll leave it to others to elaborate on the obvious self-plagiarism Yoshino is engaging in here. But we've seen elements of Evangelion too, and Ghost in the Shell, and a dozen others. it doesn't really matter when you have a show that isn't trying to break new ground. The point with blockbusters isn't really to invent, but to execute in an entertaining way. And this episode was pretty entertaining, not just because the action scenes were sublime but because it was genuinely interesting. We know more than we did – Gai's group is called Undertaker, and they call the international authorities "Antibodies". The power Shu unleashed was a biological weapon was called a Void Genome, and it's sort of an interesting concept – a weapon created from the intron sequences of the human genome. Pretty much your standard mecha anime mumbo-jumbo, in other words.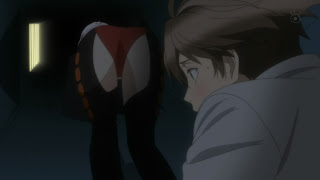 So we have a pretty standard sci-fi setup here. We have the self-loathing ordinary schoolboy thrust into a massive struggle. We have the mysterious and beautiful girl (now in his class at school) connected to the source of power. The charismatic rebel leader, a spunky hacker chick who controls weapons with her butt (Taketatsu Ayana as Tsugumi) the genetic weaponry, the mechas, the evil international government agency that's killing civilians to protect its secrets. My goodness – it really does feel as if I've seen this series before, and probably produced by BONES (and that UN-GO was produced by GAINAX. Musical studios?) But the difference is the production values – they elevate the whole series from ordinary to exceptional. I have no idea if I.G. can keep this up for 22 episodes, but they're off to an amazing start.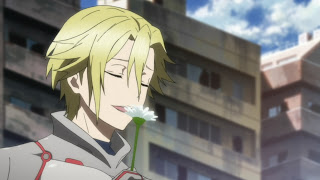 I'll allow myself to dream big here, and hope that this series really finds its creative legs. There's a potentially interesting story to be told with Shu, though who knows if we'll see it. In terms of the geopolitics and science of the plot, that's so standard that it's hard to expect that to ever become really memorable – but it does have the potential to be exciting, especially with a solid director at the helm. If we can get to that point – exciting action and an interesting MC, with stellar production values – we'll be looking at one of the standout series of 2011, original or no.