There's not too much original going in NoitaminA's second entry, Guilty Crown. But damn, it sure does look pretty.

OP: "My Dearest Euterpe" by supercell
Here's an interesting note of trivia: the director of this series, Araki Tetsuro (most famous for Death Note) directed the episodes of Aoi Bungaku that covered the adaptation of "Sakura no Mori no Mankai no Shita" by Ango Sakaguchi – whose book the other NoitaminA show this season, UN-GO is based upon. I think the most obvious influence visible in Guilty Crown is not the director, however, but the writer Yoshino Hiroyuki. He also wrote the Code Geass anime, and it's hard to watch this show without being reminded of that one.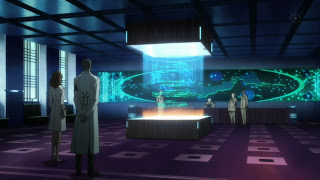 In some ways, this show feels more like one that might have come from BONES than UN-GO does. It has some of that late 90's adolescent male angst theme that BONES loves so much, complete with mecha and a pretty fabulous male lead. It seems to me that NoitaminA may have made a mistake in pairing these two shows this season. It's not that they're overly similar, but they are both near-future alternative fictions with a hint of dystopia, and I wonder if the block isn't going to come up a little short in the heart department this time. GC is the first two-cour NoitaminA show since Shiki, so it's got plenty of time to prove it's worth.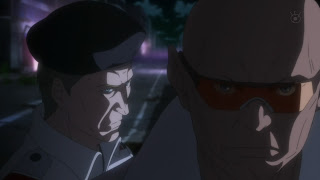 I can't get too excited about this premiere, because if it feels as if you've seen all this before, it's because you have. It's 2029 and Japan is apparently under the rule of some sort of multi-national military force, who swooped in to the rescue when the country was devastated by a plague. We have the self-loathing and timid teen Ouma Shu (Kaji Yuuki). He meets the mysterious and barely dressed Inori (Kayano Ai) wounded and singing to herself in an abandoned warehouse. She entrusts him to take a very important vial to someone called Gai before the brownshirts come in and haul her away, stopping to gratuitously rough her up on the way.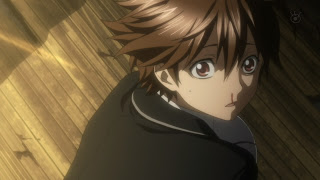 Of course she's a member of some sort of resistance group, and Gai (Nakamura Yuichi) is the leader of that group – a blonde, ultra-fabulous badass who kicks thugs to the curb as though they were soda cans. Shu sees in him everything he wishes he could be himself – and when the opportunity presents itself for him to save Inori from the GHQ troops destroying the neighborhood, he breaks the vial she'd given him and undergoes a mysterious transformation and takes on the GHQ mechas with some sort of monstrous sword. Seriously, could that be only more BONES?
Yes, this is very old hat. Been there, done that. For now, I'm contenting myself with the fact that the series looks absolutely fantastic. The character designs are really excellent, the detail in the backgrounds is stunning and the action sequences are beautifully animated. This is as good-looking a series as Production I.G. has done in a long time, and it's easy to be entranced by the visuals. The music can be entrancing too, although the gratuitous use of incongruous rock when Shu undergoes his transformation feels very forced. The one element of the story that seems as if it might prove really interesting is the exploration of Japan under the thumb of foreign rule. Shu's sentiments about this as expressed through his internal monologues are quite overtly political, and it's clear through Gai's involvement that this is going to be a major plot point. Xenophobia is a part of the Japanese mindset, but we haven't seen it explored directly in anime too often of late.
I think that political aspect is the best chance this series has of becoming really interesting, and I hope it does since the eye candy isn't going to be enough to carry the series for two cours. These two powerhouse studios have given us very polished and attractive NoitaminA premières, but this is the first time in many a season that I haven't strongly connected to one or the other of the shows in the block after the first episode.
ED: "Departures ~Anata ni Okuru Ai no Uta~" by EGOIST