Maybe it's just me, but I can't shake the feeling that this series somehow started in the middle instead of the beginning.

OP: "Pursuing My True Self" by Shihoko Hirata (Ep 1)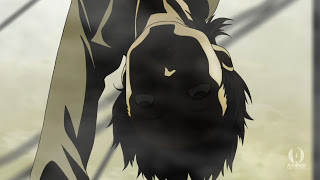 I tried the watch the last "Persona" anime adaptation, but I just didn't find it very compelling and never made it to the end. Not having any exposure to the game there was no compelling reason to stick with a series that wasn't too interesting. But I know this is a very popular mythology and I really felt I owed it to this adaptation to give it a chance, especially given how well it scored in the preview poll on the site. It also has a director I quite like – Kishi Sieji – and my all-time favorite seiyuu, Horie Yui – and the general opinion of "Persona" fans seemed to be that this was going to be a better and more faithful adaptation.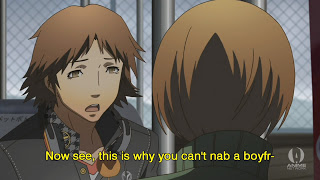 To the latter I'll have to defer to the gamers, because I have no idea how faithful this was. Was it better? Well, it wasn't great, at least for a relative newbie. It didn't seem to me that AIC A.S.T.A. did me a whole lot of favors, because there wasn't much exposition or build-up. Tokyo refugee Narukami Yo (Namikawa Daisuke) arrives in a small town to stay with his Uncle Ryotaro (Ishizuka Unshou) and little cousin, and the madness starts happening right away. Headaches, voices in the head, bodies impaled on TV antennas, falling into TV sets, giant flying tongues… there's just not much preamble or explanation to any of this except it has to do with a weird old dude in a limo named Igor.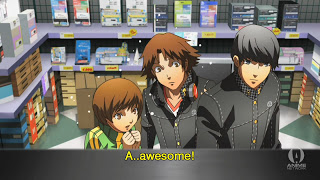 I got the point from the last series that this material is supposed to be creepy more than horrifying, and there are moments in the premiere that achieve a measure of that. But I have some major problems with it beyond the fact that it was confusing for the novice. Perhaps it's an attempt to display a visual style consistent with the game, but the animation and character designs have a cheap, clumsy look to them – retro, and not in a good way, a sort of "Johnny Quest" vibe that I can live without. There's also the fact that the odd humor seems to clash rather fiercely with the threatening and creepy moments, serving to undercut the tension and not generating any real laughs. Ineffective attempts at humor in a first episode are never a good sign.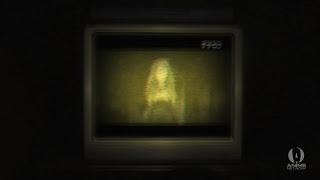 It's early, and I'll give this at least a couple of episodes to work the bugs out and see if it can hook me once I fully grasp the story. And to help matters a bit, in addition to Hochan as Yo's new friend Chie (who takes quite a licking in the premiere) there's Morikubo Showtaro (Goro in Major) tagging along as the male friend and comic relief Hanamura, and Kappei Yamaguchi taking a turn as some sort of bear spirit who inhabits the surreal world inside the television that Yo and his friends are sucked into, ~kuma. And there's Kishi-sensei, who impressed in a big way with Kamisama Dolls last season. So in total, way too many reasons not to give up on this yet, and to hope it gets better, though at this point it's a hope more than an expectation.
ED: "Beauty of Destiny" by Shihoko Hirata feat. Lotus Juice