A disclaimer: I don't have much background with Fate/Zero. I have no familiarity with the source material and apart from a brief flirtation with the anime adaptation of Fate/stay night – long enough to know it didn't make much of an impression – I have no foreknowledge of the material whatsoever.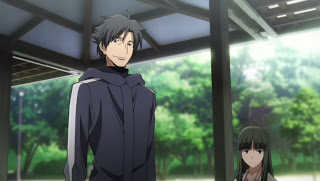 So, given, that, I might be offering a little different perspective on the anime than some. I won't be able to say how it compares to its predecessor, or how good a job it's doing capturing the essence of the source material. I might not even be able to fully understand elements of the plot that will be obvious to others. But I think that's a good acid test – can this series work for someone with no experience with the material? I'm watching for several reasons, one of which being that this was sold to me as a series that could be enjoyed without watching the prior one (as a prequel, that would make sense). It's Urobuchi Gen, which merits respect, and it comes to us from respected studio ufotable. It also doesn't hurt as a blogger that it was probably the most anticipated series of the Fall season. So how does it stack up after one double-episode?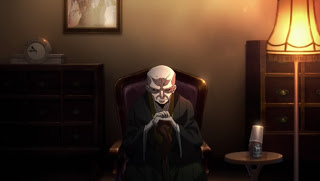 Pretty darn good, I'd have to say. My initial impression is the visual one – this is a damn fine series to look at. ufotable is certainly a good studio, but it's clear they've spent a lot on this premiere. The backgrounds – mansions in the snow, British classrooms, cathedral interiors – are gorgeous, and the animation is smooth and lifelike. There's a sense of style to Aoki Ei's direction, too – I especially enjoyed the scene where Kirei (Nakata Jouji) met with his father Risei (Hirose Masashi) and Tohsaka Tokiomi (Hayami Sho) and the two of them circled him during the entire conversation. I don't know if there was a deeper meaning to that, but it was certainly striking. Aoki has already directed one of my favorites of 2010, Hourou Musuko, so it would seen Fate/Zero is in good hands.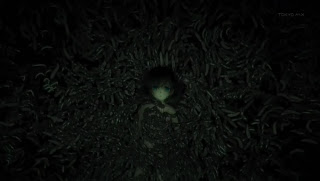 My concern, quite frankly, was that the premiere was going to be lost in an avalanche of names and faces it would take me weeks to get straight. And make no mistake, it was a very dialogue-heavy episode full of exposition – but then, I don't suppose it could be otherwise if the hope was to give noobs like me any long-term chance. But because the editing was tight and the dialogue sharp, most of what I saw made sense and most of the characters were distinct enough to stand out in my memory (at least until I wade through a dozen more premières this week). It's not a hugely original premise – seven magi summoned every 60 years to do battle over what sounds like a very good and still powerful copy of the Holy Grail. Frankly, there's been enough Grail fiction to satisfy ten lifetimes between movies, anime and the History Channel – but this is an interesting presentation, especially as it seems that the focus will be on the character stories.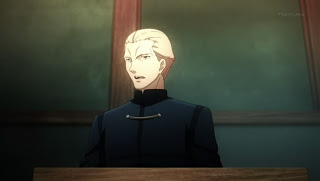 In some ways, the series reminded me of Darker Than Black. it has the same feeling of substance and solidity, the same rock-solid production values, even similar-looking character designs. In fact even the story has a bit of a similar feel to me, and there's the same sense of emotional disconnect running through most of the major cast. Emiya Kiritsugu (Koyama Rikiya) the "Magus Killer" has a bit of a Hei quality to him, but that's just a first impression. I'll be very interested to see what happens now that the familiars are being summoned – will this take on the air of a combat game, or will it continue to be a character-driven drama that seems to be on the depressing side? With Urobuchi writing that seems to be a pretty good bet. Based on one episode, I'm certainly more than interested enough to stick around for a while at least. This was a high-quality production in all respects and that counts for a lot.
OP: ""oath sign" by LiSA